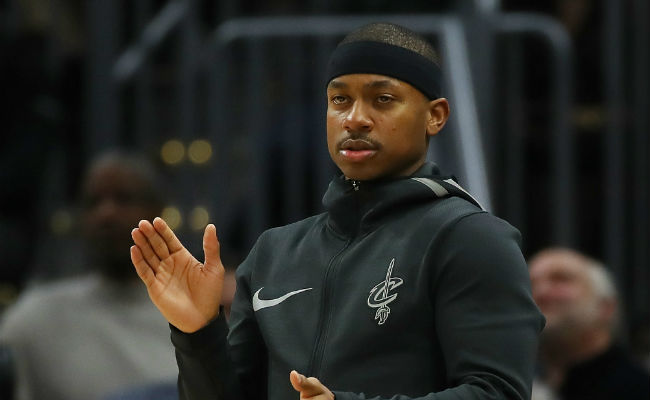 Isaiah Thomas is tired of talking about the Boston Celtics, a team that decided they didn't want him anymore. Thomas loved Boston, but that phase of his life and the way the team traded him over the summer is well-covered at this point.
As the point guard is nearing full health and a debut with the Cleveland Cavaliers, it's clear he's getting frustrated about all the questions he's fielded about his now-former team. Most recently, Thomas' comments made in an interview with ESPN's Rachel Nichols made waves as he said he wished the Celtics' training staff had given him more information about his hip injury.
Whether it was the reaction to that response or just the overwhelming amount of questions he continues to receive about Boston, Thomas went on a Boxing Day rant on Twitter on Tuesday, decrying "dumbass questions" from reporters about the Celtics and declaring how he's not the one that keeps bringing up his former team in public.
https://twitter.com/isaiahthomas/status/945693198852046850
To be fair to the media asking the "dumbass questions," it's not like there's much to talk about with Thomas during media availability. His rehab has essentially been a long period of rest (and for much of it he wouldn't talk about his hip), and inserting him into the Cavs lineup is a process full of unknowns. Constantly bringing up Boston and the way he left has to be annoying, but it's the only situation with Thomas that's at all newsworthy unless he has some opinions about The Last Jedi or something.
That doesn't make it any less frustrating, especially when Thomas clearly feels like the media is hoping to create a rift between he and fans in Boston.

"That city and organization gave me a opportunity to be a superstar and I took it and ran with it," Thomas said in a truncated Tweet on Tuesday. "I am a Cleveland Cavalier now and I'm more than happy to be one. Just sit back and Watch how special 2018 is going to be!"
The #positivevibesonly didn't really last all that long, though.
Thomas did, however, clearly establish office hours for haters and losers.
The tweet is a reference to a shirt he wore last month that described exactly when his hating hours are. And as Toronto Blue Jays pitcher Marcus Stroman pointed out, Thomas added "holidays" here, presumably for Christmas and Boxing Day. How very Canadian of him.
Regardless, it's clear that Thomas still has a chip on his shoulder about the whole thing, and the "dumbass" media bringing it up only makes him more agitated about the whole thing.
Thankfully for everyone involved here, Thomas will actually hit the court soon. Then we'll all have something else to talk about.