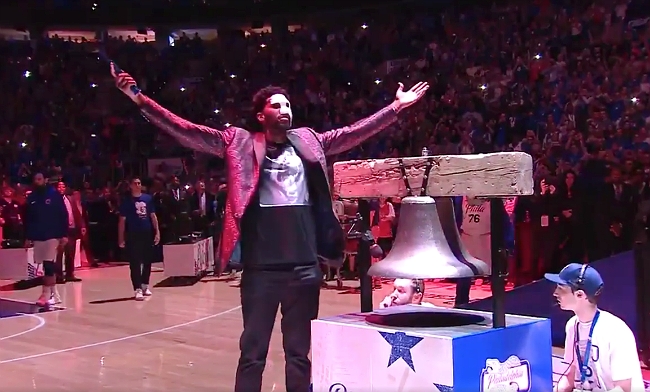 Joel Embiid didn't suit up for the Philadelphia 76ers in Game 1 of the playoffs, but he still made an appearance that set the crowd ablaze. Embiid missed the Sixers' first postseason game against the Miami Heat as he continues to recover after surgery to repair a bone break under his left eye.
Embiid has been testing out masks to wear when he's healthy enough to get back on the court, as he'll need protecting from any potential blows that could harm the repairs. Embiid joked that he would be the "Phantom of the Process" due to his mask, and he decided to make that joke a literal thing on Saturday before the game.
Embiid did, in fact, appear on the court in a white Phantom of the Opera mask and got things started by doing one of the Sixers' pregame traditions: ringing the bell.

There was plenty speculation about who would ring the bell for the Sixers before the franchise's first home playoff game since 2012, as the Sixers kept things under wraps all day.
But ultimately, the comedy of Embiid showing up wearing a mask, perhaps one similar to the mask that he will eventually wear when he really takes the court, is really something.

And what form Embiid has ringing the bell! It's really funny, and classic Embiid finding a way to make the best out of what hasn't been an ideal situation. Embiid will be back for the Sixers soon enough, but it was great that he found a way to get involved in Game 1.