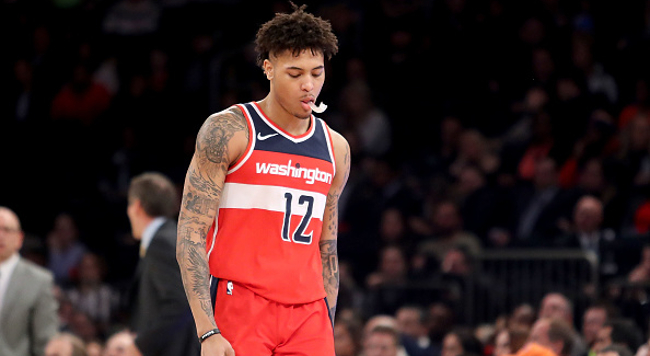 DeMar DeRozan and Kevin Love have both made headlines recently for speaking out on a topic that has remained taboo for far too long.
In an interview with the Toronto Star last week, DeRozan revealed that he struggles with depression and anxiety, and his honesty subsequently inspired Love to make a similar revelation in a candid essay for the Players Tribune on Tuesday. DeRozan says he hopes his comments help make it easier for others to come forward, and it already appears to have started something of a chain reaction.
Wizards swingman Kelly Oubre Jr. became the latest NBA player to open up his mental health issues. The promising young wing spoke candidly on the latest episode of the Wizards Tipoff Podcast about his battles and learning that it's OK to talk about those things and show your weakness when going through troubled times.

Via Chase Hughes of NBC Sports Washington:
"A lot of people are coming out with things about mental health. I feel as if, yeah man I've suffered through a lot of things in my life. I've been through a lot of things," he said.

"I can definitely relate to it all… I'm really good at keeping a poker face because when I was growing up my dad always told me 'don't let anybody see you weak.' Nobody sees that I'm weak, but deep down inside I am going through a lot. Hell is turning over."

***

"We're normal human beings. We face a lot more adversity, a lot more problems… It's a little bit more amped up, we just can't show it," he said. "I feel like people who are on the outside looking in don't really understand because they see us as superheroes, but we're normal people, man. We go through the issues that normal people go through times 10."
Oubre's comments point to one of the biggest obstacles people face in confronting these types of issues, which is the lingering stigma surrounding it. But it's a deeply-ingrained culture of toxic masculinity that prevents men from being proactive in dealing with emotions.
And that doesn't even get to the topic of the overwhelming expectations professional athletes are faced with. But with players like Oubre, Love, and DeRozan coming forward, it's a step in the right direction for them and other players facing similar challenges to start learning how to deal with it in a healthy and productive way.