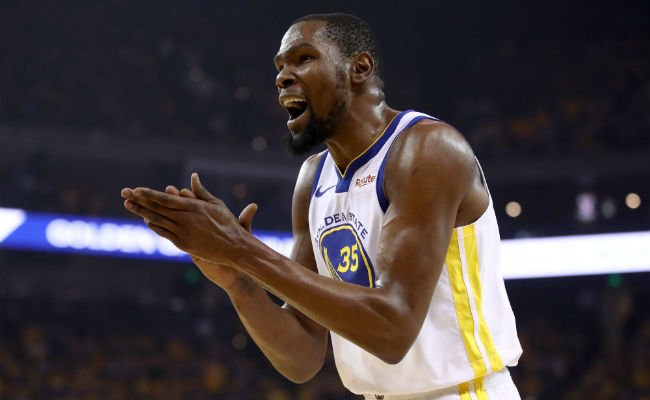 Kevin Durant, by any measure, is one of the best basketball players in the world. As such, his pending free agency dominated the conversation in NBA circles for months. Just days before free agency began on June 30, Durant made the non-controversial decision to officially become a free agent by declining his player option and, from there, the former NBA MVP undoubtedly surveyed a number of avenues. Ultimately, Durant elected to move to New York, but not as a member of the Knicks.
Adrian Wojnarowski of ESPN reports that Durant is headed to Brooklyn, joining up with Kyrie Irving on the Nets. Chris Haynes of Yahoo Sports confirmed the report, while Shams Charania of The Athletic reported he'll sign a four-year max contract worth $142 million.
There are some conflicting reports about the payday, though, as Wojnarowski says Durant will make $164 million over the course of his deal.
Wojnarowski also reported that the Nets — which apparently felt good about their chances of landing Durant earlier in the day — will land some help in the frontcourt in Durant's close friend, DeAndre Jordan.
With the backdrop of a now infamous Achilles injury suffered during the 2019 NBA Finals, Durant isn't likely to appear for much of the 2019-20 season, even with the faint potential of a return for the 2020 postseason. As such, projecting his recovery is an interesting calculus, as Achilles injuries are incredibly tricky to monitor and often hinder athletic explosiveness. On the flip side, Durant's combination of obscene length and top-tier perimeter shooting make him an interesting test case and this kind of contract investment indicates that many believe he will eventually return as an elite option.
Prior to the injury, Durant was playing at an MVP level in Oakland, averaging 26.0 points, 6.4 rebounds and 5.9 assists per game within the ball-sharing offense of the Warriors. In addition to the raw production, Durant has posted a true shooting percentage of 60 percent or higher in eight (!) consecutive seasons and, simply put, he is one of more dynamic offensive players of his generation. The basketball world is expecting to learn about this from the man himself later in the evening, as he plans on announcing his decision on Instagram.