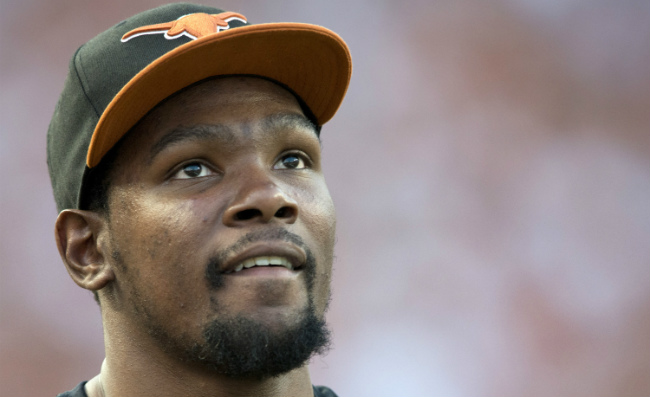 Golden State Warriors All-Star forward and noted internet user Kevin Durant has had quite the 24 hours. On Friday night, Durant received a hero's welcome from basketball fans in Seattle, as the Warriors played a preseason game at KeyArena. Fast forward to Saturday afternoon and Durant watched his alma mater's football program pick up its biggest win in years.
The Texas Longhorns faced off against their bitter rivals, the Oklahoma Sooners, in the Red River Showdown, and despite a torrid comeback from the Sooners, the Longhorns came out on top, 48-45. Picking up a win over a rival is always huge, but to do it in such dramatic fashion and to secure early pole position in the conference made this win a little sweeter.
Because he is Kevin Durant, he celebrated the win by Logging On and making his presence known. But unlike some of his more … controversial uses of social media, Durant decided to rain gobs of trash talk down on anyone who enjoys the Sooner football program. Most notably, he made fun of former Oklahoma and current Cleveland Browns quarterback Baker Mayfield on Instagram.

Durant also saw a College GameDay sign that made fun of the article in The Players' Tribune where he announced his decision to join the Warriors. It depicted Durant wearing an Oklahoma t-shirt, and he decided to use his Instagram Story to offer up a NSFW reply well after the game ended.
As for people in the Twitterverse, they weren't safe from the wrath of KD, either.

There have been plenty of times where Durant's use of social media have led to him getting criticism, sometimes from other NBA players. But if Texas football really is back, we fully endorse Durant using social media to dunk on fans of teams that fall to the Longhorns.