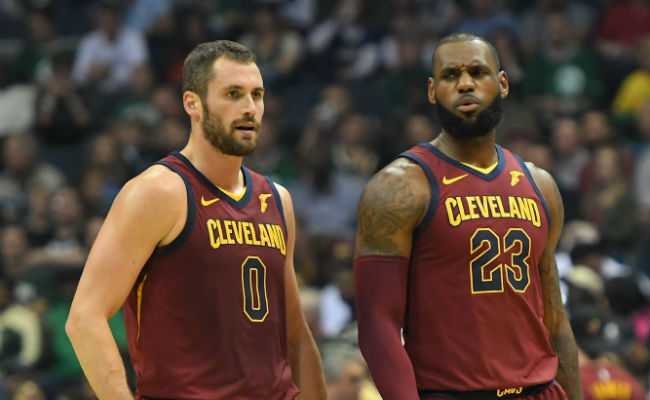 Kevin Love may seem like the scapegoat of the Cleveland Cavaliers at the moment, but he's also an All-Star. And now that he's heading to Los Angeles, he's trying to do his best to get on the best team possible.
It helps that teammate LeBron James is one of the All-Star captains picking teams for next month's game, but there's no guarantee that James picks his Cavs teammate in the secret draft he will have with Stephen Curry.
At the very least, Love hasn't been told as much by James, which is probably why he's publicly lobbying for teammates on Twitter. One day after getting the call that he will, indeed, be an All-Star, Love posted on Twitter that he'd love to play on a team with Golden State Warriors sniper and longtime friend Klay Thompson.
There's certainly a good chance that Curry will try to get all four Warriors on the same team, though he did float some fun ideas for team construction when asked by the press about his captaincy. Still, it's funny to see a player openly lobbying for someone to pick him for a team, and if you take this at face value, it's for a really cool reason.
Then again, this might be because Love is not sure if he'll be paired up with his own teammate when the rosters for both squads are announced on Thursday.
This whole draft thing might end up being more trouble than it's worth, and with the tense air in the NBA these days, maybe not putting it on TV is for the best. Fans just want to have a bit of fun with this game, but everyone seems really concerned that this whole thing could go awry in a hurry.