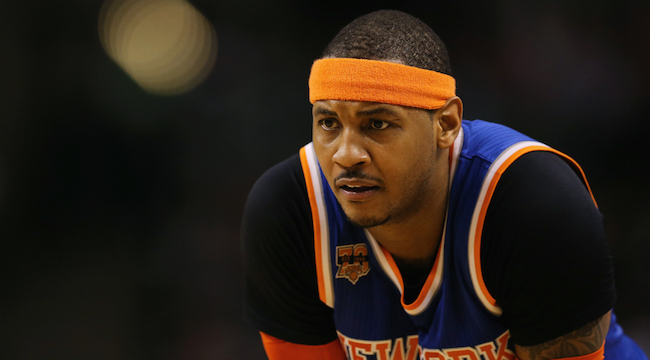 The Knicks have apparently moved on from their discussions of trading Kristaps Porzingis that reached a crescendo at the NBA Draft, but they're not done trying to force a star out of New York. Carmelo Anthony remains a Knick, for now, despite Phil Jackson's best efforts to push him out.
Jackson has repeatedly said Anthony would be better off somewhere else, but Anthony has continually refused to waive his no-trade clause. La La Anthony's comments on Tuesday morning further added to the long list of evidence that points to Anthony staying in New York. However, despite those comments about 'Melo wanting to remain close to his son, Kiyan, in New York, there continue to be rumors swirling about the potential for the Knicks and 'Melo to agree to a buyout and him to join LeBron James in Cleveland.
ESPN's Marc Stein and Ian Begley offered up a report on Tuesday that indicates Anthony's people are at least interested in discussing a buyout, although Anthony hasn't yet decided if he wants to go through with one. The problem, beyond Carmelo's internal dilemma about moving out of the city where his family lives, is that the Knicks remain defiant and want to trade Anthony, despite his insistence to this point on not waiving his no-trade clause.
Sources told ESPN's Marc Stein that Anthony's camp — while acknowledging Anthony's preference to stay close to his son — has tried to engage the Knicks in recent buyout discussions as it establishes the player's options.

…

The Knicks, according to sources, would prefer to trade Anthony at this point and view a buyout or using the stretch provision to remove Anthony from the roster as an undesirable option.

Anthony, 33, has gone back and forth recently on whether he wants to remain in New York or would be open to playing in another city, sources say. He hasn't ruled out the idea of leaving New York, those sources say.
Anthony still hasn't made a decision on his future, and the Knicks seem intent on trading him, even though he has to sign off on that move. The Cavaliers certainly won't trade for Anthony, considering his salary, and it's hard to find a team that would want to bring on his kind of deal. The Clippers were rumored at the deadline to be in consideration, but they have far bigger concerns this offseason and have indicated that, if anything, they'll push to get younger. The Celtics, the other reported deadline suitor for 'Melo, likewise have far grander plans in free agency that would preclude them from taking on his deal.
Stein and Begley report that the Wizards could be in play, but Anthony would have to agree on joining John Wall and Bradley Beal before a deal could get done. It appears as though we are in for another lengthy staring contest between Phil Jackson and Carmelo Anthony this summer (and possibly into next season). To this point, Anthony has seemed pretty intent on not blinking, and he holds all of the power.