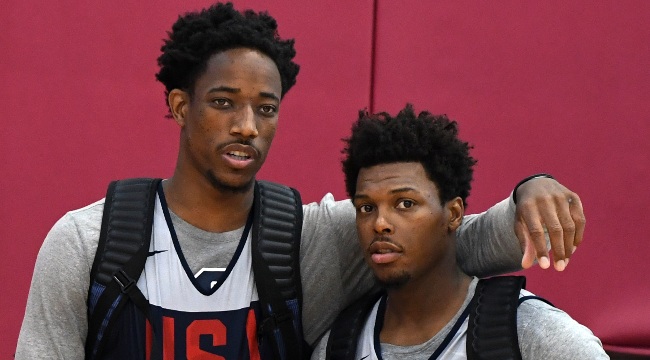 The Toronto Raptors look like the undisputed winners of the trade that centered around Kawhi Leonard and DeMar DeRozan switching teams. DeRozan and the San Antonio Spurs have struggled this year, especially on the defensive end of the floor, while the Raptors are flying high, boasting a 20-5 record that sits atop the NBA.
Still, while the on-floor results have been great for the Raptors, at the time, there was a personal element to the deal that was impossible to ignore. DeRozan was beloved in Toronto, a city which he represented every time he took the floor. He was a face of the franchise, and his best friend, Kyle Lowry, was the other star for the Raptors.
Lowry also was not a fan of the deal, something that was made clear. The reason why was simple, and it was something that Lowry explained to Rachel Nichols of ESPN: He felt the way that his friend felt.
https://youtu.be/dY19TJt370k?t=91
"I felt betrayed because he felt betrayed, because that's my guy, that's my best friend," Lowry said. "So yeah, I felt some type of way on the personal side. This is a harsh business. It's a great business, but sometimes moves are made that you're like, 'Wow, that sucks.'"
Lowry explained that he learned of the deal from DeRozan at 2:30 in the morning and that he wasn't sure what to say in response of the news. He also discussed the "fine line" between business and family, and said that the first time he spoke with Leonard after the deal was at the start of training camp. Don't worry: There's no beef between the two, it was just a matter of figuring things out as it's gone along, something the Raptors have done extremely well 25 games into the Leonard era.