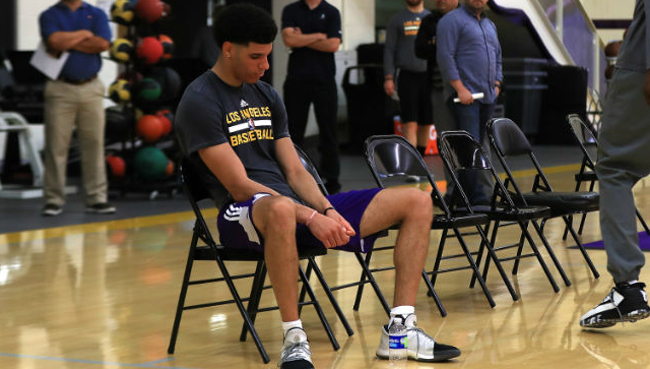 Lonzo Ball to the Lakers was once considered to be a sure thing. But now the rumblings have begun that the Lakers aren't completely sold on Ball as the second overall pick in this month's NBA Draft.
Bleacher Report published a story Friday with anonymous concerns about Ball's pre-draft workout with the Lakers. According to the report, though it's likely Ball is still their pick in a fortnight, the Lakers are exploring all options as the draft nears.
Yet Ball also didn't blow the Lakers away or seal any deal in the time he spent with their officials Tuesday and Wednesday, according to sources.

The Lakers remain intrigued by Markelle Fultz and Josh Jackson, and to a lesser extent De'Aaron Fox, along with Ball for their No. 2 overall pick.
Though Fultz is widely expected to go No. 1 overall to the Boston Celtics, the Lakers hope they can get a private workout with the Washington standout. Thus far, he's only worked out for the Celtics. Some scouts have questioned Fultz's potential as a first overall pick, but the Lakers are clearly intrigued by him at No. 2.
Kevin Ding argues in the piece that part of Ball's underwhelming performance came from the one-on-none nature of the workout. A player like Ball—a dynamic passer—makes his teammates better. You can't see him execute the pick-and-roll on his own. That's led to speculation that De'Aaron Fox, Jackson and Ball might be brought back in for second workouts that involve other lottery picks.
For now, the rumblings continue as teams decide what their future looks like. It all starts, however, with Boston. If they take Fultz first, it doesn't matter what the Lakers' preference may be.