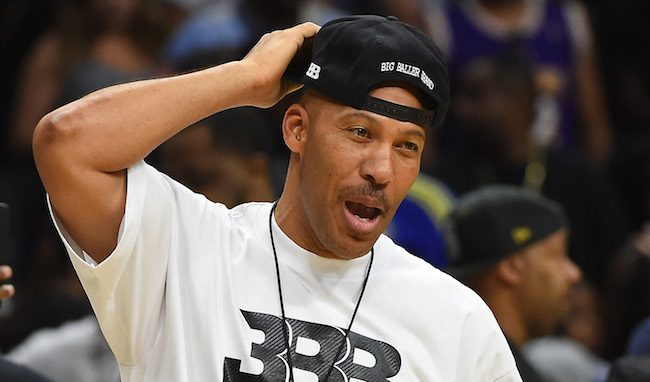 LaVar Ball has decided to take some time away from his apparent vendetta against UCLA basketball to continue his vendetta against the Los Angeles Lakers' coaching staff. Ball has criticized the way that the staff has handled his oldest son, starter Laker point guard Lonzo Ball, in the past, saying that they do not know how to coach the No. 2 pick in the 2017 NBA Draft.
Now, Ball is passing along an apparent message from his son about the fact that the Lakers are 8-15 on the season. He appeared on Sirius XM NBA to talk about, among other things, the fact that Lonzo is unhappy with the losing he has experienced thus far in Laker Land.
Couched in that message is a criticism of Luke Walton and co. that stems from the family's biggest baller, who believes he has the answer as to why the team's "record is raggedy."

Let's take this as two separate statements, one by Lonzo, one by LaVar. The Lonzo half of things makes sense — he has won everywhere he has gone during his hoops career, and not only is his all-time record probably really impressive, but he's the type of player who has always produced at a high level while he's done it. If he was not disgusted by losing, that would be a far bigger concern than if he was cool with everything.
Then we got to, uh, whatever LaVar had to say. The Lakers are building around his son — they took him with the second pick for a reason — so that's a rather odd gripe to have. And the reason he is getting a breather at the start of the fourth is the team wants him on the floor to close out games, so they're giving him a breather. Asking a player to play all 12 minutes of a fourth quarter every night is a recipe for them to be completely worn down come March and April.
LaVar's main gripes seem to stem from the fact that the Lakers aren't great and Lonzo isn't producing at an All-Star level yet, which doesn't mean he's bad or that Walton is handling him poorly, just that he's a rookie and he's going through growing pains. As is the case with most rookies, the most important thing is patience. Unfortunately for LaVar Ball, he doesn't seem to have much of that.