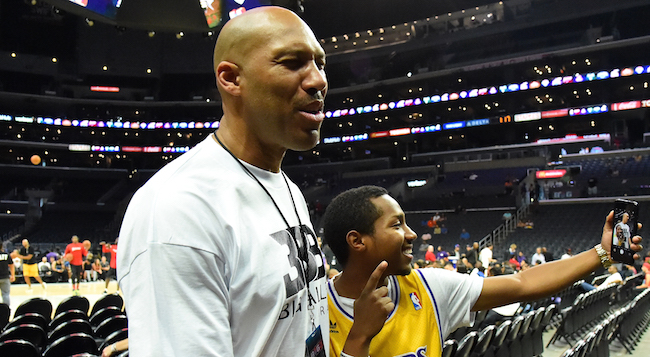 LaVar Ball finally talked trash to the wrong person and ended up getting forced to actually back his words up with actions on Sunday when he went toe-to-toe with Ice Cube in a four-point shootout at the BIG3's stop at Staples Center in Los Angeles. On the floor where Ball's son Lonzo will star for the Lakers, the patriarch of the Ball family wasn't able to cash the checks his mouth was writing.
Ice Cube's challenge to Ball was simple, 90 seconds would be put on the clock and whoever could make the most shots from the four-point mark on the floor would win. Neither performed especially well, but Cube was able to pull out a 2-1 victory over Ball in what was one of the most exciting shooting competitions between non-athletes ever, as the crowd was very much into what was happening. It was arguably the best part of the evening at Staples Center, although there's a case to be made for Charles Oakley trying to fight people in his return to the court.

The best part, by far, is LaVar Ball trying to take credit for one of Ice Cube's buckets, and the PA announcer having to correct him and properly credit Cube with the made shot. LaVar eventually got one to fall, but it's clear that that the deep shot is not the best part of his game. His form leaves something to be desired and he was way off on a number of his attempts, whereas Cube seemed to be more consistent with at least finding the rim.
The whole thing is maybe even funnier when watching from the side view deep in the crowd where you can only really see the ball being launched in the air and often bouncing far away.
Considering everything we've heard from Ball in the past about his abilities to take out legends of the game in 1-on-1 competition, this taste of his current hoops skill would give further indication that he's very much lying.