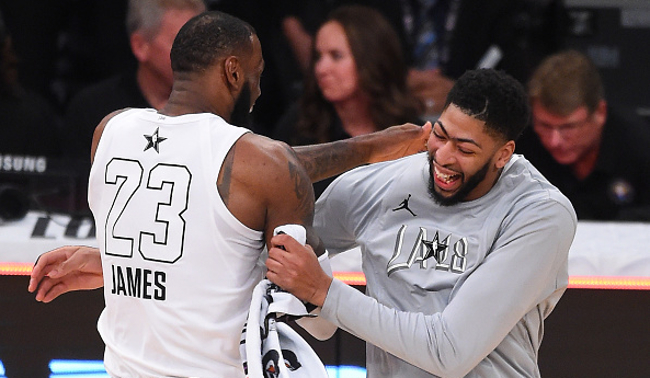 Over the past few weeks, the Los Angeles Lakers have gotten the full LeBron James experience. There was the secret but not so secret dinner between LeBron and Anthony Davis following a December meeting between the Lakers and New Orleans Pelicans in Los Angeles. Then came Rich Paul's declaration that Davis wants out of New Orleans, with his ideal destination being Hollywood.
LeBron would never cop to his shadow GM tendencies that have been almost as much a part of his career as his play on the court, at least not publicly, and when asked about the whirlwind surrounding all these Davis trade rumors on Tuesday morning, he once again played dumb.
And yet, LeBron can't seem to stay away from the allure of fantasy basketball, since it usually results in getting exactly the players he covets. When he announced his return to Cleveland in the summer of 2014, he purposely left Andrew Wiggins, who had just been drafted no. 1 overall by the Cavs, out of the list of players he was excited to play with, as he was in the midst of pushing the organization to use Wiggins in a trade for Kevin Love. A mysterious, two-week hiatus to rehab a sore back that same year led to the Cavs acquisition of Timofey Mozgov, JR Smith and Iman Shumpert. And his on-court ignorance of Isaiah Thomas during the 2017-2018 season led to a massive midseason trade bonanza that shipped off half the Cavs roster.
Now, LeBron has turned his gaze to Davis, and it's up to the Lakers to bring him his prize. In the meantime, LeBron will continue to play hilariously coy in his public interviews. Life with LeBron is not for the faint of heart.