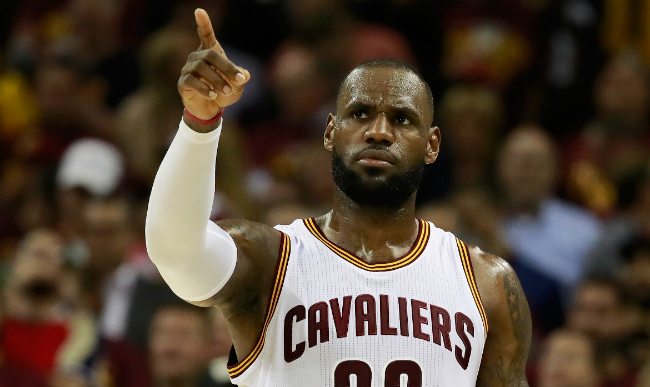 LeBron James is making the most of his offseason. He shaved his head, exchanged jokes with Draymond Green and talked about doing both on the first 'Road Trippin' podcast of the offseason. James joined Richard Jefferson and Channing Frye on Friday to talk about the Warriors and joke about LeBron's bald head.
James joins the podcast about midway through, and they almost immediately make a "that's what she said" joke, a reference to LeBron's response to Draymond Green's championship parade shirt that had the internet buzzing on Thursday.
But when asked about venturing back online after the Finals, LeBron dismissed the impact the Internet can have on him.
"My filter game right now RJ is so crazy I don't even know," James said. "I don't even see the negative stuff. I don't even see the positive stuff because it doesn't even intrigue me anymore."
They tried to make it clear that the sniping between LeBron and Draymond Green was all in good fun.
"It's all good," LeBron said. "It's absolutely all good."
Also, Rachel Nichols is right about the best line of the episode.
James talked about his decision to go bald, saying it wasn't Golden State that finally made him decide to embrace his receding hairline.

"I've been telling you guys for months," James said. "I've been telling you guys. It wasn't like I just woke up and said 'It's time.'"
Allie Clifton asked again if it was the Dubs that got him to shave his head, but he had a joke ready for it.
"If that was the case I'd have grown an afro," James said.
LeBron and the gang talk about dad stuff, summer plans, and generally make jokes about one another for a good half hour. Near the end, though, they address the concept of super teams. LeBron is already on record as saying he's never played for a super team, something he reiterates here.
He mentions the 1996 Rockets and the 2006 Lakers as examples of major teams that could be considered as the "first" super team. But he also just enjoys that the Warriors are talking about him, even while they're celebrating.
"It's great that on the day that you're celebrating your championship," James said. "My name and my likeness is in your head. I love that."
Yeah, like LeBron says: it's all good. I'm sure this is all put to rest now.