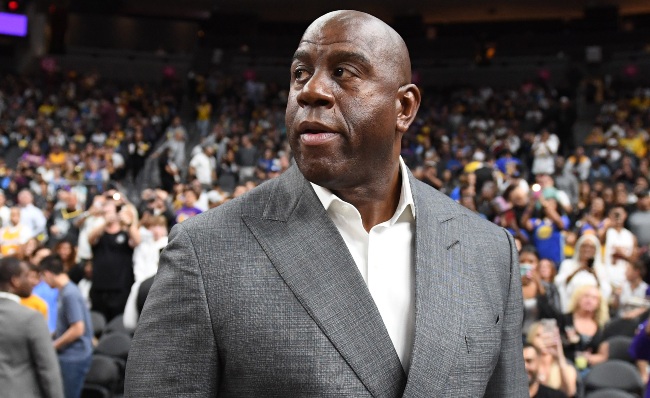 The Los Angeles Lakers have been in the news for all the wrong reasons lately and, on Tuesday, Baxter Holmes of ESPN shined a light on the mess that is the organization's front office. While there were many layers to the reporting, some of the details centered on Magic Johnson's reported "fear mongering" during his tenure with the franchise. Later in the day, Johnson appeared on ESPN alongside Stephen A. Smith and Michael Wilbon to respond.
"I've been in business 35 years, I've had partnerships with some of the biggest companies, Fortune 500 companies, in the country," Johnson began. "Now, I've never sat in an HR person's office in 35 years. Two years with the Lakers, no HR appearance. Jeanie Buss, do you think Jeanie Buss would allow me to abuse the employees? If that was the case, she would've called me in. Joe McCormick would've called me in, the lawyer for the Lakers, as well as Dan, the other lawyer. It never happened."

From there, Johnson made sure to note that he "never abused an employee" and that he "never will," citing that actions like that are "not what (he is) all about." After mentioning a handful of other topics, Johnson pivoted back to the allegations of abuse, harkening back to his time on the air at ESPN.
"Now, last but not least, I worked for ESPN for two different, separate occasions, right? Worked for them, I think, a total maybe of about eight years," Johnson said. "Worked for that man right there. Let's ask him, why didn't he ask every ESPN employee, did I ever abuse them? Never happened."
In addition to Johnson's resistance to any notion of abuse, he covered topics like the organization's relationship with high-powered agent Rich Paul and his own partnership with Rob Pelinka. Finally, Johnson pledged that "today will be (his) last day" to discuss the Lakers until July, indicating that the Lakers have "a great staff" and have to "get out of the news."
This bizarre situation continues to unfold but, according to Johnson's own words, this might be his last statement on the matter for a while.