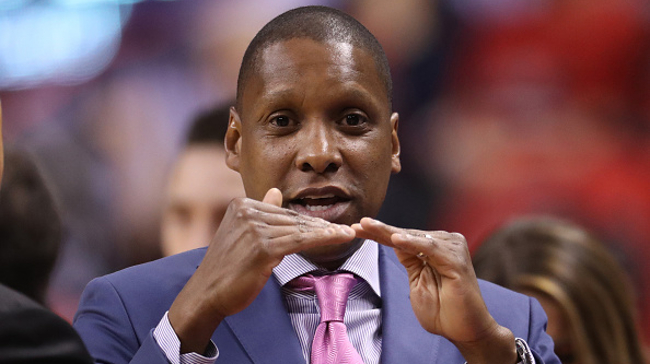 It has been almost four months to the day since Toronto and San Antonio completed the most shocking trade of the NBA offseason, with Kawhi Leonard and Danny Green heading to the Raptors in exchange for DeMar DeRozan, Jakob Poeltl, and a protected first-round pick.
The trade was surprising for a number of reasons, chief among them being Toronto's decision to part with their franchise cornerstone, DeRozan, after he re-signed with the Raptors in 2016 without taking any other meetings and publicly proclaimed that he wanted to finish his career in Toronto.
DeRozan has been open about feeling blindsided and even disrespected by the move, with a report claiming that the Raptors' brass flat-out told him he wasn't going to be traded. But the Toronto front office has been mostly quiet about the trade, focusing instead on how to move ahead with Leonard and ensure that he remains in the north for more than one season.

As it turns out, President of Basketball Operations Masai Ujiri wasn't immune to the emotional fallout that surrounded moving a player as beloved as DeRozan. In a Toronto Sun piece, Steve Simmons reports that it "tore up" Ujiri and the rest of his staff to trade DeRozan, who they loved as a person, for what he meant to Toronto, and even to Canada.
But there's a personal and painful side of this in dealing DeRozan. There is also a respect — so much so that Ujiri has been surprisingly silent on all of this and has told some people the emotional side of the business is getting to him.
Front offices don't generally admit to being attached emotionally to their players — for example, Danny Ainge traded Isaiah Thomas, who had played for the Celtics in the playoffs with a broken hip after losing his sister in a car crash, in the deal that sent Kyrie Irving to Boston. In a way, it behooves management to remain detached — like Brad Pitt refusing to go on the road with the Oakland A's in Moneyball — to make the most objective decisions for the team.
But Ujiri and DeRozan both showcased a more human side of the basketball business than we're accustomed to seeing. They thought they would be tied to each other for much longer than they were, until the NBA superstar carousel unexpectedly found its way into Toronto.
(Via Toronto Sun)