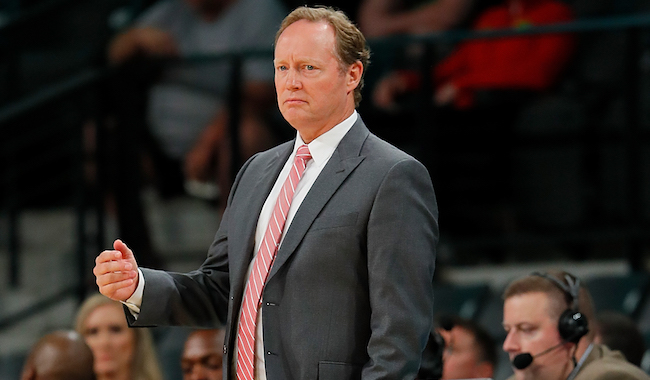 One of the worst-kept secrets in the NBA world has been that the Milwaukee Bucks would have a very interesting head coaching search from the moment their 2017-2018 season actually came to an end. Over the weekend, the Bucks fell victim to the Boston Celtics and, just days later, an intriguing list of candidates emerged via ESPN's Adrian Wojnarowski.
Though it should be noted that interim head coach Joe Prunty could conceivably have a chance to "keep" his job, the candidates noted above make that scenario seem unlikely. Former Hawks head coach Mike Budenholzer, who parted ways with his previous organization in late April, is arguably the headliner on the list, especially with indications that the New York Knicks (also linked to Budenholzer) could move in a different direction.
Elsewhere, the Bucks will reportedly evaluate a litany of former NBA head coaches, including former Hornets head coach Steve Clifford, former Grizzlies head coach David Fizdale (the supposed favorite in New York) and Monty Williams, who has been working in the Spurs front office. Unlike some of the other openings around the league, this reported group indicates that Milwaukee is in search of an established candidate and, given the presence of Giannis Antetokounmpo and a wildly intriguing roster, that makes a ton of sense. Beyond that, the Bucks are (easily) the team closest to a winning at a high level of all the current NBA openings and that provides plenty of incentive for names like Budenholzer to express big-time interest.
If this list proves to be all-inclusive, the Bucks will be hiring a coach with experience in the top job at the NBA level and, in short, Milwaukee will be even more of a team to watch this coming season.