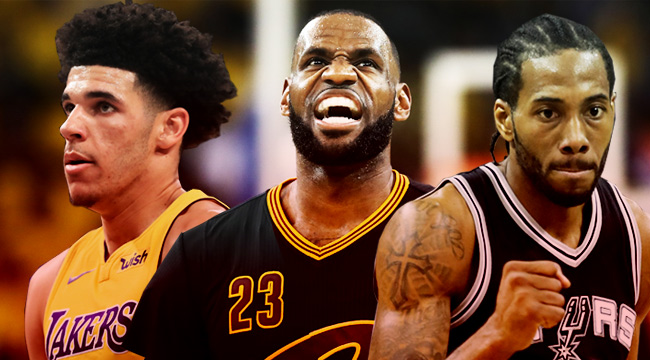 The NBA season is almost upon us and that means it's time to put predictions on paper so we can be reminded of them and embarrassed eight months from now when the season is over. This week, the Dime staff will be participating in five roundtables and dishing out their predictions for all things NBA in 2017-18.
We will start with our NBA awards predictions, which are always an exercise in futility, trying to give our best guesses on who will take home the MVP, MIP, ROY, COY, DPOY, and 6MOY awards come June. We asked each writer for their pick and an explanation; duplicate picks will only feature one explanation from one writer at an attempt at brevity. We'll start with the Sixth Man of the Year Award, which had the most different choices on the staff.
Sixth Man Of The Year
J.R. Smith (Robby Kalland, Konata Edwards)
The Cavs backcourt is crowded, but outside of Kyle Korver, Smith is the best shooter of the bunch. Dwyane Wade is going to start, but Smith still should see plenty of minutes. The Sixth Man Award typically goes to the guy who scores the most off of the bench in the NBA or scores a lot for a good team. I think Smith (who has won the award before for the former reason) will win this year for the latter. He's going to get buckets, because that's what he does, and will do so for one of the best teams in the NBA. — RK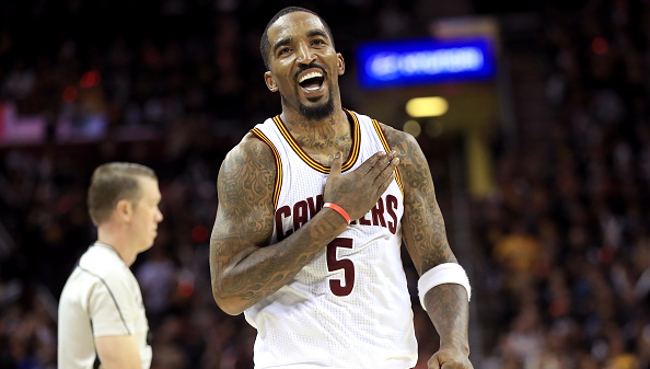 Tristan Thompson (Brad Rowland)
Everyone is going to talk about Tristan Thompson as the Sixth Man of the Year and that matters. Will he put up massive numbers? No. Will he make a huge impact? Yes. Maybe it's unrealistic to think he'll win it based on the shortcomings of Andre Iguodala in the same category, but unlike his counterpart from Golden State, Thompson actually wants the hardware.

Andre Iguodala (Bill DiFillipo)
If you had to bet on this award, the safest pick for Sixth Man of the Year is Iguodala, who chose to return to Golden State this summer after flirting with a move to Houston. This was huge for the Warriors, as Iguodala is a vital piece to their championship puzzle — a savvy ball handler and playmaker on the offensive end who is capable of guarding any wing or back-court player on the other side of the ball. As always, he will put up very solid numbers and play a massive role in the team's revered "death ball" lineup, and for the first time in his career, Iguodala will be named the premier sixth man in the NBA.
Lou Williams (Jamie Cooper)
Jamal Crawford unofficially has this award named after him, so it's hard to bet against him. But Crawford is finally starting to show signs of age as his numbers and general productivity were down across the board last season. Eric Gordon, of course, has an excellent chance to repeat this season given that he'll essentially fulfill the same role in Houston as he did last year. But I'm going with his former teammate Lou Williams, who is also a previous winner. He'll have plenty of opportunities with the Clippers this season now that Crawford is gone, and Williams can fill up the box score like nobody's business.
Rudy Gay (Tony Xypteras)
This is a risky selection considering the fact that Gay is joining the Spurs less than a year removed from his torn Achilles, but the fact that he hasn't missed anytime in training camp is certainly a good sign. If Gay is reasonably healthy, he's one of the most talented bench players in the NBA. Gay knew a sixth-man role was his reality when he decided to sign with the Spurs, so he's already got the right mindset.
Eric Gordon (Ryan Nagelhout)
This isn't exactly a big bet considering he won the award last year, but let's assume the grand experiment of Paul and Harden works in Houston and they can coexist on the floor. It's a perfect situation for Gordon to get more opportunities with defenders trying to guard those two. Things will be different in Houston, for sure, but if Gordon stays a constant for them, the Rockets will be very good again this year.

Coach Of The Year
Gregg Popovich (Ryan Nagelhout, Konata Edwards, Brad Rowland)
The scene is set for what could be Pop's best coaching effort yet. Kawhi Leonard will shine for San Antonio but the rest of the team will be a bit of a mystery. LaMarcus Aldridge says he's unhappy. Manu Ginobili is another year older. Tony Parker is coming off a significant injury, and Rudy Gay is a huge question mark. If the Spurs have a good season, Pop will almost certainly be given the credit. His reputation in the league is unmatched, and for good reason. Coaches are rewarded when teams like this find a way to make it happen. — RN
Tom Thibodeau (Jamie Cooper, Tony Xypteras)
You could honestly just give this award to Gregg Popovich every year, but since such awards often rely on narrative, I give the edge to Thibs here, although several things will have to fall in place for that to to happen. First, he'll have to coax some next-level defensive efforts out of Andrew Wiggins, who already has all the tools necessary, and he'll also need to prove that he can seamlessly integrate Jimmy Butler without stifling Karl-Anthony Towns' ascendance. Finally, the Wolves will need to end a long postseason drought. If all that happens, Thibs could run away with this award. — JC
Brad Stevens (Bill DiFilippo)
Should Boston win the Eastern Conference this year, it will require at least 55 wins. Getting to that point will be tough, and taking home-court advantage from the Cavaliers in the postseason would be the kind of thing worth some praise. Stevens is legitimately one of the best coaches in the league and came in fourth in Coach of the Year voting last season. This year, he wins the award.
Most Improved Player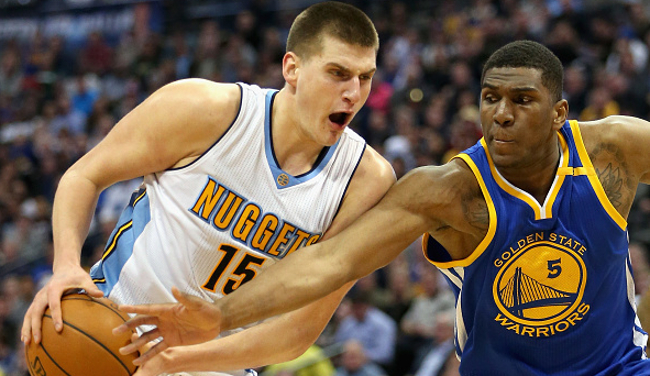 Nikola Jokic (Brad Rowland, Robby Kalland, Tony Xypteras)
This is an impossible category, usually because the criteria makes little sense, and it tends to be a year behind an actual jump in skill. With that in mind, go with a player who will make a jump in minutes and, by proxy, production. Jokic might average 20, 10 and five, and if he does that on a 48-win team, he'll win the award. — BR
Kristaps Porzingis (Jamie Cooper)
With Melo gone, Zinger is now officially the man in New York. It's a double-edge sword given the reality that the Knicks don't have much talent surrounding him, but that'll foster just the type of environment for him to thrive individually, which is what this award is all about. I can't wait to find out just what this so-called unicorn is capable of as the No. 1 option on offensive, while he continues to grow as one the league's most versatile defenders.
Jamal Murray (Konata Edwards)
Choosing a top ten pick from the 2016 NBA draft isn't a bold strategy, but when you see that Murray only averaged 9.9 points per game in 20 minutes, you realize the potential for growth is there. Even if Gary Harris just got paid, the higher upside two guard on that roster is Murray, and once you see his offensive skill-set, it'll be clear to everyone else in the league why.
Derrick Rose (Ryan Nagelhout)
All the talk out of Cleveland is that Rose is back. But everyone always says that D-Rose is back and that things are going to finally come together for the now-29-year-old guard. Yet this really might be his best chance to ever regain his All-Star form and make an impact. If he stays healthy, and if everyone stays happy in Cleveland, he could actually pull it off.
Mario Hezonja (Bill DiFilippo)
I have zero confidence in this happening, but it's the Most Improved Player award, so no one ever has any idea of what's going to happen before the year. Orlando's offense needs a shot in the arm from somewhere, and while Hezonja has been really rough at times during his tenure with the Magic, he's still only 22 and spent all offseason working on improving his game instead of participating in EuroBasket. Plus, Orlando is still, um, not going to be great this year, so they might as well let Hezonja cook and figure out whether he's able to be the offensive spark-plug they wanted when they took him in the 2015 Draft.

Defensive Player Of The Year
Kawhi Leonard (Jamie Cooper, Konata Edwards, Robby Kalland)
Certain fringe sects of the basketball intelligentsia are very high on Rudy Gobert as a viable DPOY candidate, and there's good reason for that. He's been the most imposing rim protector in the league for the past few years now. But Gobert simply cannot match the versatility of the award's past two winners, Kawhi Leonard and Draymond Green. Both can guard positions 1-5, but what sets Kawhi apart for me is the fact that he's elevated his offensive game to such a level without sacrificing any of his effort on the defensive end. — JC
Draymond Green (Ryan Nagelhout, Bill DiFilippo)
No one takes more pride in their ability on the defensive end than Green, who won the Defensive Player of the Year award last season. While Rudy Gobert and Kawhi Leonard will be brilliant defensively again this season, Green is the only player in the league who can guard all five positions, disrupt passing lanes, protect the rim, and generally make an impact wherever he is on the court when his team is on defense. He's very good. — BD
Rudy Gobert (Brad Rowland, Tony Xypteras)
Draymond Green and Kawhi Leonard are perennial candidates here for a reason and they are both tremendous. Gobert gets the nod, though, because Utah's success this season will be largely based on his individual defensive brilliance. The Jazz might have the league's best defense (and a bottom-10 offense) which should place quite a bit of emphasis on Gobert's majesty and he is very good at this. — BR

Rookie Of The Year
Dennis Smith Jr. (Brad Rowland, Bill DiFilippo, Robby Kalland)
When it comes to natural talent, Smith might have been the best player in the 2017 NBA Draft. While NC State struggled last year, Smith was great, and he was among the best players at the Las Vegas Summer League. Now, with an injury to Seth Curry and a ton of playing time available at the point guard spot in Dallas, Smith is in a prime position to play early and often. He is among the most explosive point guards in the league, and if he can hit threes at the 36 percent clip he converted in college, look out. — BD
Lonzo Ball (Ryan Nagelhout, Jamie Cooper)
I'm usually loath to lend any credence to LaVar Ball's audacious proclamations, but Lonzo really does have the best opportunity here. It was tempting to go with Ben Simmons, given his all-around talent, but he'll not only be competing with fellow rookie Markelle Fultz; he'll be playing alongside a presumably healthy Joel Embiid, who was a bona fide superstar for 31 glorious games last season. The Lakers are handing Lonzo the keys right away, and as a versatile point guard, so he should have no problem posting the type of numbers that will make him the prohibitive favorite among his peers. — JC
Ben Simmons (Tony Xypteras, Konata Edwards)
Simmons has only played in a handful of preseason games thus far, but his skill level is off the charts. He has the unfair advantage of watching a full NBA season from the bench, with NBA coaching, and NBA film sessions. He always had the talent, last year he gained the knowledge, and now he's finally healthy. — TX

MVP
Kawhi Leonard (Brad Rowland, Jamie Cooper)
LeBron James is the best player in the NBA. Kevin Durant and Stephen Curry play on the best team. Russell Westbrook and James Harden put up the eye-popping individual numbers. Then, there is Kawhi Leonard. More than anything, Leonard's two-way brilliance is the basis behind this prediction, but it also helps to be the centerpiece of what should be a 55-win team that needs him desperately. — BR
Giannis Antetokounmpo (Tony Xypertas, Konata Edwards)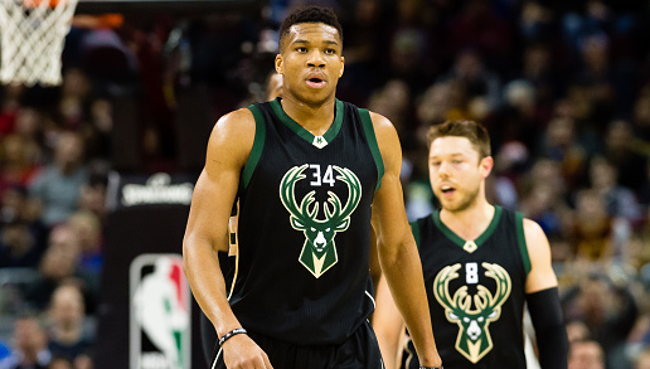 This feels like the year someone with a last name other than James, Curry, Durant or Westbrook win it. I'd pick James Harden but the addition of Chris Paul makes his candidacy a real wild card. So enter Giannis, who shot a whopping 52 percent from the field last season and only added a jumper this offseason. The Bucks won just 42 games last season before scaring the crap out of Toronto in round one. Milwaukee likely needs to get to 52-plus wins for Giannis to get a real shot at MVP. If Giannis shoots anywhere from 35-38 percent from 3, and the supporting cast stays healthy, I really believe he can win it. — KE
LeBron James (Ryan Nagelhout)
This is more of a process of elimination vote than thinking that James will have a significantly better season than he had last year. With Russell Westbrook now sharing the ball with Paul George and Carmelo Anthony in Houston and James Harden working with Chris Paul, there's a good chance the outstanding numbers they put up last season slip a bit. James is the one MVP candidate outside of perhaps Kawhi Leonard who is getting less help this year. As good as Isaiah Thomas can be when he's healthy, the Cavs will rely on James to make things happen in Cleveland. Chemistry creates happiness, and a happy, determined James is something special to watch.
James Harden (Bill DiFilippo)
Harden has finished second in MVP voting twice in the last three years. Last season, he led the league in assists (11.2 per game) while averaging 29.1 points and 8.1 rebounds per night. But because we saw a historic season out of Russell Westbrook, it wasn't enough. This year, though, Harden doesn't have to worry as much about setting his teammates up because of Chris Paul's arrival in Houston. This will let him do what he does best: Worry about scoring as many points as he possibly can in a 48-minute basketball game. If leading the league in scoring on a Rockets team that might end up with one of the three-best records in the league doesn't net Harden his first MVP, nothing will.
Kevin Durant (Robby Kalland)
Durant has been at the center of plenty of conversation this summer, but almost none of it has been about him on the basketball court, and I love that he seems to be flying under the radar for MVP. There's a big movement behind LeBron giving an F-U season to Kyrie and company, but I still don't think LeBron cares about the regular season, and that will keep him from winning this award. James Harden and Russell Westbrook will almost assuredly see their raw numbers go down simply because of the star additions to those teams and that will, in the minds of some, be a regression. Kawhi Leonard has a nagging knee tendon issue that I'd expect the Spurs to proceed cautiously with this season.
And then there's Durant. The man who dominated the Finals en route to a Finals MVP and managed to shine as the best player on a team of superstars. Durant was a monster and belonged in the MVP conversation last year prior to his injury. I expect a similar season from him, and with others likely seeing their counting numbers take a bit of a step back, I think that's enough (health pending) for him to take home another MVP award.