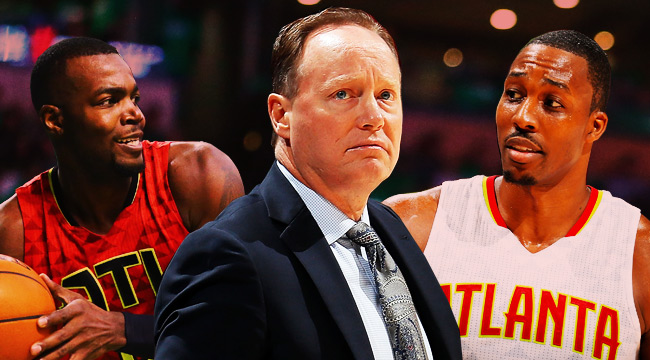 Over an 11-game sample, it looked for all the world as if the Dwight Howard era in Atlanta would be a smashing success. The Hawks began the 2016-17 campaign with a 9-2 record, and during that period of time, Howard posted eight double-doubles while averaging 14.8 points, 12.4 rebounds, and 1.7 blocks per game. Then unfortunately for Howard, Paul Millsap, and company, the bottom fell out for the Hawks.
The next 11 games for Atlanta featured a paltry record of 1-10, and the team is in the midst of a seven-game losing streak as of early December. What happened? Well, the Hawks have been utterly unable to generate positive offense, as the team's lack both of shooting and play-making has contributed to an offensive rating (99.0) that now ranks within the bottom five of the NBA. While Atlanta's now trademark defense remains quite solid, they have slipped on that end during the latest swoon, and Mike Budenholzer is left searching for answers to the tune of a starting lineup change that sent long-time shooting guard Kyle Korver to the bench as of Monday night.
Are the Hawks as bad as they have looked over this recent run? Almost certainly no. Still, visions of a 50-win debut for Dwight Howard in his home city have quickly turned into nightmares about Atlanta's possible trip to the lottery for the first time since 2007. The real Atlanta Hawks are likely somewhere in the middle, but if they tread too closely toward the negative side (and a -5.1 net rating over a 19-game sample suggests this could be the case), missing the playoffs becomes a real possibility, and that is reflected in this week's NBA Power Rankings.
Let's roll.
1. Golden State Warriors (18-3, Last week — 1st)
Klay Thompson's 60-point explosion is the latest reminder of Golden State's ridiculous ceiling. The Warriors boast the best record, the best net rating (+13.5), the best offensive rating (115.4), and the best roster. Let's just agree that this is their spot to lose right now.
2. Los Angeles Clippers (16-6, Last week — 4th)
We will learn a lot about the Clippers on Wednesday when they take on the Warriors in Los Angeles, but for now, Los Angeles receives a bump based on their lopsided road win over Cleveland last week. Of course, it has to be noted that it was followed up by a home loss to the uninspiring Pacers, but the Clippers own a double-digit net rating and their body of work remains impressive.
3. Cleveland Cavaliers (14-5, Last week — 2nd)
Khloe Kardashian isn't worried about the Cavs, and neither am I. Yes, Cleveland dropped three straight recently, but a road win over Toronto should stop any fears of big-time regression and the Cavs have little incentive to push hard right now given their placement in the East. The blind trust that I have in Cleveland will likely manifest itself throughout the year, so be prepared.
4. San Antonio Spurs (18-4, Last week — 3rd)
It seems almost criminal that San Antonio is "only" fourth in these rankings given their overall record and the fact that the Spurs are a spotless 13-0 on the road. For me, the defense is slightly worrisome in the post-Duncan era, but we are nitpicking in a big way and San Antonio continues to roll on as a member of the NBA's elite.
5. Utah Jazz (14-9, Last week — 6th)
Six of Utah's nine losses have come with George Hill out of the lineup, and while the point guard has missed the last four games, the Jazz are suddenly looking dangerous even without him. Quin Snyder has this team looking like the 50-win bunch that many (including myself) predicted, and you would be hard pressed to find a team outside of the "big four" to pick against Utah right now.
6. Toronto Raptors (14-7, Last week — 5th)
Toronto's "crime" this week was losing a home game to the Cavs by four points and, prior to that, the Raptors rattled off six consecutive wins in impressive fashion. There is reason to be skeptical of the defense, but the Raptors sit behind only the Warriors in offensive rating and they are fun to watch when it is cooking on that end of the floor.
7. Houston Rockets (14-7, Last week — 9th)
I guess I am supposed to buy in on Houston now. It is very tough to type that sentence for a team with a bottom-five defense in the NBA, but James Harden is patently absurd (in the best possible way) and the Rockets have knocked off both the Warriors and the Celtics in recent days. At the very least, this is a fun basketball team to watch and they might be really good, too.
8. Oklahoma City Thunder (14-8, Last week — 11th)
All six-game winning streaks aren't created equal, and OKC's current run would not rank at the top of the list. At the same time, taking care of business in games that you are supposed to win in the NBA is extremely important, and the Thunder are doing that right now. Did I mention that Russell Westbrook is averaging (yes, averaging) 31.0 points, 11.3 assists and 10.9 rebounds per game over 22 contests? Alright then.

9. Boston Celtics (12-9, Last week — 7th)
The Celtics are 7-4 when Al Horford plays and 5-5 when he doesn't. Nothing is ever that simple in this particular league, but Boston looks like a contender for the No. 2 seed when their big-ticket free agent acquisition takes the court, and it helps to have dynamic play from Isaiah Thomas (26.0 points, 6.1 assists per game) as well. The Celtics are still dangerous.
10. Charlotte Hornets (12-9, Last week — 10th)
Charlotte has become a polarizing team nationally after their hot start gave way to less inspired play, but even as the Hornets sport a 4-6 record over the last 10 games, I trust in Steve Clifford. The Hornets are eighth in the NBA in net rating (+3.0) and, in the end, well-coached teams that defend will always be higher on this list.
11. Memphis Grizzlies (15-8, Last week — 15th)
Somehow, the Grizzlies are 4-1 without Mike Conley and, with that, Memphis is making a lot of people look silly. Frankly, I don't know how they are doing it, but the reaction to the Conley news might have been too strong given how well Marc Gasol and the rest of the cast are playing right now.
12. Detroit Pistons (12-11, Last week — 12th)
Reggie Jackson is back and the Pistons are the Pistons again. Detroit was able to keep things afloat without Jackson in the lineup and that is a huge win considering how important he is to everything they do offensively. Look for Stan Van Gundy's team to surge a bit once Jackson gets comfortable.
13. Milwaukee Bucks (10-9, Last week — 16th)
With Khris Middleton out of the lineup, Milwaukee's offense was never going to be lights-out, but the Bucks are sixth in the NBA in defensive rating and that is enough to maintain a solid pace. Oh, and it helps to have Giannis Antetokounmpo doing crazy things on a nightly basis.
14. Portland Trail Blazers (12-10, Last week — 17th)
Just when you are ready to bury Portland, Damian Lillard and company reel off three straight wins to zoom above the .500 mark. It seems counter-intuitive that the Blazers could hold a 12-10 record while featuring the league's worst defense, but they are basically when I thought Houston would be before the season. Can they clean up the defensive end? Well, they'll have to.
15. New York Knicks (12-9, Last week — 22nd)
The Knicks have won four straight and maybe that "Super Team" talk was right after all! Okay, maybe not that exciting, but New York did take care of business in those four victories over sub-par competition (and that matters). On the more negative side, though, a -2.3 net rating indicates that recent successes should be taken with a grain of salt.
16. Chicago Bulls (11-10, Last week — 8th)
Three straight losses send the Bulls tumbling this week, and the offense is showing cracks of futility. The Rajon Rondo suspension shed some light on what could become a mess of a situation, and just one week after admitting I might have been wrong about Chicago, the possibility that I was right (but wrong about being right) rears its ugly head.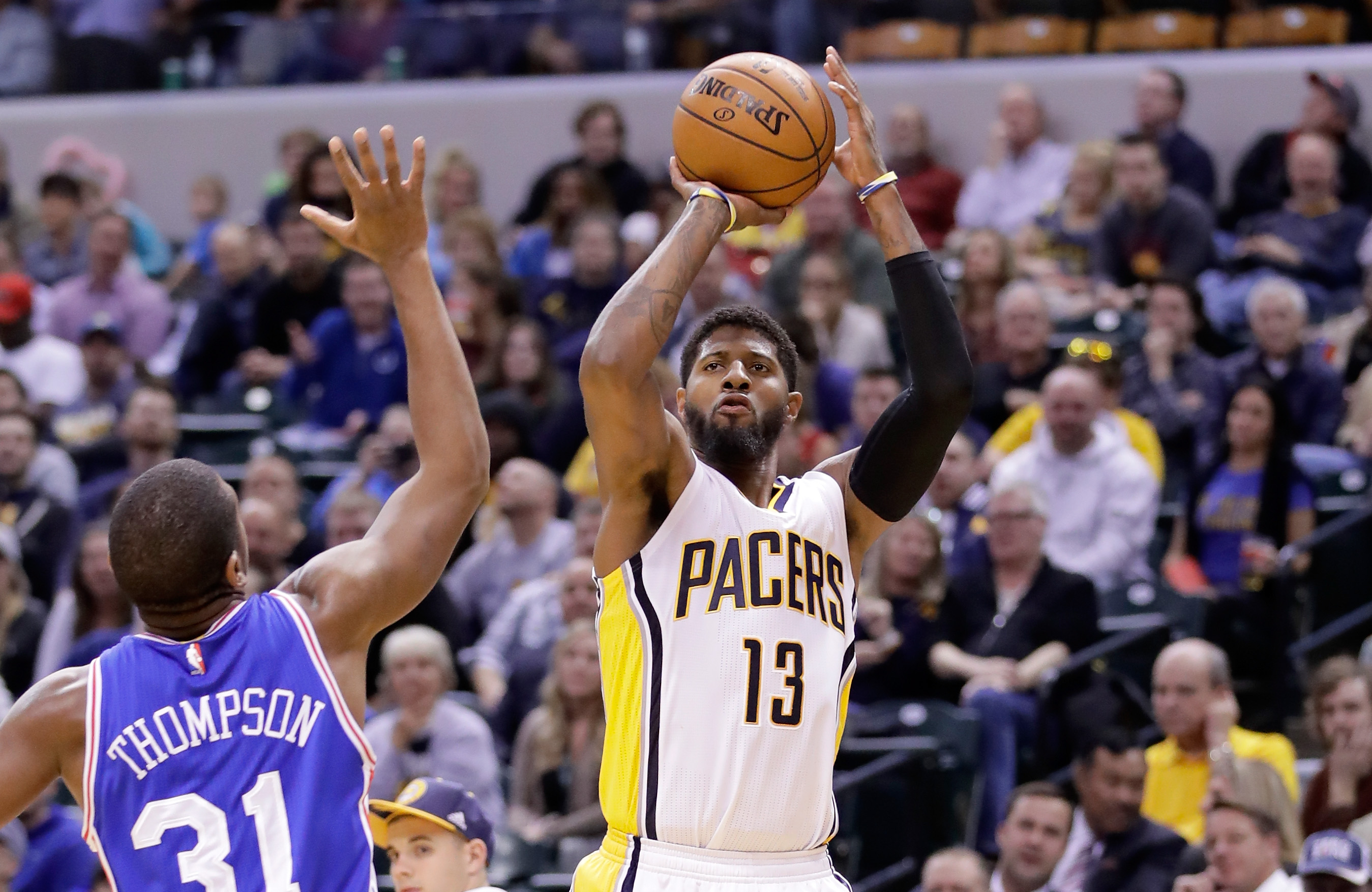 17. Indiana Pacers (10-11, Last week — 14th)
Allowing 60 points in 29 minutes to Klay Thompson didn't make this defense look any better, though I would argue the Pacers have actually overachieved on that end of the floor this season. Offense is the problem (21st in offensive rating) and it is tough to pinpoint where everything goes wrong given some of the encouraging individual numbers.
18. Atlanta Hawks (10-12, Last week — 13th)
Dwight Howard and company face off against the Heat, Bucks, and Magic between now and next week's edition. If they haven't snapped out of the funk, panic is in order.
19. Denver Nuggets (8-13, Last week — 19th)
I'm probably going to overrate Denver all year long, simply because I like their roster quite a bit. It has to be noted, though, that Michael Malone doesn't have this team defending at a high level – and that has become a problem area in a hurry.

20. Orlando Magic (10-12, Last week — 26th)

The Magic are in the midst of a three-game winning streak, with the entire trio coming away from Orlando. That seems impressive on the surface, and you are probably thinking the Magic are underrated. Then, I tell you that the wins came against the Sixers, Pistons (okay!) and Wizards. Slow down, everyone.
21. Los Angeles Lakers (10-13, Last week — 20th)
The Luke Walton era is still going better than anticipated but, suddenly, the Lakers find themselves with the third-worst defense in the league and three straight losses has popped the optimism balloon. It was never going to sustain, but the .500 version of this Los Angeles team was fun.
22. New Orleans Pelicans (7-15, Last week — 18th)
After a bump when Jrue Holiday returned, the Pelicans are settling in. They have lost three straight, and even with the caveat that each loss came to a playoff-caliber team, New Orleans isn't good enough to regularly beat upper-tier opponents. Anthony Davis is (still) preposterously good, though.
23. Minnesota Timberwolves (6-15, Last week — 21st)
Minnesota is going to be the team that defies the advanced numbers this season. The Wolves are 15th in the NBA in net rating (-1.3), but their execution when it matters has been lacking throughout and Tom Thibodeau's team has lost five of six. The Internet loves this squad with good reason, but the results aren't there.
24. Washington Wizards (7-13, Last week — 23rd)
The Wizards lost a home game (to the Magic!) in which John Wall scored 52 points on Tuesday evening. Predictably, the team's best player wasn't happy about it, and Washington feels like a more toxic situation with each passing day.
25. Miami Heat (7-14, Last week — 25th)
Miami is above-average on defense and Erik Spoelstra is doing all he can with the talent he's been given. Miami just can't score consistently and, in retrospect, the fact that the Heat were given a ton of credit before the season given this collection of talent is a credit to the trust placed in Spoelstra's brilliance on the bench.
26. Sacramento Kings (7-13, Last week — 24th)
Boogie Cousins is still averaging 29.1 points and 10.5 rebounds per game and, in short, he's been great individually. Everybody else? Not so much. The worst kept secret in the NBA is that the Kings desperately need to make a trade (or two … or three …) and, until then, the waiting game is on.
27. Phoenix Suns (6-15, Last week — 27th)
The Suns beat the Hawks at home this week. That is probably the end of the "list positive things about Phoenix" segment of today's column. It's a process. Not the process, but a process nonetheless.
28. Brooklyn Nets (5-15, Last week — 28th)
Brooklyn is actually worse than this when taking into account advanced stats, and the Nets are getting a little bit of credit for me for their early-season fire. Without Jeremy Lin, though, it is exceedingly possible that this team is as bad as it was supposed to be in the preseason.
29. Dallas Mavericks (4-16, Last week — 29th)
The Mavs have won two of their last five games and, weirdly, that is a significant uptick on their season-long level of play. The news that Dirk Nowitzki is out "indefinitely" certainly isn't great for Dallas in terms of this season but, as many have documented, the Mavs should probably be tanking and they aren't digging out of the early-season hole fast enough to avoid that fate.
30. Philadelphia 76ers (4-18, Last week — 30th)

Philly occupied this spot a week ago and they haven't won a game since. Throughout the year, pundits everywhere will talk about how entertaining the Sixers are and that will be true … when Joel Embiid plays. This is the worst team in the league right now, though, and it might not be close until Ben Simmons returns from injury.