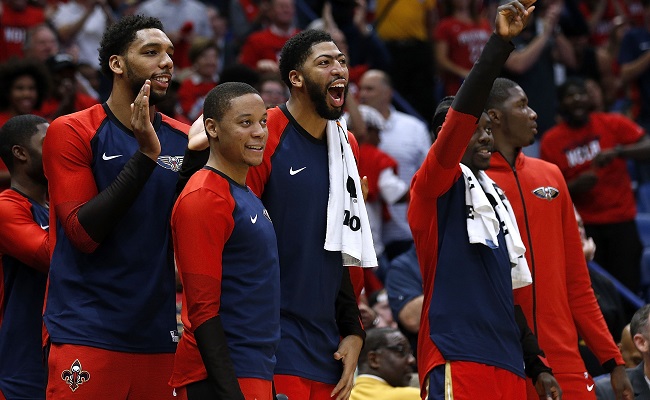 Anthony Davis and the New Orleans Pelicans entered the 2018-19 season with real expectations and it is easy to see why. After all, Alvin Gentry's club employs one of the game's best players in the midst of his prime and strong supporting pieces like Jrue Holiday, Nikola Mirotic and Julius Randle. However, not everyone was buying the Pelicans at the outset of the season, with some expressing skepticism on the heels of DeMarcus Cousins' exit and others echoing familiar sentiment with regard to a lack of quality wing depth in New Orleans.
With that said, things are off to a (very) strong start for the Pelicans and the league is taking notice. New Orleans bludgeoned Houston to open the season and, while the Rockets took more criticism than anything, it takes two to tango, and the Pelicans were fantastic in the opener. From there, Davis and company took care of business in putting up 149 (!) points in a comfortable win over Sacramento and, after exactly one week of play, the Pelicans have a spotless record and a rising tide in the national conversation.
Is it (way) too early for proclamations? Absolutely. With that said, the Pelicans have picked up where they left off in May with a fast pace and high-end offense, integrating Mirotic and Randle into the festivities and relying on the impressive contributions of Davis and Holiday. It would be quite aggressive to suggest that the Pelicans are capable of a jump into the upper-upper tier of the West but, for some, whispers that New Orleans could slip out of the playoffs may be quieted after a two-game sample of a certain quality.
Where do the Pelicans stack up in this week's edition of our power rankings? Let's find out.


1. Toronto Raptors (4-0, Last week — 4th)
The Raptors look fantastic. In some ways, that isn't a surprise given lofty preseason expectations but Toronto already seems to be firing on all cylinders and wins over the Celtics at home and the Wizards on the road (without Kawhi Leonard) are notable in the early going.
2. Denver Nuggets (3-0, Last week — 9th)

When you beat the Warriors in the season's first week and post an undefeated overall record, this is where you land. It's in the rules. Oh, and the Nuggets lead the NBA in defensive rating through three games. That's… certainly something.
3. Golden State Warriors (3-1, Last week — 1st)

If we're being honest, the Warriors should probably be No. 1 in these rankings and it wouldn't shock anyone if they never left the top spot again. Still, Golden State did fall to Denver and that provides some cover to showcase another team at the top of the mountain for a week.
4. New Orleans Pelicans (2-0, Last week — 12th)
We've only had the chance to see New Orleans twice this season but that will be rectified with a game on Tuesday evening. Balanced scheduling!
5. Milwaukee Bucks (3-0, Last week — 10th)

The Mike Budenholzer era is off to a swimming start and the Bucks would be even higher than this if they didn't mess around with the Knicks on Monday evening. Milwaukee looks great (and quite different) offensively and that further illustrates the foolishness that was taking place previously.

6. Boston Celtics (2-2, Last week — 3rd)

Losing at home to the Magic has to come with some kind of penalty and the Celtics haven't looked great. Still, it is clear that the pieces just aren't meshing at this early stage and, well, I'm not at all worried about this Boston team.
7. Philadelphia 76ers (2-1, Last week — 6th)
The Sixers have to slot in behind the Celtics after what happened on opening night, even if Philly managed to beat Orlando and Boston did not. Offensive questions in Philadelphia will be well chronicled elsewhere but, simply put, the Sixers are operating at a lower level right now than they would be if Markelle Fultz wasn't playing with the starting lineup.
8. San Antonio Spurs (2-1, Last week — 16th)

Gregg Popovich and company were able to withstand a potential signature moment from LeBron James on Monday and secure a win anyway. It's been a very Spurs-ian start to the campaign but San Antonio already has two wins against playoff-caliber opponents. That matters.
9. Detroit Pistons (2-0, Last week — 19th)

I have no idea what to do with the Pistons. Like the Pelicans, Detroit only has two games under its belt and, while they both ended in victories, the Pistons haven't seen a quality opponent on the floor just yet and neither win was particularly impressive. Buckle up as they face the Sixers on Tuesday evening.
10. Los Angeles Clippers (2-1, Last week — 18th)
The Clippers haven't left Los Angeles yet but wins over the Thunder and Rockets really help to bolster a profile. If nothing else, this is a team with a ton of NBA-quality players on it and that sets up well for the regular season.

11. Indiana Pacers (2-2, Last week — 11th)

Two blowout home wins and two decisive road losses to playoff teams. Honestly, there isn't much to glean there and, fittingly, the Pacers are the only team that stays put from the preseason rankings.
12. Washington Wizards (1-2, Last week — 17th)

Washington's three games have been decided by a total of six points. It may be a cardiac arrest season for the Wizards and Dwight Howard isn't even playing yet.
13. Portland Trail Blazers (2-1, Last week — 14th)
Portland's early schedule has been rather challenging, with three contests against playoff-ready squads, including an OT loss to the aforementioned Wizards on Monday. They've taken care of business for the most part and, at least for a few nights, Nik Stauskas has been a revelation.
14. Memphis Grizzlies (2-1, Last week — 20th)

Beating a bad Hawks team at home didn't change much of the perception around Memphis but a road win over Utah might. The Grizzlies will be relying on rookie Jaren Jackson Jr. for heavy minutes after an injury to JaMychal Green but, fortunately, the top-five pick appears to be ready on both ends.
15. Utah Jazz (1-2, Last week — 5th)

Utah is better than Memphis and we all know it. Still, the Grizzlies got the early victory and the Jazz had real trouble with the Kings in the opener before eventually escaping. They have to be knocked, at least a little bit.
16. Dallas Mavericks (2-1, Last week — 22nd)
Luka Doncic hasn't been efficient just yet but he's averaging 18.3 points, 5.7 rebounds and 4.3 assists per game in three contests. It certainly helps that DeAndre Jordan looks spry but, if the Mavericks are going to do more damage than originally expected, it will be predicated on Doncic being legitimately good as a rookie. We'll see.
17. Minnesota Timberwolves (2-2, Last week — 13th)

Two road losses, two home wins, and Jimmy Butler is still on the roster. It feels like the Wolves are in a holding pattern (because they are) but, in the meantime, it might be a good idea to get Karl-Anthony Towns involved offensively. Just a thought.
18. Houston Rockets (1-2, Last week — 2nd)

The Rockets looked dreadful on opening night and, while they were able escape a controversial game against the Lakers with a win, another loss soon followed. Houston's offensive firepower remains devastating but the roster just isn't as good as it was a year ago and that means a smaller margin for error on a nightly basis. Don't worry, though, they're better than this.
19. Charlotte Hornets (2-2, Last week — 21st)
Kemba Walker is very, very good. There isn't much else to get overly excited about in Charlotte (although Malik Monk and Miles Bridges are showing signs) but Walker's presence makes the Hornets watchable on a nightly basis and we've already seen that in the early going.
20. Miami Heat (1-2, Last week — 15th)

It feels like everyone is waiting for the other shoe to drop in the form of a Jimmy Butler trade but, for now, the Heat are the team we already thought they were. Miami's three contests have been decided by a total of five points and there isn't much to take away from that.

21. Oklahoma City Thunder (0-3, Last week — 7th)

Russell Westbrook is back and that is a good thing. However, the Thunder lost by double figures (at home!) to the Kings in his season debut and an 0-3 record is unsightly at the very least. It's too early for panic but the early returns aren't great.
22. Orlando Magic (2-2, Last week — 26th)
Orlando's win over Boston on Monday was a product of the Celtics playing bad basketball for most of the night but, when push came to shove, the Magic took care of business. There is something to be said for that and this is a team that does have talent.
23. Los Angeles Lakers (0-3, Last week — 8th)

Even most skeptics probably didn't project an 0-3 start for the Lakers and Monday night's overtime loss was brutal in that it was accompanied by two missed free throws from LeBron James. Still, James converted a game-tying three to even create the potential for a win and the Lakers haven't faced a non-playoff team to this point. It hasn't been great but we need to see more before burying this team.
24. Brooklyn Nets (1-2, Last week — 24th)

Brooklyn's lone victory came over the Knicks at home in a tight battle. That isn't a ringing endorsement but the play of Caris LeVert and Jarrett Allen is enough to get anyone excited, particularly when remembering Brooklyn's future flexibility.
25. Phoenix Suns (1-2, Last week — 25th)
Deandre Ayton shined in the opener and there was real optimism in Phoenix. Then, reality struck with two blowout losses to quality teams and things are a bit more muted at this point. Devin Booker is doing Devin Booker stuff (29.3 points per game) and that certainly helps.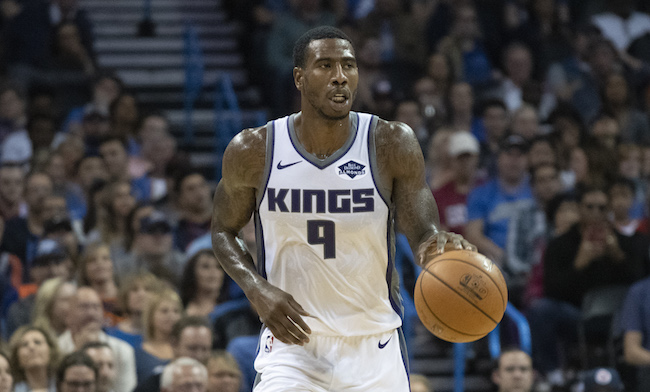 26. Sacramento Kings (1-2, Last week — 29th)

The Kings really competed against the Jazz in the opener and then stunningly throttled the Thunder on the road. Sacramento probably isn't good but there are encouraging signs that there's at least some effort being put forth on the court this season.
27. New York Knicks (1-3, Last week — 30th)

To be fair to the Knicks, David Fizdale has this roster competing at a higher level than I envisioned. Still, the team's only win came against a short-handed Hawks team at home and New York has a problem with available talent.
28. Atlanta Hawks (1-2, Last week — 28th)
The Hawks were well on their way to the basement before Trae Young's explosion on Sunday evening. It has to be said that Atlanta still isn't very good but it was a lot of fun to watch the rookie guard operate and the Hawks should be better when John Collins arrives.
29. Chicago Bulls (0-3, Last week — 27th)

In predictable fashion, the Bulls are dreadful on defense and that will hold them back throughout the season. Two losses to non-playoff teams during the season's first week also helps to push Chicago near the bottom of the pecking order.
30. Cleveland Cavaliers (0-3, Last week — 23rd)
There is absolutely nothing wrong with losing to the Wolves and Raptors on the road. There is plenty wrong with losing to the Hawks, by 22 (!) points, at home. On the bright side, Cleveland can probably go ahead and start planning the tear-down, rather than trying to talk themselves into a playoff run.