2017-18 Record: 44-38 (sixth in East)
Players Added: Jarnell Stokes (free agent)
Players Lost: Luke Babbitt (free agent), Jordan Mickey (free agent), Derrick Walton Jr. (free agent)
Projected Team MVP: Goran Dragic
Let's be 100 percent clear: If the Heat can pull off a trade for Jimmy Butler, he's going to be the team's MVP this season. But until that happens, let's give some love to Dragic, who is still a versatile guard capable of doing whatever Miami needs out of him on a given night. He can score or he can set up his teammates, and when the Heat are moving the ball as beautifully as they are capable, Dragic is making that happen. He might be an All-Star in the Eastern Conference, and unless the Heat can swing a deal for Butler, that's all Dragic needs to be the best player in Miami.

X-Factor: Josh Richardson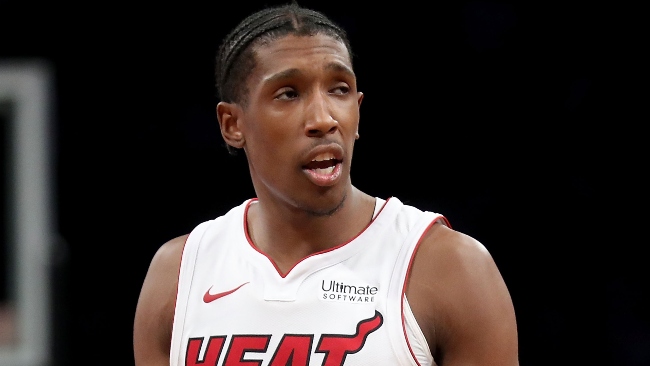 Again, this kind of comes back to Butler: If he ends up in Miami (which is looking less and less likely by the day), Richardson is probably heading to Minnesota. If that doesn't happen, though, the Heat would be overjoyed, because Richardson is really good at basketball. The fourth-year wing is a legitimate two-way player, as he's a stingy defender and has shown enough on offense that Miami gave him a four-year extension last year. As he becomes a more well-rounded offensive player, the $42 million the Heat have committed to him may end up looking like a steal. Expecting him to become a superstar this year is a stretch, but he has the potential to be the team's second-best player behind Dragic.
Best Case Scenario:
The Heat are not going to send Dwyane Wade out with an NBA championship in all likelihood, but if all goes right, Miami can put together a fun season and perhaps make a little noise in the Eastern Conference. Between guys bouncing back from injuries or struggles (Rodney McGruder, Dion Waiters, Hassan Whiteside), their bevy of younger players (Richardson, Justise Winslow, Bam Adebayo) who inspire optimism, a number of grizzled veterans (Wade, Dragic, Kelly Olynyk, James Johnson) who have been in plenty of postseason battles, and a head coach in Erik Spoelstra who always has something up his sleeve, Miami is going to be a pain in the neck all year.
The best case scenario for the Heat might be a run to the Eastern Conference Finals, one in which they beat a superior team (perhaps the Philadelphia 76ers squad that knocked them out in the postseason last year?) and get one final Wade performance for the ages in a series clincher before he hangs them up.
Worst Case Scenario:
You've probably read this in other things written about the Heat this summer, but Miami is basically running it back from last year. That team that was three games over .500 and was bounced in five games in the first round of the playoffs decided to bring everyone back. While the hope is that a year of seasoning and guys getting healthy will be a positive for them, if that doesn't happen, we have a general idea of this Heat squad's ceiling: About 44 wins and a first-round playoff exit, which wouldn't exactly be a storybook ending for Wade.