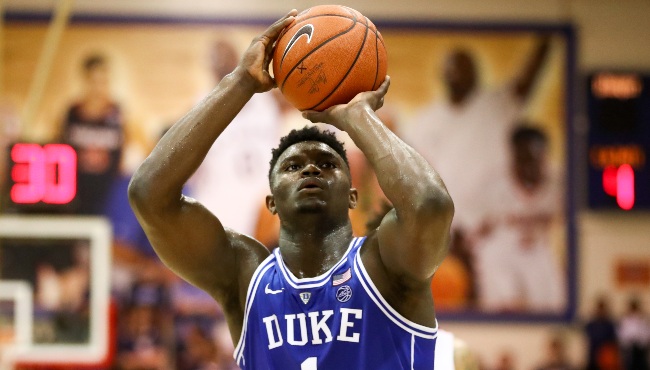 The worst place for an NBA team to be is stuck in purgatory. Being a championship contender is always the ideal, but in a way, the best path to get to that point is to bottom out and build through the NBA Draft than it is to perpetually win between 38 and 44 games and get bounced in the first round of the playoffs every year.
This leads to teams tanking, a practice that is rather controversial in the eyes of some. While it might not always be as blatant or drawn out as when the Philadelphia 76ers enacted The Process, you can still usually tell when a team has decided to jockey for positioning in the NBA Draft Lottery over winning games. It has led to the league enacting reforms to discourage the practice, like introducing new lottery odds for 2019.
Will that work? Time will eventually tell, but in the eyes of Nick Young, there is one prospect in each of the next two NBA Drafts who make it worth bottoming out. In 2019, that name is Zion Williamson. One year later and Young endorses a "Lose for LaMelo" strategy.

Williamson is as exciting of a prospect as we've seen in years, and whatever team ends up getting him will get a unique basketball player who very well could turn into a star. Ball is a bit of a different case — he was a five-star recruit prior to his father's decision to pull him from high school and send him to Lithuania to play professionally, but now, he's somewhat controversially back in the United States at a high school in Ohio, ostensibly to get him back in front of American scouts with the hopes of making it to college and the NBA.
The NBA Draft is something of a crapshoot, so it's possible that Williamson and especially Ball never develop into All-Star talents or anything like that. Still, Young thinks it's worth the risk, and we here at Dime fully endorse a team going through with this plan just to see how it would work out.