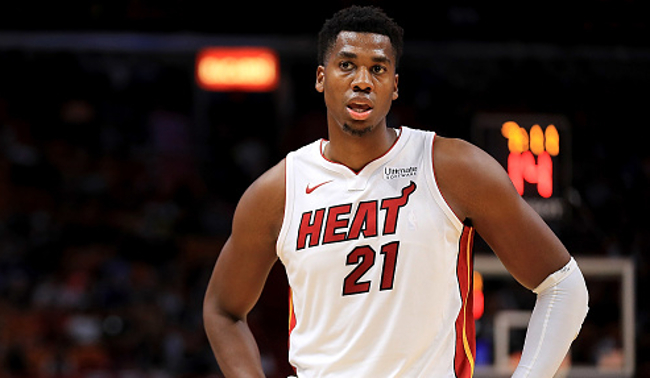 The Miami Heat were one of more pleasant surprises of the 2017-2018 NBA season. The motley South Beach crew rode a wave of unexpected success all the way to postseason berth, and despite a hasty first-round exit at the hands of the precocious upstart Sixers it was further evidence that Pat Riley's squeamishness for a full-fledged rebuild might not torpedo their future after all.
But their season wasn't without its tumult, namely the ongoing war of words between Riley, the front office, and an increasingly disgruntled Hassan Whiteside. Toward the end of the season and on into the playoffs, Whiteside publicly criticized the way head coach Erik Spoelstra used him (or underused him) in their offensive schemes and benched him for crucial stretches of games.
The Heat eventually fined him for it, and Riley went so far as to call him out for being out of shape and not being mentally prepared during their opening-round series against the Sixers, when Joel Embiid literally played Whiteside off the court. But despite his efforts, Riley was apparently unable to find a suitable trade partner for Whiteside this summer, so both he and Spoelstra are resigning themselves to the fact that they'll need to make things work going forward.
Still, Riley is staying firm in his position that the onus is on Whiteside to change his attitude and make the necessary adjustments so that he can be a contributing member of the team, and according to Riles, that entails coming in with the mindset that he won't be a focal point of the offense going forward. Via Ashish Mathur of Amico Hoops:
"I am confident that if he just comes every night and plays as hard as he can play, and do what he does best – which is rebound the ball, block shots, be a rim protector, be a hard pick and roll player, defend, all of those things – and does it with a pure heart and not with a mixed up mind of I need this or that, he will have a great year," Riley told Miami reporters Friday. "You go back to the first year and a half, people were talking about him being Defensive Player of the Year. He has that in him but it's up to him.

"I am expecting him to have a great year. We value his talent. He just has got to bring it – I talk to his agents all the time. We are all in agreement. It's up to Hassan. We are doing everything to help him but it's up to him to decide how great he can be and how great he wants to be."
If you want to read between the lines, it sounds pretty clear that Whiteside will have to accept his role or else, which could mean falling out of the rotation entirely until they can figure out a trade or a buyout. In any case, it's a saga that seems far from over.
Whiteside hasn't seemed particularly amenable to this idea in the past, so it'll be interesting to see how things pan out next season between him and the organization.