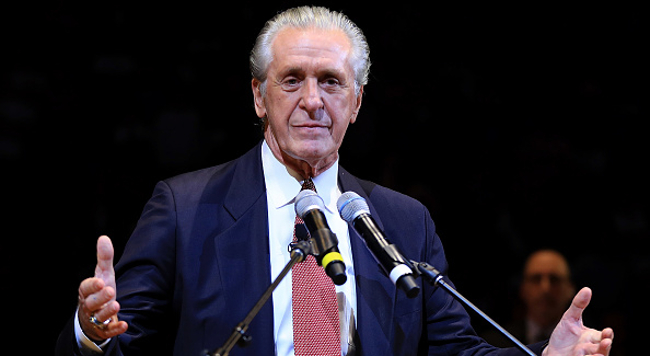 There's been something of a Cold War going on in Miami this spring, and franchise big man Hassan Whiteside has been at the center of it. Earlier this month, Whiteside earned a fine for openly complaining about his lack of playing time in crunch time situations when opponents go small, a trend that continued against the Sixers in round one.
Whiteside kept on talking out of both sides of his mouth as the series progressed, simultaneously emphasizing the need to trust head coach Erik Spoelstra, while mischaracterizing what he perceived as a diminished role within the offense. Despite his relative lack of impact in that opening-round loss to Philly, Spoelstra stated publicly that he wants to see Whiteside reach his dreams with the Heat (phrasing that is certainly open to interpretation as to the degree of sarcasm involved).
Heat president Pat Riley, however, didn't pull any punches as it pertained to the issues between Whiteside, coach Spo, and the Heat organization, and he made it clear that Whiteside is the one who'll have to make some changes if their relationship is going to continue.
Via the Associated Press:
"By the time we got to the playoffs I don't think he was ready," Riley said. "He wasn't ready. He wasn't in great shape. He wasn't fully conditioned for a playoff battle mentally. He, and we, got our head handed to us. The disconnect between he and Spo, that's going to take a discussion between them and it's going to take thought on the part of coach and also Hassan.

"How will Hassan transform his thinking, 99 percent of it to get the kind of improvement that Spo wants so he can be effective? How can Spo transform his thinking when it comes to offense and defense and minutes or whatever?"
Let's first set aside whatever Riley's historically skewed notion of being "in shape" might entail, considering his rather notorious reputation – however deserved or not – for running players into the ground with over-the-top workout regimens.
Unfortunately for both sides, making their relationship work might be their only option at this point. Whiteside is unlikely to bring back the type of value the Heat would seek in return on the trade market, given his sub-par play this postseason, which is mostly a byproduct of his overall anachronistic skill-set at his position.
Still, there's a lot that could happen between now and next season, especially for a team that was one of the nicest surprises of the season and who are always actively exploring ways to improve.