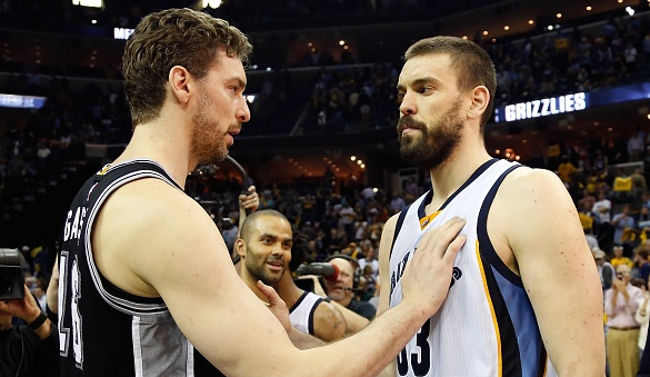 The situation in Memphis got bleak quickly this season as injuries and losses piled up and plunged the team into utter disarray. It all started with a brutal eight-game skid in November that subsequently cost David Fizdale his head coaching job as rumors of in-fighting between him and star center Marc Gasol dominated the headlines.
The Grizzlies have been without Mike Conley for much of the season during to a lingering injury, and in late January, the team announced that he would undergo season-ending surgery to repair his troubled heel. Things have gone downhill from there as they are currently in the throes of a 13-game losing streak that has earned them the dubious distinction of owning the worst record in the NBA.
Needless to say, these are trying times for a proud and scrappy team, and particularly for Gasol, who at 33 only has a few good years left to compete for a championship. His brother Pau can certainly empathize, and ahead of the Spurs' game against the Grizzlies in San Antonio on Monday, he offered some words of encouragement to his super-talented younger sibling.
Via Ronald Tillery of The Commercial Appeal:
"Of course, he's upset. He should be upset," Pau, a forward with the San Antonio Spurs, said on the eve of their game Monday night at AT&T Center. "Any player who competes and cares would be upset. That's a good sign from a player who cares and is a leader. He's putting his body on the line and not quitting."

***

"What I told him is, 'Do your best. Keep competing.' That's the only thing you can control," Pau said. "You can't control that one of your best players, Mike Conley, is out for the year. You can't control that (Chandler) Parsons, one of your biggest signings, has an (injury) issue and so forth. All you can control is your effort, your work ethic, your mindset going into games."
The Grizzlies' front office was unwilling to entertain trade offers for Gasol prior to last month's deadline, but they'll face an uncertain offseason amid the mounting pressure from his growing disgruntlement, Conley's injury, and a roster unfit to matchup against the Western Conference elite.
Gasol still has two years remaining on his contract but has a player option for the 2019-2020 season. Though his brother Pau's public comments in no way suggest that he should demand a trade, he himself did precisely that under similar circumstances in 2007 prior to a deal that sent him to the Lakers and, coincidentally, landed Marc in Memphis.
At his age and with an inevitable physical decline already on the horizon, Marc's loyalty to the city he's called home his entire career will be tested like never before.