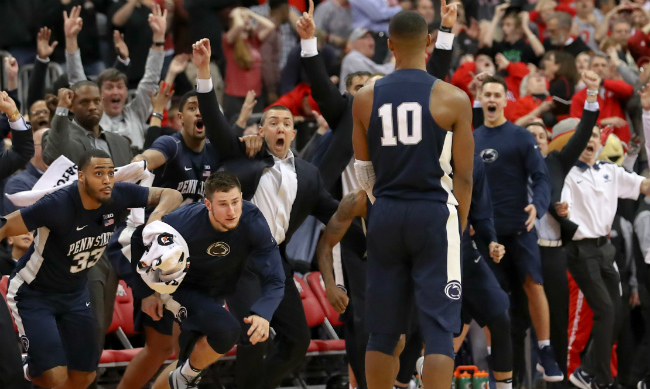 College basketball seems to have a few games every season that involve teams trading half court shots at the end of the game to decide a winner. We got one of those games in Columbus on Thursday night, as the Penn State Nittany Lions took down the 13th-ranked Ohio State Buckeyes, 82-79, on a banked in buzzer-beater from half court.
The Nittany Lions jumped out to comfortable lead early on, and every time the Buckeyes punched back, Penn State was able to fend them off. At the end of the game, though, Ohio State was able to tie up the game due to an absolutely ridiculous three by Big Ten Player of the Year frontrunner Keita Bates-Diop.
In response, the Nittany Lions put the ball in the hands of starting point guard Tony Carr, who banked in a prayer from half court to stun the crowd at Value City Arena at the Jerome Schottenstein Center and hand Ohio State its first Big Ten loss of the year.

Carr and Bates-Diop went back-and-forth all evening, with Carr having a game-high 28 points and Bates-Diop right on his heels with 25. On a day where the NBA mostly made headlines for things that occurred off the court, it's cool to see that the world of college hoops was able to give us an absolute banger of a game.