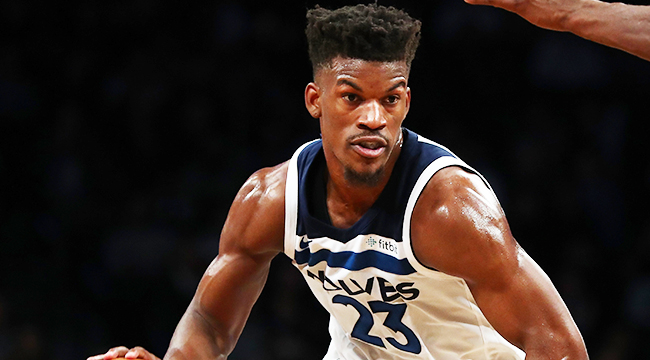 Sometimes, it's easy to get caught up in all the drama of the NBA and forget that the league and all its internal and external machinations are purely a mass entertainment product.
That goes for everything that happens on and off the court, including the rumblings of inner-organizational turmoil, the never-ending coaching carousel (though oddly quiet this year), the midseason trade deadline, free agency, and, yes, the petty little beefs between so-called enemies.
That's not to say some of the NBA's beefs and rivalries aren't legitimate. Indeed, some of them are intensely, palpably real. But let's face it, most of them aren't. This month's honoree, Jimmy Butler, gets a special shoutout for straddling that increasingly-amorphous line between reality and fiction.
At last month's All-Star Game in Los Angeles, Butler did something we've personally never seen before when he opted to sit out the entire exhibition. Butler was perfectly healthy at the time, although he later cited fatigue as the primary factor in that otherwise curious decision.
In one respect, it was understandable given that his head coach, Tom Thibodeau, is notorious for running his star players into the ground like they were an '86 Cutlass Supreme. Plus prior to his injury, Butler was leading the entire league in minutes per game. (In light of his injury, the dubious wisdom behind that strategy is a whole other discussion).
So Butler seized an opportunity to rest, which didn't sit well with a lot of folks, including some of his NBA peers who considered themselves worthy of an All-Star nod and justifiably found it disrespectful.
We're talking specifically about Lou Williams, an underdog darling of the NBA this season whose stellar play has somehow managed to keep the Clippers afloat amid an ongoing roster teardown. After the game, Sweet Lou tweeted directly at Butler to let him know how he felt.
This prompted Butler to immediately marshal the forces of his inner ninth-grader and challenge Williams to a high-stakes game of one-on-one.
(Sidebar: Doesn't it seem like Williams, with his general DGAF attitude, would be down to make this happen? Why can't all petty beefs be settled with a mano-a-mano bragging rights showdown, where the money goes to charity or something?)
But then the whole thing took a dark turn when Butler went down with a knee injury a couple of weeks ago and the Clippers' Twitter account took poor taste to a new low and posted an image of Williams with an oversize emoji of a sly grin.
The online backlash was swift and merciless, and the Clippers quickly deleted the tweet, although as we've learned by now, nothing is ever really deleted from the internet (which is a general reminder that you should just never post anything online ever).
That was basically the end of that, but it didn't take long before Butler was embroiled in yet another beef. Toward the end of a Minnesota loss to the Utah Jazz last weekend, Jeff Teague took a cheap shot at former Wolves point guard Ricky Rubio, which started a minor dust-up between several players, as well as Thibs.
Butler, for reasons known only to him and from the comfort and safety of his convalescent living room, took to Twitter for the first time in years to praise Teague for committing a totally unnecessary flagrant foul. He then directed another vaguely-threatening tweet at Jae Crowder for squaring up on Thibs, to which Crowder responded in online-tough-guy-ALL-CAPS-lettering inviting him to meet him in proverbial Temecula.
As it turns out, the joke, as usual, is on us. See, Butler and Crowder were teammates once upon a time at Marquette and apparently remain close to this day, so all that social media posturing was done with a wink and a nudge, letting the old pals have a good laugh about it when they saw each other in person.
But the Wolves don't have much to laugh about anymore. Their postseason prospects are tenuous, a goal rendered exponentially more difficult without Butler in the lineup as he continues to rehab. Butler was expected to miss 4-to-6 weeks after undergoing surgery on his meniscus at the end of last month, meaning his most optimistic return would be sometime around the beginning of April if there are no setbacks.
That gives Butler almost a month to manufacture more beefs with foes old and new.