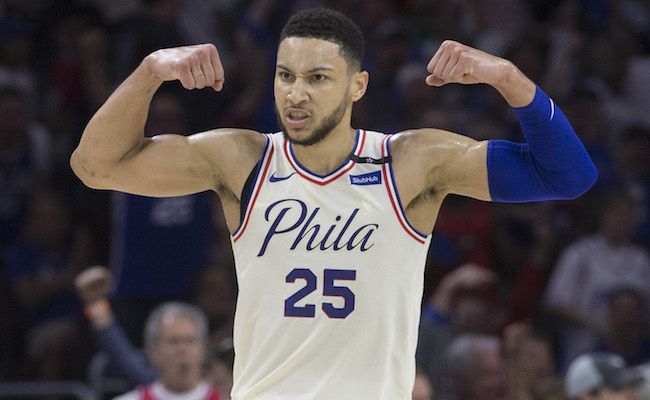 Ever since becoming the NBA's uniform provider last season, Nike has especially shone when it comes to the City uniforms that pay tribute to something near and dear to the hearts of fans. Take, for instance, the Miami Heat's Vice threads or the upcoming Minnesota Timberwolves uniforms that pay homage to the late, great Prince.
Some internet sleuths learned on Monday that the Sixers upcoming City jerseys were going to look a little bland. They were all-gray thread that didn't feature the team name anywhere, and while the shorts looked cool, the tops left a lot to be desired. That was especially true when paired together, because gray-on-gray isn't exactly the most appealing look.
However, on Tuesday, we got some more information about the concept and saw them on some players. Once that information dropped, the unis made way more sense, and are actually pretty cool. The Sixers announced in a release that these threads are inspired by films like Rocky and Creed, which of course, were both set in the City of Brotherly Love.
The uniform's core displays the iconic circle of 13 stars derived from the boxing ring where Rocky Balboa first squared off against Apollo Creed, while the gray sweatsuit-textured base was influenced by both Adonis Creed's and Rocky's legendary training scenes throughout the streets of Philadelphia. The crisp blue, red and white waistband trim on the shorts is inspired by Rocky's championship belt. Meanwhile, the phrase "PHILADELPHIA, USA," is embroidered on the lower left hem of the jersey as a nod to the city's fans, heart and determination.
Here are the uniforms on Ben Simmons and Markelle Fultz, with the former posting up at the gym where Rocky Balboa trains Adonis Creed and the latter hanging out at the restaurant that got turned into Adrian's in Rocky Balboa and Creed.
They certainly look like the sweats that boxers wear while they train, and while they're not the flashiest uniforms we've seen out of Nike, they're a fun concept. The Sixers will highlight these a number of times this season, as they'll wear them during all Friday home games and for all home games during the month of April.