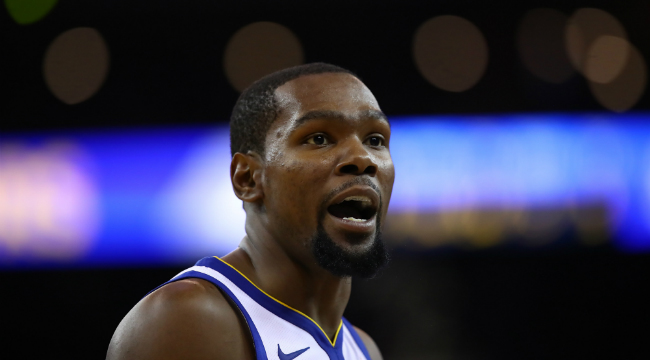 Kevin Durant was, apparently, the first overall pick in the 2018 NBA All-Star Game draft. We don't know for sure because the draft wasn't televised, which is something that hopefully changes soon, but Durant seems to be under the impression that he was selected by LeBron James with the first pick, which makes sense, because Kevin Durant is very good at basketball.
There was something almost poetic about Durant being selected first, as this season is the 10-year anniversary of his rookie campaign. Of course, Durant was not picked first when he was part of the NBA Draft, that honor went to Greg Oden.
A decade later and Durant seems like he's never let that go. At the very least, he indicated after Golden State's 126-113 over Minnesota on Thursday night that he thought about it when he was taken with the first pick in this draft.

This is probably Durant having some fun — he showed he has a sense of humor with regards to the All-Star draft on his Instagram — but the Portland Trail Blazers' Twitter account found an opportunity for some self-deprecating humor.
"What if Portland drafted Kevin Durant over Greg Oden?" is one of the NBA's best what ifs ever, even if it made sense for Oden to go No. 1 at the time. Still, shout out to the people behind Portland's Twitter account for making fun of themselves like this. Time really does heal all wounds.