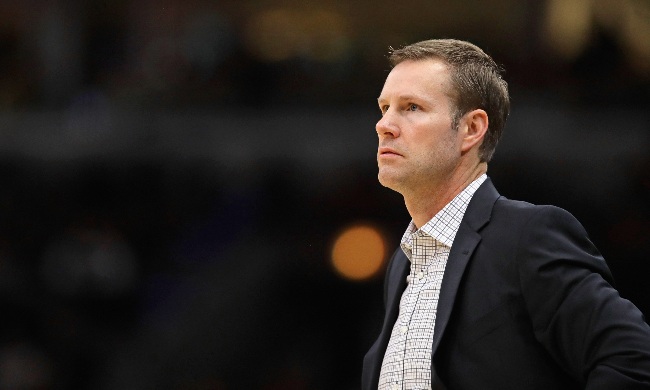 UPDATE: It's official: Fred Hoiberg is the next head coach at Nebraska. The program announced the news on its Twitter account, linking to a statement from Hoiberg, athletic director Bill Moos, and chancellor Ronnie Green.
Adrian Wojnarowski of ESPN reported that Hoiberg agreed to a seven-year, $25 million deal, which the school confirmed in the release.

EARLIER: Fred Hoiberg is heading back to college. Nearly four months after his midseason firing by the Chicago Bulls, Hoiberg has decided to return to the level of basketball that made him a star in the coaching profession. According to multiple media reports, Hoiberg's long-anticipated move to become the next head coach of the Nebraska Cornhuskers is done.
Despite the fact that he's known for his time as a player and coach at Iowa State, Hoiberg has ties to Lincoln, as he was born there and his grandfather, Jerry Bush, coached the basketball team from 1954-63. Hoiberg had been considered the frontrunner for the job in Lincoln even before it became vacant — his name got linked to the job before now-former Huskers coach Tim Miles got let go on March 26.
According to Evan Daniels of 247Sports, Nebraska is going to fork over some serious coin to acquire his services.

https://twitter.com/EvanDaniels/status/1112034701529755648
From a basketball perspective, it's stunning that a school that's not particularly well-known for its hoops program was able to get perhaps the biggest coaching free agent on the market. While his time in Chicago might have soured some on Hoiberg, he did an outstanding job at Iowa State, turning the Hawkeyes into an annual contender in the Big 12 during his time at his alma mater — in five years, he accrued a 115-56 record and a 49-39 conference marks with back-to-back Big 12 Tournament wins in 2014 and 2015.
Nebraska is a really tough job. While the school has invested in basketball and has one of the toughest places to play in the Big Ten, the program has only made the NCAA Tournament seven times in its 123-year history. Plus climbing the conference ladder in the Big Ten is quite difficult. But even if Hoiberg ends up being there for a few years before taking a bigger job, this is a home run hire by Nebrasketball.