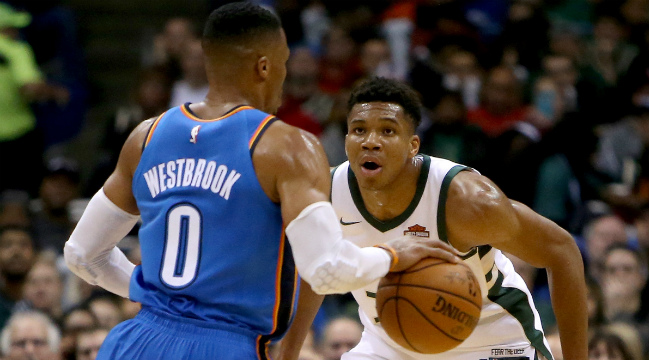 Two of the most explosive players in the NBA will get signature sneakers through Nike next year. It was revealed on Thursday that Giannis Antetokounmpo and Russell Westbrook will receive signature kicks for the first time in their NBA careers in 2018. The news came via an earnings call in which Nike CEO Mark Parker went through a list of new sneakers that will drop in the not-too-distant future.
Parker listed off a handful of Nike athletes that will get the latest versions of their already-established signature shoes, including the much-anticipated Kyrie 4. In there, according to Sole Collector, Parker dropped the news about the reigning MVP and the Greek Freak.
"In the next several weeks alone, we'll deliver the next version of the industry's biggest signature shoe with the Kyrie 4," Parker said. "We'll build on the incredible first year of Paul George's signature shoe with the PG2. We'll introduce an all-new Flyknit construction with Kobe's next performance design. And Jordan Brand will launch its first signature shoe with reigning MVP Russell Westbrook. We're also thrilled to expand our relationship with Giannis Antetokounmpo as we bring his unique personality to life through new signature product and storytelling next year."

Antetokounmpo has been signed with Nike throughout his NBA career. There was expected to be a bidding war for the Milwaukee Bucks' star when he hit sneaker free agency, but instead, he decided to stick with the swoosh. This also speeds up the perceived timeline of when he'd get a signature kick, as it was believed his would come in 2019.
As for Westbrook, he's been signed to Jordan Brand for some time, and signed a 10-year extension with the company over the offseason. He's gotten plenty of Jordan Brand gear in the past, most notably some insane Jordan 10s for winning the NBA's MVP award last season, but he has never had a signature kick until now.
Nike making sneakers that are exclusive to both guys makes a ton of sense, as they're two massive stars who appeal to wide audiences. All we can hope is that Antetokounmpo gets Nikes and Westbrook gets Jordans that are unique as both of their respective games.