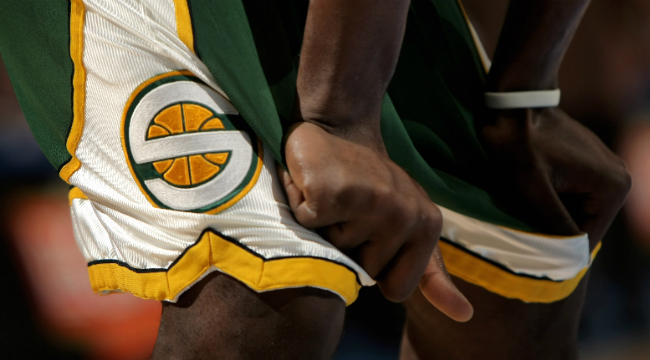 The long path to the Seattle Supersonics returning to the NBA may have gotten a bit shorter this week. Some major names have signed on to help renovate KeyArena in an effort to bring men's professional indoor sports back to Seattle in the near future, whether it be an NBA squad or an NHL team.
The Seattle Times reported on Wednesday that Hollywood director Jerry Bruckheimer and billionaire investment banker David Bonderman are on board with a plan to renovate KeyArena and eventually return the NBA to Seattle. They are members of an organization called Oak View Group.
Introducing Hollywood film and TV producer Jerry Bruckheimer and billionaire investment banker David Bonderman as partners in the project, OVG said it intends to pursue an NHL team in the short term and an NBA team down the road.

"We're going to get you a team," said Tim Leiweke, OVG's CEO. "Mark it right here. I promise you … we're going to get you at least one team."

Signing a letter with the 55-year-old Seattle Center venue as a backdrop, Murray and Leiweke agreed to negotiate a memorandum of understanding (MOU) — and dealt a blow to a rival arena project pitched for the Sodo District by entrepreneur Chris Hansen. The MOU with OVG would go to the Seattle City Council for approval.

Rumblings about the return of the Sonics have happened for years, but it looks like people are finally signing on to make the modern arena necessary to lure the NBA into expansion actually happen. These major players are added to a list that includes athletes like Russell Wilson and Ray Allen who want to see the NBA return to Seattle.
The plans for the renovation of KeyArena are actually pretty cool—the plan is to dig down and create a few more rows of seats while keeping the building's unique roof design in place. The building is expected to receive historical landmark status because of said roof, so there's significant reason to invest in the aging facility and make it worthy of the NBA.
Any deal for KeyArena renovations, however, would probably start with the return of NHL hockey. After the Los Vegas Golden Knights start play this fall, the NHL will be stuck with an uneven 31-team league that's short of a team in its Western Conference. That's an obvious spot for an expansion team in Seattle, and it looks like the pieces are moving into place to potentially make that happen.
So where does that leave the NBA? Well, at the moment it leaves them mum on the whole ordeal. There's talk that Adam Silver wants to return a team to Seattle, but thus far they haven't said anything about it officially. If the money does fall into place to renovate KeyArena, however, it's likely the league follows that money back into Seattle. Someday.
(Via The Seattle Times)