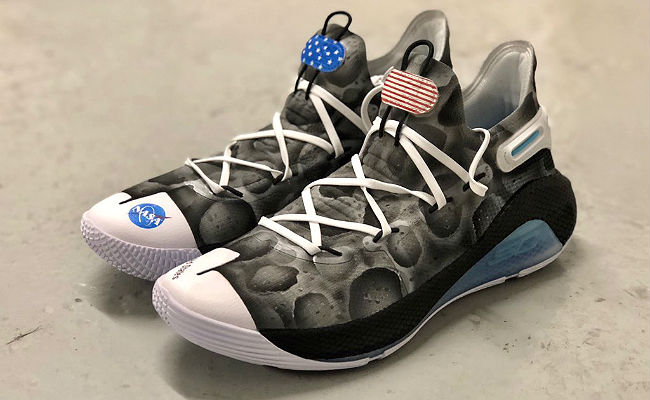 The most logical conclusion to any viral story in 2019 is a branded charity giveaway in which the originator of said viral story claims they were kidding all along. That appears to be the case once more, at least with Steph Curry claiming that the moon landing was faked.
The Golden State Warriors superstar made the claim on a podcast in December, which spawned a number of different stories as a result. Skeptics said he may have made the claim that man did not land on the moon to draw attention to the new podcast, or that he was joking. And now that story has become a rare colorway for the Curry 6, Steph's signature shoe with Under Armour.
On Thursday night UA's Moon Landing colorway debuted, with the ultra rare look that features NASA design elements and a patriotic theme. And as it turns out, the look will actually help promote STEM education in the Bay Area through an auction.

According to ESPN, Curry was "one thousand percent joking" about the fact that he said humans had never landed on the moon. But it did inspire a pretty cool look for this colorway.
Dubbed the "Moon Landing" Curry 6, customized by best-in-class sneaker artist Dan Gamache of Mache Customs, the hand-painted shoes feature a series of NASA-related touches and details throughout.

A gray, moon-rock textured graphic can be found along the upper, with a NASA logo icon along the toe tip and the agency's color accents throughout. The stars and stripes of the American flag are each highlighted along the tongue tabs, honoring the USA's distinction of being the only space agency to have completed a manned mission to the moon.
Either way, it's a nice coda to a weird saga in which Curry said on a podcast that NASA's well-documented moon landings were all faked. The sneakers getting auctioned off were worn by Curry against the Houston Rockets in a loss on Thursday, and everyone involved with the foundation and the collaboration with DonorsChoose.org seems thrilled Curry came around on space and turned this into a positive for some science-inclined kids.
"We're deeply grateful to the Stephen and Ayesha Curry Family Foundation for supporting Bay Area teachers and students through DonorsChoose.org," said Charles Best, founder of DonorsChoose.org said in a statement. "These funds will provide resources for the next generation of scientists, engineers, and mathematicians to be successful in the classroom."
The auction for the shoes starts on Monday and runs until January 13 at a special eBay shop where other items sold will also raise money for STEM education.