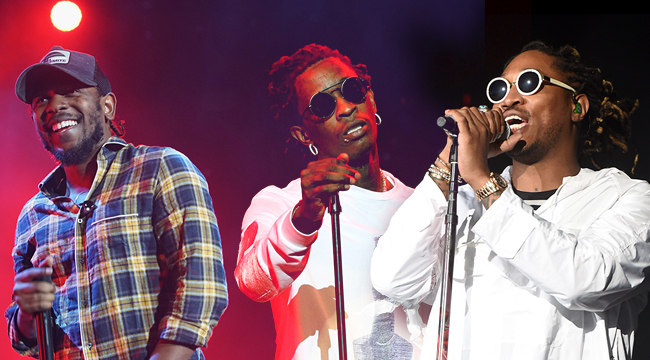 Looking for a common thread for the best rap songs of 2017, it almost seems more daunting than it really is. There is tremendous diversity there, so much so that it seems almost like they have nothing in common. But if you look just a hair closer, you start to see it. That sing-song delivery, the slow meshing of melody with the spoken delivery that's turned hip-hop into the culmination of the style originally envisioned by Bone Thugs N Harmony way back in 1993.
It might seem cliche to say now, but a rapper in 2017 can't just be a rapper — with the amalgam of rap and pop dominating practically every music chart (including country. Check out Sam Hunt's "acoustic mixtape" for your evidence), a rapper must be clever not just with rhyme schemes and wordplay but tunes and harmonies as well.
Drake may have kicked off the modern version of the concept with his 2009 mixtape So Far Gone, but what was once a novelty and an idiosyncratic quirk of The Boy's delivery has become the en vogue style du jour of both his contemporaries and his adherents, and even of more traditional R&B singers like SZA. Rap may not sound the way it did in 1993 when Bone Thugs were an exception, but that's ultimately a good thing — it means that the genre is adapting, growing, evolving, and thriving, and will continue to do so as long as it keeps changing.
20. Travis Scott, "Butterfly Effect"
Travis Scott's musical aesthetic can be boiled down to one thing: capture a moment. Think about it, no song from the Birds In The Trap Sing McKnight rapper has sounded the same, even if the desired result is. If his sometimes growling melodies can turn into subversive riot starters at his live shows, they can have the reverse effect when listening by yourself. "Butterfly Effect" came in mid-May and stands as a sauntering, melodic Felix Leone and Murda Beatz scored track. Scott's vocals here hum and dance along to the point where they become infectious, daily mantras. All flexes. "Bend laws, bend lanes / Been bustin' bills, but still ain't nothin' change / You in the mob soon as you rock the chain / She caught the waves just thumbin' through my braids."
"Butterfly Effect" came amongst a batch of new songs including "A Man" and "Green and Purple" alongside Playboi Carti. It easily won out with thanks to Scott sticking to a very repeatable and believable ethos, "For this life I cannot change." It's gotten him this far, why stop now? He's rich, can dance all through the Hidden Hills and be amongst the upper crust of both music and Hollywood. Flexing is all he wants to do now.–Brandon Caldwell
19. Meek Mill, "1942 Flows"
Meek Mill promised growth and openness on his new album Wins & Losses and for the most part he delivered both of those things in spades, and his maturity and transparency were never more apparent than on "1942 Flows."
"When you see me out don't ask me about no Nicki," he raps in the third verse of the track so frenetic he barely takes time to breathe. "F*ck I look like tellin' my business on Wendy?" It's Meek's finest bit of rapping on his stellar third album, spitting his verses over the soothing production from Dougie of frenzied drums and haunting piano keys.
It's here he tosses around in quips like ".40 bust your windows out, Jazmine Sullivan," in the same breath that he attacks Drake once again and refuses to back down from his ghostwriting allegations. Meek even tossed in some extra bars for Drake for the extended, radio edit of the track on the clean version of Wins And Losses.–Eddie Gonzalez
18 . Gucci Mane Feat. Migos, "I Get The Bag"
It's so much fun to watch fathers and sons enjoy their shared interests together. It's why we love watching Lebron James cheer on Bronny and why Lavar Ball's shenanigans haven't quite tired us all the way out yet. However, we so rarely get to watch rap "fathers" create new music alongside those they've obviously inspired, what with the turnover rate for new rappers and hip-hop's propensity for discarding its older models in favor of the latest rhyme slingers to hit the market.
However, every so often we get a perfect synthesis of the past and the present. That's what "I Get The Bag" represents. It's the highlight of the past decade inspiring and being inspired by the current rap favorites, bringing the best out of both. Gucci Mane is considered by many to be one of the pioneers of the modern trap rap style that's been perfected and matured by Migos. However, rather than railing against "kids these days" for not paying homage, Gucci brings his decade-plus of experience and wisdom to the track, lending it a gravitas that Migos won't be able to achieve for at least another five years.
On the other hand, they keep Uncle Gucci sounding fresh and reinvigorated, infusing him with a bit of their youthful energy. It's a credit to both acts that they are willing to accept the alchemical reaction that results, letting it transform "I Get The Bag" from just another trap song to the realization of the platonic ideal of what rap could be, if only the generational warfare saw a long enough ceasefire for its purveyors to realize that they have far more in common than in conflict.–Aaron Williams
17. 2 Chainz, "4 AM"
"4 AM" is the third single from 2 Chainz Pretty Girls Like Trap Music, an album that was basically built of nothing but singles. But whereas "It's A Vibe" with Ty Dolla Sign was all about telling you that it was, well, a vibe, "4 AM" simply creates one. The woozy beat evokes the exact state of mind that the song's title generates after a long night of no sleep, which makes it perfect for those late-night turn-ups, right around the time those last few shots kick in and you start wondering how the heck you're going to get home (here's a hint: call an Uber, kids).
Travis Scott is wisely relegated to hook duty, where he's always demonstrated he's most comfortable, allowing 2 Chainz to pack the two verses full of his trademark off-the-wall punchlines and wobbly rollerskate flow, keeping the song's length, like that after-midnight state of inebriation, perfectly brief.
The cyclical beat never quite wears out its welcome, you never get too tired of any single element, and as they all blend and swirl together like the details of those early-morning excursions upon late-afternoon recollections, you lose yourself in the appealing stasis between too drunk to stand up straight and having too much fun to call it a night.–A.W.
16. Goldlink Feat. Brent Faiyaz & Shy Glizzy, "Crew"
2017 was the year that DC area hip-hop artists not named Wale vaulted themselves into the mainstream discussion. Long a city known more for go-go music and R&B than hip-hop, it looks like the so-called DMV area finally has its bearings with a diverse collective of talented artists. "Crew" is a simply-titled, exceptionally-crafted collaboration between two of the region's most prominent upstarts. Shy Glizzy and Goldlink occupy different places in the scene, with Goldlink's melodic, earthy sonics a seemingly welcome respite from the flashy, gun-toting rhymes of Glizzy.
But on "Crew," the two come together for an irresistible meeting exemplified by a prayer – that happened to be laced with "m*therf*ckers." That intriguing intro sets the stage for one of the smoothest tracks of 2017. Both artists take turns melodically flowing over sharp 808s, perfectly contrasting the mellow vibe of the Teddy Walton production. By the time Brent Faiyaz drops his velvety vocals onto the track, it feels like their three-man weave was executed perfectly. Thanks to "Crew" and his stellar At What Costalbum, Goldlink made a mark in the hip-hop scene that simply made him marvel, "God damn what a time, what a year."–Andre Gee
15. Macklemore Feat. Lil Yachty, "Marmalade"
From its plinky keys to its nursery rhyme chorus, "Marmalade" is hands-down my favorite song of 2017, I don't care what anyone says. Yachty is a joy on tracks like this when he's simply allowed to be silly and have fun as opposed to trying to prove his lyrical dexterity. Macklemore himself benefits so tremendously from the unserious vibe because it allows him to shake off the earnest, conscious rapper stigma that's attached itself to him ever since he and Ryan Lewis first popped up with "Same Love."
But this is exactly the type of track hip-hop needs more, not less of. As fan bases splinter over lean-loving "mumble rap" and neurotically verbose "conscious rap," it seems like rappers are forgetting to paint in all the other corners of the hip-hop universe. "Marmalade" is specifically designed to eschew the perpetual fight between both honestly exhausting extremes and remind us all that rap, regardless of beats or cadence of delivery, is basically just Mother Goose rhymes set to music.
What better way to poke holes in rappers' (and their fans') puffed-up egos than a song engineered to underline the genre's connection to lighthearted, cheerful fare that looks to spotlight sunny days over struggle? Hip-hop may or may not be your go-to music to cry to, but when you feel like you need an audio pick-me-up, look no further than the ray of concentrated sunshine that is "Marmalade."–A.W.
14. Playboi Carti, "Magnolia"
When Tidal decided to make their massive advertising push during the NBA Finals, after a merger with Sprint and with a Jay-Z album on the way, they chose Playboi Carti's bouncy tune for the occasion, and with reason as few songs defined the sound of rap in 2017 quite like "Magnolia." Carti hops all over the exuberant production from his partner in crime Pierre Bourne with several stunted but syrupy flows that listeners can't help but replicate once the track envelopes them.
By the time Carti hops into the Big Tymers flow, the infectious track has already taken effect, and he spends bulk the track unfurling couplets that could double as choruses on Top 40 hits from other rappers. It's as addicting as any other song of the year, and propelled Carti into the mainstream with a twist on the simplistic style that seemingly represents the bulk of the genre. It's like all of his peers were simply wearing denim, and Carti decided to fray the fabric and cut out the knees, introducing a whole new way to wear jeans.–E.G.
13. Offset & Metro Boomin, "Ric Flair Drip"
The closest thing we got to an Offset solo album in 2017 was Without Warning, his highly-anticipated collaborative album with rising rookie rapper 21 Savage and Atlanta wunderkind producer Metro Boomin. Several of the songs on the tape only feature Offset, and one immediate standout in that category was "Ric Flair Drip," an homage to the WWE legend himself that incorporates his signature "whoo!" adlib into yet another deep flex collab.
Even without his Migos brothers-in-arms Offset manages to employ so many different flows that if you played this for a civilian, they'd be hard-pressed to believe it was all laid down by just one guy. That's the power of the Migos flow, and perhaps, an example of how Offset channeled Ric's theatrics. Head out to any club and wait to see the floor turn up when this song comes on. Hell, if they don't, leave — that place is probably dry as hell and you should go find a place where it drips.–Caitlin White
12. Amine, "Spice Girl"
Fun fact: Aminé had to get "Spice Girl" approved by every member of the Spice Girls band thanks to the "zig-a-zig-ah" ad-lib that he interpolates throughout the chorus of the song. Thank goodness they all liked it, or we would have missed out on this gem from the Portland rapper's colorful debut album, Good For You.
The artistic dedication and craftsmanship of "Spice Girl" is perfectly indicative of his overall creativity on the project, from the double-take-inducing, bright yellow cover, to the innovative marketing tools he used to promote the album, including the newspaper from the cover, which he gave away at album listening parties all over the US.
The goofy, bouncy track even has deeper roots in the Spice Girl metaphor. Aminé says that his first concert ever was a Spice Girls one, inspiring a lifelong fanship that ultimately culminated in the foulmouthed appearance of Mel Brown (aka Scary Spice) in the surreal, comedic video for the song dedicated to the group.
He name-checks the band's members throughout, but it holds up without the references as a fun ode to the "dream girl" ideal so many songwriters have experimented with through the years. It's just that Aminé makes it even more fun and colorful — just like the band at the height of their popularity.–A.W.
11. 21 Savage, "Bank Account"
In 2017, 21 Savage went from a buzzing, online sensation to a bonafide, hit-making star, all thanks to a catchy little bit of counting and a thumping production from none other than 21 himself, with a little help from Metro Boomin. "Bank Account," was the lead single from his debut album Issa Album, and some of his finest song-making to date. The track helped propel Issa to No. 2 on Billboard's album chart and a gold plaque, and represents 21's first and only foray into Billboard's Top 40 for a single, peaking at No. 12.
Like most 21 songs, "Bank Account" is simple, with his trademark, laid black flow and a myriad of entertaining one-liners, but there's a little extra oomph from 21 this time around. Bragging "You can't even talk to the b*tch, she f***ing with bosses and sh*t," reads like a basic line on paper, but 21's delivery and ad-libs make the lines an opener that sets the pace for the rest of the track. Add that to the hook that makes for uproarious sing-along sessions, especially after a few drinks on a night out, and you have all the makings of one of the best tracks of the year.–E.G.
10. Smino, "Anita"
The way Smino's "Anita" comes in deserves a moment of appreciation. It's a stutter step of hesitation on the part of producer Monte Booker before Smino sings as if he's standing in front of a church congregation. "Anita" to its core is a song about black women. There are slick metaphors about the shape of a black woman and how Smino needs her, but the song progresses to being a full-on swoon moment for the St. Louis rapper. "You make December feel like summer" is the kind of warmth you get from a home-cooked breakfast.
As often as I've played "Anita," I end up plucking a new line out with every listen. Smino manages to pack lines referencing Ginuwine's slow jam ode to denim "In Those Jeans," Larenz Tate's O-Dog in Menace II Society and being comfortable enough with his lady that he'd go to Jupiter with her, even if he's never set foot around the planet. But it always comes back to the chorus whenever I need a pick me up. Go diva, Godiva, Godiva.–B.C.
9. Migos, Cardi B, Nicki Minaj, "MotorSport"
I predict this song will only continue to grow in stature well into 2018, but even in our current moment it stands as a monument to the first collaboration between Nicki Minaj and Cardi B. With a legion of male fans, commentators, and industry execs who seem to think it's impossible for the genre to host two successful female MCs at one time, "MotorSport" puts an end to rumors of a beef between rap's two reigning queens once and for all.
Then, there's the specifics. The darkly ominous, velvety beat, the jumpy and reliable verses from the members of Migos, an excellent and explicit tongue-in-cheek verse from Cardi, in which imagining her and Offset in bed together is all but a given, and finally, Nicki talking her shit so fierce it sounds like the follow-up to The Pinkprint might actually be on the way. Now, try to count the number of flows she employs before signing off. Credit where it's due — Migos know how to get a rap legend to give them a great verse. Nicki cements her status on this quick one-off, and while Cardi needs a couple more hits before we call her legend, she's already our hero a million times over.–C.W.
8. Joey Badass, "For My People"
"For My People" is the second song on Joey Badass's All-Amerikkkan Badass, but it's the song that sets the tone for the rest of the project. It contains every component that defines this album and sets it apart from his prior output, from the crystalline focus of the revolutionary-minded lyrics to the pulsing, boom bap drums and live-instrument-embellished loop that drives the propulsive, anthemic energy of both the song and the album.
Where many serious-minded, socially-conscious-leaning rappers get caught up in the message and dwell in dark, somber sonic landscapes, Joey's approach is brighter, warmer, more colored, and shot through with optimism and energy. The chorus is all at once a lament, a question, and a challenge. Badass's verses touch on the ills of society — police brutality, mass incarceration, poverty — without descending into melancholy or spinning off into rage.
Instead, he sounds as if he is grasping for something better on the edge of his consciousness, the potential for the world to be more than what it has been so far, for the American Dream to become a reality and not just an ideal. As Joey himself puts it, forcefully, passionately, hopefully, "I don't wanna be good, n—-, I'm tryna be great. —A.W.
7. Boogie Wit Da Hoodie Feat. Kodak Black, "Drowning"
Bronx artist A Boogie Wit Da Hoodie told The New York Times that the process behind his melodic, low-frills brand of hip-hop was pretty simple. He hears beats, figures out the mood, then hums the melody while his eyes are closed. Who knows what the vibe was during the session in which he created "Drowning," but we're glad it happened — and he must be too, as it's his most successful track yet, to the tune of 170 million streams.
A Boogie gets Kodak Black to ride shotgun on "Drowning." It is an excellent choice, as Kodak is another artist with creative flows – so much so that "Bodak Yellow" took off with Cardi B borrowing his cadence from "No Flockin'." Both A Boogie and Kodak effortlessly executed a playful melody over the mysterious piano chords crafted by Jahaan Sweet and Quasi. On the hook, A Boogie finds a creative way to celebrate the new trinkets he's earned since ascending as a flagship artist of Highbridge The Label.
A Boogie did find himself in the news cycle for the wrong reasons a couple months back, but he also released The Bigger Artist which is chockful of rhythmic songs like "Drowning" which are catchy and fun to sing along.–A.G.
6. SZA, "The Weekend"
Okay, I'll admit it straight up — SZA is mostly singing on "The Weekend," not rapping. But in a post-Drake world, is that distinction even relevant anymore? Whatever the vocal tone, it's impossible not to dub some of the mic drops SZA spits on this track as straight-up bars. Furthermore, name a song that was more discussed and dissected this year than this one? From arguments about side chicks and serious relationships versus casual sex and multiple partners, SZA stirred up a hornet's nest of discussion within the hip-hop community with her headboard-breaking declaration of lust — and it was audacious as fuck.
In 2017, plenty of songs split the difference between what used to be called R&B and what used to be hip-hop, and I'd argue that albums like CTRL helped reveal once and for all how arbitrary the lines around those two camps are. Finally, hearing a woman explicitly state her sexual desires like this, and take ownership over the boundaries of that relationship in a way that completely eschews monogamy is downright inspiring. She's got women everywhere divvying up their time in a brand new way, and that's a step forward for not just the genre, but the world.–C.W.
5. Big Sean, "Bounce Back"
Even Big Sean haters have to give the man credit for his resilience. "Last night took an L but tonight I bounce back," he raps, acknowledging the struggles he's faced on a track that's a total earworm anyway, even despite the fact that he sometimes still overcrams his bars. Clearly, this title leaves room for the bounced check trope, and he invokes the Cinderella story of his rap glory and fame with ease.
But the more stunning victory of "Bounce Back" is the song's ability to turn a failure into something that's only temporary. Hip-hop is so often a form of self-aggrandizing, an olive branch for those who are marginalized or targeted for whatever reason. The reminder that a loss can turn into a win over the course of twelve hours is something more people could stand to hear, and few rappers could pull off a concept this obvious with the finesse that Sean does.–C.W.
4. Vince Staples, "Big Fish"
The contradiction in the chorus of "Big Fish" might not be readily apparent to new listeners of Vince Staples. At first blush, the song appears to be a typical hip-hop celebration of success and excess, big ballin' and tricking off that first advance check at the first sign that this rap thing might just work out.
Longtime Staples fans will see the subtle undercurrent of sarcasm undercutting Juicy J's repeated sentiment, though, because that sarcastic, angled glance underlines everything the Long Beach native does and says, from his interviews to his hilarious commercial spots for his various corporate sponsors.
The song sounds bouncy and upbeat, with bubbling synth that evokes an aquarium filter working triple overtime to keep the filth away, but Vince himself is shark-like in his focus on the juxtaposition of his old life and his new one. He's got a Benz, but his mind is on the 22 bus stop and the neighborhood shootouts that remain a common occurrence in his old stomping grounds.
He's showing you, not telling you, that money hasn't changed him. Balling for him isn't throwing racks at the strip club, it's escaping the death-infested waters of North Long Beach, knowing it could all fall apart at any moment and send him right back.–A.W.
3. Future, "Incredible"
This is another one of those alternate reality songs; in the version of 2017 where Hillary Clinton is president, or Prince is still alive, "Incredible" skyrocketed up to the No. 1 Billboard chart slot it deserves. If you haven't heard the track, it's one of the most jubilant Future has ever done, the inverse of "Mask Off" if you will, and the first of hopefully many strides Future takes toward being a pop star. Hell, hanging around with Drake for as long as he did had to have him at least thinking about it, right?
The secret sauce on "Incredible" is not the inescapable, ever-climbing synth, not the blown-out finger snap, and no, not even hearing Future croon about believing in true love after how dark and low he gets, even on other tracks off this album. Despite how much I love it, it's also not him singing about doing hot yoga. Instead, it's the stutter-step "in-in-in-incredible" that stretches out the word into something that's completely a creation of Future. It's the mark of a melodic genius, and a man who isn't going to stop pushing himself forward anytime soon.
The song made its way to Ellen and even hit No. 29 on the R&B/hip-hop airplay chart, but didn't quite blow up the world like it should've. Even so, a lack of radio support doesn't stop it from being one of the best songs a rapper put out this year.–C.W.
2. Kendrick Lamar, "DNA."
On each and every stop of his blockbuster DAMN. tour this Fall, Kendrick Lamar opened his show with a blast of pyro that erupted in sync with the opening bass drop of this song. Kung Fu Kenny recognized its power and its potency right from the jump and was rewarded — at least from the two times I caught his show — with a crowd jumping all over themselves in time with the music. Kendrick made what many consider to be the best rap album of 2017, and "DNA" is the high-energy anthem the brings it all into focus. Producer Mike Will Made-It is on another level these days and gives Kendrick an intricate, swaggering backdrop to go off on themes like loyalty, sex, money, murder, and his own lyrical supremacy. He's confident in his knowledge that he's the greatest at what he does and as for you? "You see, you's a, you's a, you's a b*tch!"–Corbin Reiff
1. Drake Feat. Travis Scott and Quavo, "Portland"
[protected-iframe id="c044744fccdae7c3c7856988c5bce0b0-60970621-76566046″ info="https://open.spotify.com/embed?uri=spotify:track:2bjwRfXMk4uRgOD9IBYl9h" width="500″ height="300″ frameborder="0″]
There is such a delicious and devious irony in the refrain of "Portland"'s chorus: "Never let another n—- ride your wave…" And if you think that irony is lost on the song's progenitor, you haven't been paying attention to Drake's moves for the past ten years.
This is the guy who gets his mack shut down by his own pops in the commercial for his own liquor — with a snide shout out to his customary black turtleneck, no less. The is the perpetual NBA sideline punchline generator, who finds a way to turn every viral moment into marketing gold.
So yeah, Drake absolutely understands the irony of having Quavo admonish listeners about the dangers of wave-riding after all the insinuations that that's exactly what he did when he jumped on Migos' "Versace" remix, launching the three-headed, Atlanta rap demogorgon into the national spotlight.
Here's the thing: Drake is always listening, but he knows you are too. He knows that the snarky comments and outspoken rebukes of the internet just amount to more eyes, more ears, more fans, and ultimately, more dollars in his pockets. "Portland" is his catchy, not-so-subtle reminder that no matter what you say about him online, he's the one who wins in the end.–A.W.