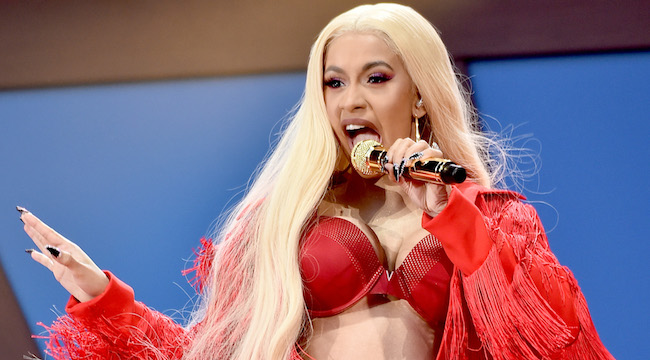 Cardi B and Nicki Minaj were engaged in a cold war since Cardi B dropped her Invasion Of Privacy album this spring — then their fashion week clash happened and there was no mistaking their disdain for each other. Who knows if the source of their rift is hip-hop's ingrained sexism that pit them against each other, Nicki's chafing at no longer being the only superstar woman rapper, the naturally contentious New York rap energy, or all three circumstances — but that doesn't even matter now. What matters is that the two seem to be firmly in each other's crosshairs.
Nicki railed at Cardi during the heat of her Queen album cycle, and now TMZ reports that Cardi has some Barbie barbs of her own on the way. The gossip outlet reports that Cardi has "serious jabs" at Nicki coming on her as-of-yet untitled album that could be dropping sooner than later.
While Cardi is seemingly dedicated to staying true to the precedent her fellow Bronx native Remy Ma set with her "Shether" diss toward Nicki, other people in her camp "feel the lyrics would actually benefit Nicki by putting the spotlight on her" and that Cardi has "already eclipsed Nicki, and the best strategy is just ignoring her." That strategy doesn't seem likely from an artist who is known to inject her personal life so heavily into her music.
Cardi B is a Warner Music artist. Uproxx is an independent subsidiary of Warner Music.