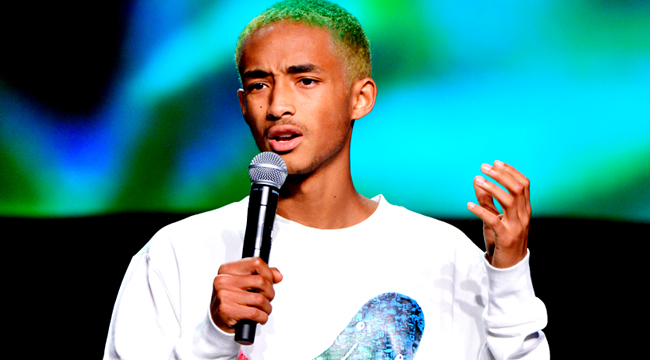 During a weekend of memorable performances from Kids See Ghost and Pusha T, Jaden Smith's Camp Flog Gnaw Festival performance from last night is the one that may have the internet talking the most. It's not just that Jaden killed his set and stirred the crowd — he also stirred the rumor mill with a joke that got people excited at its plausibility.
The Syre artist took a spot in his set to salute Flog Gnaw host Tyler, The Creator, but he took his comments farther than the average shoutout. He called Tyler his "best friend in the world," then he said, "I love him so f*cking much, and I wanna tell you guys something, I wanna tell you, Tyler doesn't wanna say, but Tyler is my mother f*cking boyfriend."
As the crowd went into overdrive in their excitement about the reveal, a camera panned to Tyler who was waving off Jaden's statement, gesturing an emphatic "no." Tyler appeared to come out as bi on his Flower Boy album and even flirted with Timothée Chalamet on "Okra," but it doesn't look like he's got anything going on with Jaden. Most footage of the comment cuts off at Tyler, but right after Jaden's faux-announcement, he said he needed "emotional support," and brought out Nashville actress Odessa Adlon, who is his actual girlfriend.
After the set, Jaden tweeted, 'I Told Everyone You Can't Deny It Now," after the performance, to which Tyler replied, "hahaha you a crazy nigga man." Looks like the two were just having fun trolling, per usual.