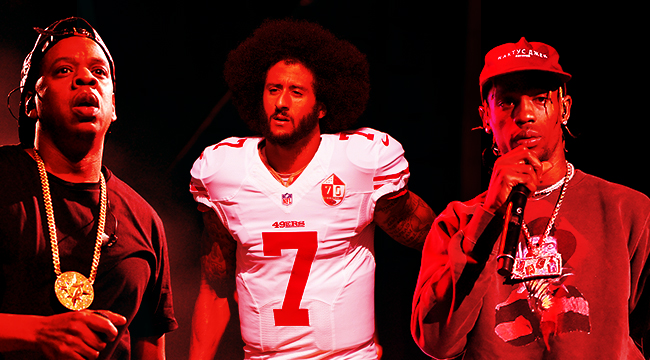 Yesterday, news broke that Travis Scott had been tabbed to perform at the 2019 Super Bowl halftime show alongside Maroon 5. But within hours it was reported that no less an authority than Jay-Z was trying to convince Travis Scott to cancel said performance. While nothing had been officially announced, Travis' selection would have broken the NFL's months-long slog which included rejections from such notable artists as Rihanna and Jay himself and renegotiated contracts with Cardi B.
Meanwhile, on Travis' side of the deal, the selection could have capped a damn near historical year for the young Houston rapper. He'd become a father, released the critically acclaimed and ridiculously successful Astroworld over the summer, wrapped the first leg of a sold-out arena tour, organized and headlined his own music festival in his hometown, and been recognized by the city of Houston with his own Astroworld Day. Forget a feather in his cap; the Super Bowl selection would have completed an entirely different sort of hat trick, solidifying him as not just one of rap's biggest stars but one of music's as well. So, why would Jay-Z step in and try to prevent the young, up-and-coming entertainer from ascending to that coveted level?
The answer goes back to 2016, when the San Francisco 49ers' then-quarterback, Colin Kaepernick, refused to stand for the presentation of the national anthem during a preseason game as a protest against police brutality. In the two years prior, over a dozen highly-publicized cases had dominated the news cycle in which police officers had killed Black citizens, in many cases on camera, without facing repercussions or even being charged with misconduct, despite evidence of improper actions taken by officers, both in the moment and as a pattern of abuses which had gone unaddressed for years previous.
Kaepernick's protest drew national attention as well. When he explained his reasoning for refusing to stand (and later switched to kneeling as a show of respect for veterans and enlisted service members), he incited a widespread backlash from NFL fans, including Donald Trump, for his outspokenness. His activism was cited by a lawsuit Kaepernick filed against the NFL as a major reason that teams refused to offer him a contract the next season after he opted out of his contract with the 49ers. He contends that the league has colluded to prevent him from playing in retaliation for the negative publicity his protests brought during the 2016 season and the resulting, league-wide protests from other players in the 2017 season.
Many fans and supporters share his belief; he wouldn't be the first Black athlete to face censure for standing up for the rights of his fellow Black citizens. John Carlos and Tommie Smith were blacklisted for raising their fists in the Black power salute at the 1968 Olympics, while Muhammad Ali's refusal to serve in the Vietnam War led to the New York State Athletic Commission stripping him of his titles. Black entertainers — especially those in hip-hop, such as Jay-Z, J. Cole, Snoop Dogg, and Kendrick Lamar — made it a point to praise Kaepernick's protest and stand beside him in his further activism and philanthropy, calling attention to his plight during performances and donating to his social justice charities, while others proposed a boycott of the NFL through its last two seasons.
That last point is likely the reason Jay-Z, a rap elder statesman who has developed a reputation for activism of his own lately, disapproved of Travis' plans to perform at the Super Bowl halftime show. Clearly, Jay feels that not only would Travis' appearance negate the positive effects of the solidarity being shown to Kaepernick by hip-hop, it would also harm the potential boycott efforts, since Travis' many, many fans would undoubtedly tune in to catch the show, leading to profits for the NFL. Though earlier in his career, he was staunchly apolitical, in recent years he's expressed again and again that he believes platforms come with the responsibility to use them responsibly.
Judging from the record streaming numbers for Astroworld and the enthusiastic response to his live shows and further business moves, Travis has a massive platform. He's even stated that he recognizes his power as a role model, citing wanting to provide a positive example to the kids of Houston as one of his primary motivations during his Astroworld Day acceptance speech. It seems that Jay-Z, as an example himself, is trying to hold Travis accountable to that standard. The NFL allegedly blackballed one of its few Black quarterbacks for the offense of speaking out in defense of Black people. With Jay's current focus on social justice, that has to be an unconscionable, unsupportable offense — even performing at the halftime show could be read by some as tacit approval of the league's actions.
Unlike Cardi B, who also was tabbed in rumors that she would join Maroon 5 in their performance, Travis doesn't have a song with the headlining performers (Cardi's appearance on "Girls Like You" delivered the band's fourth No. 1 Billboard hit, outperforming all three of their other singles from Red Pill Blues).
Nor does Cardi have Travis' cultural ubiquity — yet — or grasp of the pop culture moment the way Travis does. Her Invasion Of Privacy may have had historical success, but it didn't come with its own arena tour, festival, and commemorative holiday. And, to state the frankly obvious, Cardi doesn't present as African-American; while scholars do recognize Dominican and Trinidadian people as part of the diaspora, Cardi has fallen into hot water for prior comments online that got her accused of colorism because she looks Latina. Travis is a Black man; of the most publicized cases of police brutality that Kaepernick protested, the vast majority were men, with the exception of Sandra Bland and Korryn Gaines.
With discussion swirling about the responsibility of Black entertainers to use their celebrity to promote causes such as prison reform, Jay-Z's advice to Travis Scott echoes ghosts of the debate over his mentor Kanye West's support of Donald Trump. While Kanye is free to think for himself, his support — both explicit and implied — for Trump as a person who has been manipulated and exploited to present him as a supporter of Trump's policies, something Travis even tried to warn him about.
Even worse, Kanye's advice and work were exploited by opportunists such as Candace Owens and Alex Jones to promote their own agendas and platforms. It would be all too easy for the NFL to use Travis' performance to undercut criticisms of the league's handling of social justice activism from its players, to say nothing of its patronizing treatment of players who deal with a multitude of issues from drug dependency to domestic violence.
Is Jay-Z right to recommend Travis cancel his impending performance for the sake of showing solidarity? While the NFL doesn't pay performers for the Super Bowl halftime show, he'd also be turning his back on all of the potential income that he could garner from the resulting exposure, which is immeasurable. There's a chance he still makes a lot of money and becomes a household name without it, but the opportunities to perform for an audience of millions during one of the most-watched events of the year are few and far between.
Jay-Z turned down the same opportunity, but he's Jay-Z. Travis may be rap's fastest rising star, but Jay-Z is rap's sun; everything is in his orbit, he's recognizable on a level that Travis is honestly years away from. Walking away now could set his career back in ways that aren't even tangible yet. Ultimately, it's Travis' choice, but the stakes could be a lot higher than they appear on the surface. We may not be able to see every concrete result, but the world is watching.