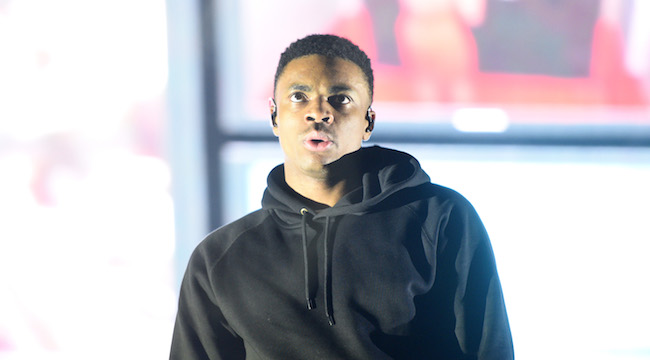 Today, The Hollywood Reporter broke the news that Long Beach, California rebel rap star Vince Staples would star in his first leading role. Punk, an independent film from first-time director Richard Hughes, will star Vince as the recently-rejected Peter, who gets wrapped up a gang of FBI Most Wanted bank robbers on a road trip while trying to escape from his problems.
It's the sort of off-kilter role that is perfect for the perpetually sardonic Staples, who has built an engaged following on Twitter thanks to his disaffected, snarky demeanor and often esoteric joking style both online and in numerous interview videos about subjects from basketball to R. Kelly. However, it's not his first acting role; he made his intial on-camera debut in Rick Famuyiwa's 2015 hip-hop coming-of-age tale Dope as a member of ASAP Rocky's Dom's crew of drug-dealing gangsters. It was pretty funny.
Vince also voiced Vinz in the French/Japanese animated science-fiction crime thriller, MFKZ, which released October 11. In that film, Vince's skull-faced counterpart supports protagonist Angelino as he discovers he has received superpowers after being hit by a truck delivering pizza. Vince also starred in Uproxx's Snapchat comedy show F*#! That, sending his friends on hilarious, fish-out-of-water mini-adventures and providing his signature sarcastic commentary on their discomfort. It's clear he was made for the camera, so we're looking forward to seeing how Punk makes use of his natural charisma and potentially turns him into a movie star as well.