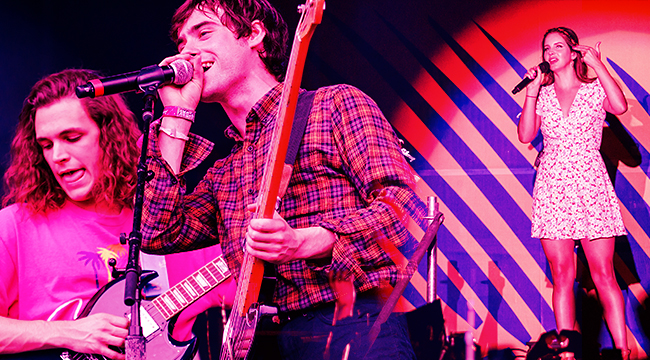 Indie music has grown to include so much. It's not just music that is released on independent labels, but speaks to an aesthetic that deviates from the norm and follows its own weirdo heart. It can come in the form of rock music, pop, or folk. In a sense, it says as much about the people that are drawn to it as it does about the people that make it.
Every week, Uproxx is rounding up the very best of the indie releases from the past seven days. This week gave us the long-awaited new album from Lana Del Rey, the official announcement of a new White Reaper record, and another beautiful new track from Vagabon.
While we're at it, if you want more music recommendations curated by Steven Hyden delivered directly to your inbox every week, sign up for the Indie Mixtape newsletter.
Lana Del Rey — Norman F*cking Rockwell

Lana Del Rey is back with her latest full-length effort, "a batsh*t, burner-beauty, just like the Los Angeles it worships," according to Caitlin White's rave review for Uproxx. Featuring tracks that have rolled out slowly over the last year or so, Norman F*cking Rockwell is a sprawling California masterpiece that simultaneously embodies the regularity of its namesake while presenting a bizarro-reality of the world he depicted in his work.
Black Belt Eagle Scout — At The Party With My Brown Friends

The project of Katherine Paul, previous Black Belt Eagle Scout music revolved around life as a radical indigenous queer feminist, with many of the songs becoming political statements. On the new album At The Party With My Brown Friends, however, Paul is more focused on cultivating relationships and spreading love in her community. In this way, At The Party With My Brown Friends remains political, a resounding source of positivity in a time where the culture can really use it.
Whitney — Forever Turned Around

With their new sophomore album, Whitney has proved that they are continuing to evolve, and won't be disappearing anytime soon. Forever Turned Around is rooted in partnership, whether that be romantic, familial, communal, or just friendship. The partnership here is palpable, with the band sounding tighter than ever to craft a collection of dreamy indie-pop tracks that are sure to serve as the perfect soundtrack to the coming autumn.
Boy Scouts — Free Company

On the debut Boy Scouts full-length, Taylor Vick recruited multi-instrumentalist and producer Stephen Steinbrink to join her creative process. The duo then sequestered themselves in a studio Steinbrink put together in a shipping container. This unique recording location led to a more polished version of Boy Scouts, one that maintains the original magic of Vick's home recordings but makes them sparkle. With nine songs across a little more than 30 minutes, Free Company is an endlessly rewarding listen that will fly under the radar and surprise anyone who is lucky enough to discover it.
Vagabon — "Water Me Down"
Vagabon's new album was once called All The Women In Me, but it is now called Vagabon. Don't be fooled, though: the name change doesn't mean that the songs are any less incredible. The latest preview of the record comes in the form of "Water Me Down," a track that is "pure relaxation, with its warm electronic instrumentation and persistently minimal beat," writes Derrick Rossignol for Uproxx. "It's the sort of song that you wish went on for longer when it's done." Sign me up for the rest of Vagabon ASAP.
Cigarettes After Sex — "Heavenly"
Cigarettes After Sex started working on their new album Cry the same week that they completed work on their self-titled debut. That was two years ago, and now Cry is finally starting to see the light of day. "Heavenly" is the first taste of the new effort, which Derrick Rossignol calls for Uproxx "an ethereal bit of dream-pop (definitely more "dream" than "pop") with a touch of meditative post-punk in the low end." The chorus here is definitely infectious, one of those melodies that will be echoing around your head for the rest of the day.
White Reaper — "1F"
At long last, White Reaper's new album has been officially announced: it's called You Deserve Love and it's out October 18. With the announcement came a new track, the third we've heard to date from the new album. "1F" is "an immediately endearing tune with verses that are just at memorable as the hooks," Derrick Rossignol writes for Uproxx. Derrick is not wrong: this is a band that specializes in excellent rock and roll hooks, and "1F" is a perfect example of exactly that.
Blush Cameron — "Politics Of Love"
It's been a year and a half since COMPs released their debut full-length Life As A Baller, which I called "a lo-fi punk masterpiece that will satisfy the needs of any music fan that falls along the spectrum between Alex G and The Cure" in our 10 Must-Hear Punk Albums Of 2018 list. Since then, Geoff Webb made the move to Philadelphia, befriended indie darlings Strange Ranger and wrote his best music to date under a new name. COMPs is now called Blush Cameron, and "Politics Of Love" is the truly wonderful first single from their new album Ambiguous World. Webb is a powerhouse when it comes to melodies, and this track has that talent on full display in its lo-fi chorus.
Sløtface — "Stuff"
Norway's Sløtface writes heavy indie pop music that sounds like Paramore if they stripped back their production to a more lo-fi approach and kept going down the path they set down with After Laughter. "Stuff" is an attempt at an honest breakup song, with vocalist Haley Shea looking around a room that was once shared, lamenting how all of the things they held dear are just meaningly stuff now. It's a truly promising look at what's to come from Sløtface, and I can't wait to see what they do next.
Sudan Archives — "Confessions"
Sudan Archives is a vocalist/violinist, and both of those skills are on full display throughout "Confessions," the first single from her upcoming debut LP. Last year's Sink EP was a truly engaging entry into the world of Sudan Archives, and "Confessions" is a logical next step that's an excellent taste of what we can expect from the record. With a looping violin line and impressive vocal melodies, Sudan Archives has cemented herself as a name to watch.
Some artists covered here are Warner Music artists. Uproxx is an independent subsidiary of Warner Music Group.