Green Day dropped Dookie in 1994, a decade before the Billie Joe Armstrong-led band unleashed the chart-topping American Idiot, which housed "Wake Me Up When September Ends." All of which is to say, wake us up when September begins because Green Day is releasing Dookie 30th Anniversary Deluxe Edition on September 29. The album is available to pre-order here, and the accompanying capsule collection is available here.
Green Day had been teasing this announcement with nostalgic Instagram posts.
On Thursday morning, August 17, the band broke the news with another Instagram post. The lengthy caption can be read below:
"Sometimes you take a gamble and luck's on your side. Back in the summer of '93 Green Day went into the studio to record Dookie and had no idea what their destiny would be. They were young, rebellious, and absolutely scared sh*tless. There was no telling if they were about to prove everyone wrong or make the biggest mistake of their lives.

This year Dookie turns 30 and they've cracked open the vaults putting together an epic 30th Anniversary Super Deluxe version of the album that will be available as a 6-LP vinyl, 4-CD box set and up everywhere digitally.

The release features:

– the original album
– seventeen unreleased demos
– six studio outtakes (3 unreleased)
– Woodstock 1994
– Live in Barcelona 1994 (unreleased)

A limited version is available for pre-order now in the webstore along with the Dookie merch capsule collection. So go go go pre-order yours now – link in bio.
As a little treat for you, 10 4-track demos are also out everywhere TODAY, so go give 'em a listen."
Per press release, the Dookie 30th Anniversary Deluxe Edition vinyl box set comes with a roll of Dookie dog poop bags, five-button set, air freshener, postcard, bumper sticker, kiss-cut large magnet sheet, paper airplane, a poster of the altnerative Dookie album art, and more.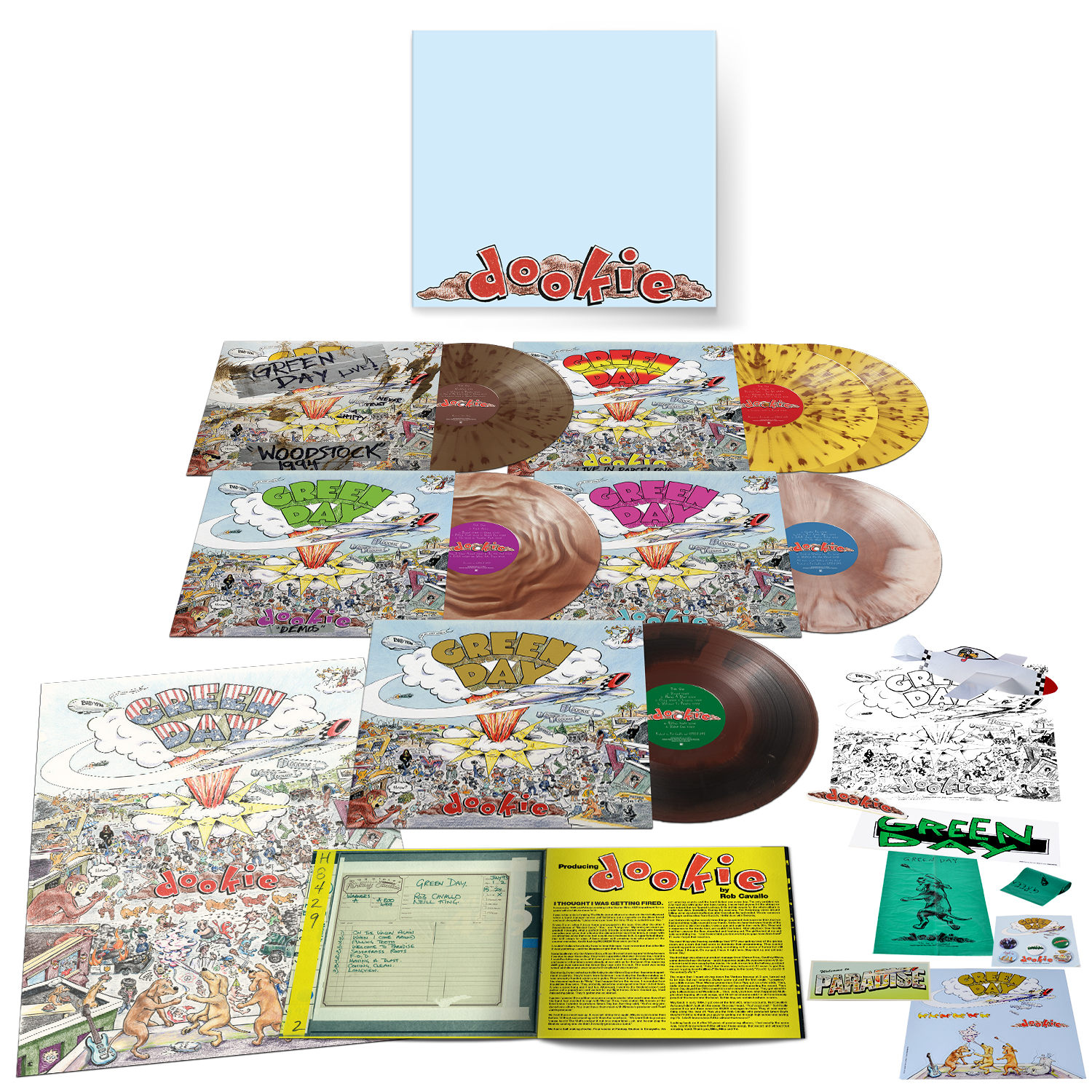 See the full Dookie 30th Anniversary Deluxe Edition below.
Vinyl Box (6 LPs)
LP 1: Dookie
LP 2: Dookie Demos
LP 3: Dookie Outtakes
LP 4: Live At Woodstock (1994)
LP 5 & 6: Live In Barcelona (June 5 '94)
CD Box (4 CDs)
CD 1: Dookie
CD 2: Dookie Demos & Outtakes
CD 3: Live At Woodstock (1994)
CD 4: Live In Barcelona (June 5 '94)
Dookie
1. "Burnout"
2. "Having A Blast"
3. "Chump"
4. "Longview"
5. "Welcome To Paradise"
6. "Pulling Teeth"
7. "Basket Case"
8. "She"
9. "Sassafras Roots"
10. "When I Come Around"
11. "Coming Clean"
12. "Emenius Sleepus"
13. "In The End"
14. "F.O.D."
15. "All By Myself"
Dookie 4-Track Demos
1. "Burnout"
2. "Chump"
3. "Pulling Teeth"
4. "Basket Case"
5. "She"
6. "Sassafras Roots"
7. "When I Come Around"
8. "In The End"
9. "F.O.D."
10. "When It's Time"
Dookie Cassette Demos
1. "When I Come Around"
2. "Basket Case"
3. "Longview"
4. "Burn Out"
5. "Haushinka"
6. "J.A.R."
7. "Having A Blast"
Dookie Outtakes
1. "Christie Rd."
2. "409 In Your Coffeemaker"
3. "J.A.R."
4. "On The Wagon"
5. "Tired Of Waiting For You"
6. "Walking The Dog (Demo)"
Live At Woodstock (1994)
1. "Welcome To Paradise (Live)"
2. "One Of My Lies (Live)"
3. "Chump (Live)"
4. "Longview (Live)"
5. "Basket Case (Live)"
6. "When I Come Around (Live)"
7. "Burnout (Live)"
8. "F.O.D. (Live)"
9. "Paper Lanterns (Live)"
10. "Sh*t Show (Live)"
Live In Barcelona (June 5 '94)
1. "Welcome To Paradise (Live)"
2. "One Of My Lies (Live)"
3. "Chump (Live)"
4. "Longview (Live)"
5. "Burnout (Live)"
6. "Only Of You (Live)"
7. "When I Come Around (Live)"
8. "2000 Light Years Away (Live)"
9. "Going To Pasalacqua (Live)"
10. "Knowledge (Live)"
11. "Basket Case (Live)"
12. "Paper Lanterns (Live)"
13. "Road To Acceptance"
14. "Dominated Love Slave (Live)"
15. "F.O.D. (Live)"
16. "Christie Rd. (Live)"
17. "Disappearing Boy (Live)"