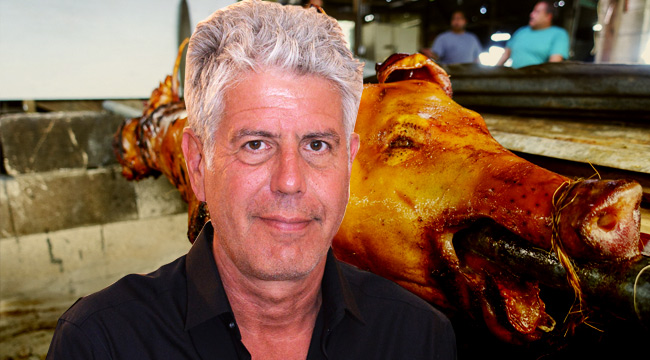 This week's Parts Unknown hit particularly hard. We were left imagining another timeline — one where Puerto Rico wasn't languishing in the aftermath of one of the worst hurricanes on record. That scenario, it would have been just another dope episode of the show. After all, Bourdain galavanted around the island eating great food, tying one on, and talking with artists, musicians, activists, and journalists, as he's wont to do. But, here we are in our own skewed timeline where Puerto Ricans are almost two months into a natural disaster and an unbelievable amount of people are still without power and potable water.
Bourdain cuts straight to the chase in the episode. "It has been six weeks since the hurricane, and 70 percent of Puerto Rico's 3.4 million American citizens are still without power. About 25 percent are without fresh drinking water—people are drinking from streams and other contaminated sources. They are burning their dead. This is, of course, unthinkable. And grotesque." It's hard to argue with that.
It's tough to overstate the disappointment you're left with after watching this episode. But there it is on your screen — a country that was lush, open, and full of life. And, now, it's struggling for no other discernible reason than a lack of support from its federal government. It kinda feels like we all need that nun from Game of Thrones with her bell proclaiming "shame" while walking behind us everywhere we go for letting Puerto Rico suffer like this.
Let's dip into the latest episode of Parts Unknown and check out why Puerto Rico is such a magical spot. One quick note: There were a couple home visits in this episode we've skipped over to focus on the main attractions Bourdain hit.
Esquina Watusi — San Juan
Bourdain started off his journey into Puerto Rico with a few drinks at a cool looking bar in San Juan. He met up with a couple journalists to talk about the state of affairs (at the time) in Puerto Rico over said drinks and got a good introduction into the vibe of the island.
https://www.instagram.com/p/BZ8yZetBfz-/
Casa Vieja — Ciales
Casa Vieja is a quintessential Puerto Rican spot. Bourdain and dining companion, teacher Liza Cordova, feasted on corn fritters with ham, plantain soup, pastel al caldero (a marinated pork and bean dish), and morcilla (blood sausage).
El Trasmayo — Loíza
Next, Bourdain met up with sausage king and chef Pedro Álvarez Cortez at the beach. Cortez gave Bourdain a deeper insight into the food culture of the island over crab and coconut arepas all washed down with plenty of beer.
Lechonero El Rancho de Apa — Guaynabo
Puerto Rico knows its way around a whole hog. El Rancho de Apa is a legendary spot in the countryside of Puerto Rico that roasts pig to shockingly delicious perfection. The crackling has that perfect crackle to it. The fat is unctuous and silky rich. And the slow roasted lean is the savory pork of your dreams.
Bourdain was happy there. We would all be happy there.
La Finca Conciencia
Bourdain dropped into a local collective farm for lunch and a chat about growing good food. The farm functions as a supplier to local restaurants of honey, fruit, vegetables, and herbs. The farmers took a break to cook up a literal feast of grouper stuffed with lobster and white eggplant and mashed plantains with sofrito. They washed it all down with 'lágrima de monte' (teardrop of the mountain hooch) — a local sort of moonshine.
Campamento Rescate Playuela
Bourdain met up with anti-resort activists to get a handle on the anti-tourism movement that was gripping Puerto Rico. The protestors explained their grievances over a planned resort and casino on a pristine beach while they ate a camp cooked meal of sancocho (a beef stew with plantains), fresh-caught grouper, and red snapper. It was a tasty looking meal over an interesting conversation about the flipside of the tourism industry.