There's a deluge of bourbon whiskey on the shelves these days. It's intimidating seeing endless rows of whiskey bottles at every price point, even when you're in the game. To help you dig through all that's out there, I'm going to spend some time listing the best bourbon whiskeys by price point at $10 increments to help you cope. Let's start with the best bourbon whiskeys under $20.
Why start at under $20? Let's face it, that's the price where drinkable bourbon starts. Yes, there are bourbons that cost less than $10 a bottle. But those whiskeys are for cleaning your bathroom floor or mixing into a punch that'll completely mask any semblance of "whiskey" that might be in that eight or nine-dollar bottle.
That said, bourbon whiskeys in the $10 to $20 range have some merit and mettle. Hell, some of them even have a little moxie. Long story short, you can find legitimately good bourbon whiskey at this price point. But let's not fool ourselves here. We're still talking about bourbons that are best served as cocktail bases, highball mixers, and shots. Still, there are a few in this ranking that I'd sip over some rocks any ol' day of the week.
A quick note on price. These bourbons are priced at Total Wine in Kentucky. Your local prices will vary depending on a long list of variables (local taxes, availability, retailers' bottom lines, etc.). Okay, let's jump in and find you a great bourbon whiskey for under $20!
Also Read: The Top 5 UPROXX Bourbon Posts Of The Last Six Months
12. Old Charter 8-Year Kentucky Straight Bourbon Whiskey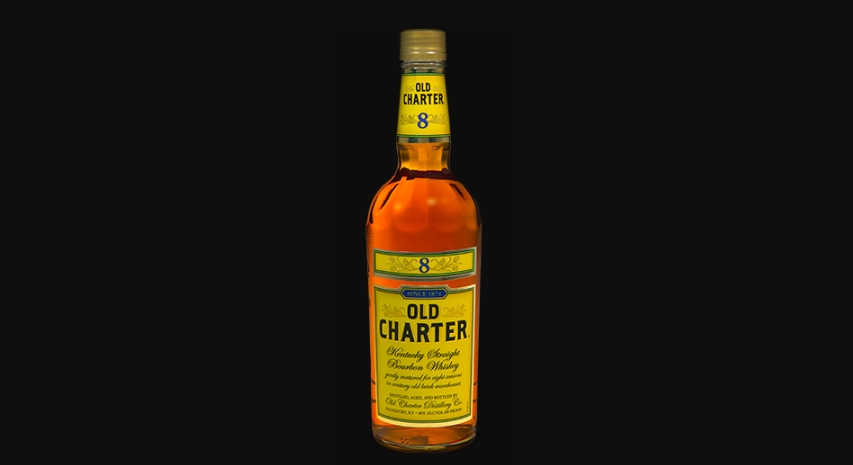 ABV: 40%
Average Price: $13
The Whiskey:
This revival whiskey from Buffalo Trace is the entry point into the brand's wider "special barrel finish" lineup. The juice is made with Buffalo Trace's famed Mash Bill #1, which also is the base for E.H. Taylor, Eagle Rare, Stagg, Buffalo Trace Bourbon, and Benchmark. This version spends eight years resting in new American oak before it's batched, proofed all the way down to 80-proof, and bottled.
Tasting Notes:
Nose: There's a sense of dry black pepper and honey syrup on the nose with that Buffalo Trace wet leather vibe next to hints of rickhouse mold and dry straw cut with a hint of orchard fruits.
Palate: Cinnamon bark and nutmeg soaked in honey drive the palate toward a buttery toffee sweetness that's eventually cut with a grassy dryness that's not quite woody.
Finish: The end arrives with more cinnamon and overall winter spice next to toffee with a whisper of nuttiness and a semi-watery end.
Bottom Line:
This starts off super strong but fades pretty quickly at the end thanks to all that proofing water. That said, that makes this a really good candidate for mixing up cocktails or highballs, especially at this price point.
11. Old Grand-Dad
ABV: 40%
Average Price: $16
The Whiskey:
This whiskey is made from Beam's other mash bill, which is high rye and also the base of Basil Hayden's. From there, the whiskey rests for a few years in Beam's expansive rickhouses before it's vatted, proofed down with that soft Kentucky limestone water, and bottled.
Tasting Notes:
Nose: This is very even-keeled between the nose and palate. You're drawn in with notes of cream soda and maybe even Vanilla Coke next to a touch of Beam cherry and oak.
Palate: That cherry leans into spicy cherry tobacco territory with a light chewiness next to notes of cinnamon, clove, and maybe a touch of black pepper.
Finish: The end is short, hot, and leaves you with a cherry-vanilla-pepper sensation.
Bottom Line:
This is a good starter bourbon for anyone looking to refine their old fashioned mixing skills. It has a solid profile that leans towards that vibe thanks to the cherry and it won't break the bank while you practice. This is also a good shot and beer bourbon for a rainy day.
10. Very Old Barton 100
ABV: 50%
Average Price: $13
The Whiskey:
This was an old-school "bottled in bond" from the Barton Distillery in Bardstown, but they dropped the "b-i-b" designation. The whiskey in the bottle used to be at least six years old but today it's at least four. All of that sounds like deterrents from this bottle but it's still 100 proof and there are still barrels up to six years old in the mix, meaning this still works well at this price point.
Tasting Notes:
Nose: This has a really nice nose full of buttery caramel, dark berries in a pie, soft oak, and a hint of peppermint.
Palate: The palate dials those berries into a slice of blueberry pie with a scoop of vanilla ice cream with a dusting of cinnamon and leather.
Finish: The end is short and sweet but brings back the mintiness but more like menthol tobacco with a dry edge.
Bottom Line:
This is a solid shooter and mixer. I tend to lean more toward a highball with good fizzy water, a twist of orange, and a dash of Angostura bitters with this one. But it totally works in any cocktail application too.
9. Ezra Brooks Bourbon Whiskey
ABV: 45%
Average Price: $12
The Whiskey:
Luxco's Ezra Brooks is a throwback to the Mad Men days of bourbon. The whiskey is a standard rye-heavy bourbon without an age statement. It's made as a workhorse whiskey that's easy to find and cheap when you do find it.
Tasting Notes:
Nose: The nose on this one is pretty distinct with caramel corn balls, vanilla beans, and wintry spice mingling with wet oak and a touch of sweetgrass.
Palate: The palate builds on that with a layer of dark chocolate that's touched by cinnamon and mint before a drop of minerality sneaks in.
Finish: The end circles back around to that caramel popcorn with a hint of butter, cinnamon, and stewed apple rounding things out.
Bottom Line:
This is a classic rail bourbon. It works in any application from a large pour over too many rocks to shots to whiskey and Cokes to a simple dive bar old fashioned.
8. J.T.S. Brown Kentucky Bourbon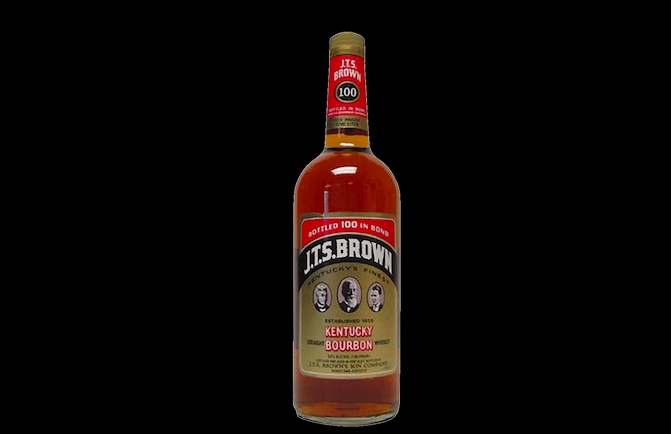 ABV: 50%
Average Price: $13
The Whiskey:
This is a quality whiskey from Heaven Hill's expansive bourbon mash bill (78% corn, 12% malted barley, and 10% rye). That means this is the same base juice as Elijah Craig, Evan Williams, several Parker's Heritages, and Henry McKenna. It's a bottled-in-bond, meaning it's from similar stocks to their iconic Heaven Hill Bottled-in-Bond and a few other whiskeys on this list.
Tasting Notes:
Nose: Cream soda with a dash of cherry opens the nose next to dry leather patches, caramel sauce, and a light touch of floral honey.
Palate: The palate brings forward dry and woody spices with a hint of eggnog creaminess leading toward Graham Crackers and a sweet tobacco chew.
Finish: The end turns the woody spice into old oak with more vanilla, honey, and leather lingering the longest.
Bottom Line:
Heaven Hill has cheap good whiskey on lock and this bottle is proof positive of that fact. While I don't mind this over some rocks (or served cold), it really is more of a highball or cocktail bourbon.
7. J.W. Dant Bottled In Bond
ABV: 50%
Average Price: $13
The Whiskey:
This is the same mash bill from Heaven Hill as the bottle above. The difference is that the barrels chosen for this brand follow a different flavor profile than the ones for the bottles above and below this entry.
Tasting Notes:
Nose: The nose on this one is pure banana bread brimming with buttery cake, walnuts, cinnamon and nutmeg, and a touch of honey.
Palate: The palate leans into the wood with a No. 2 pencil vibe that leads towards dry vanilla husks and a touch of salted caramel-covered peanuts.
Finish: The back end of the sip stays sweet and nutty as wintry spices cut with orange oils drive a slowish finish.
Bottom Line:
This is a really good whiskey to make old fashioneds with while you learn. It does hit a little harder on the rocks but you might be looking for that.
6. Evan Williams Bottled-In-Bond
ABV: 50%
Average Price: $16
The Whiskey:
Look, Heaven Hill makes great whiskey, especially inexpensive bottled in bonds. This b-i-b is tailored for the Evan Williams flavor profile. Still, this is Heaven Hill, so we're talking about the same mash bill, same warehouses, and same parent company as several entries on this list. This is simply built to match a higher-end Evan Williams vibe.
Tasting Notes:
Nose: There's a lovely nose at play with soft taco mix spice next to creamy vanilla, caramel-dipped cherries, a hint of pear skins, and plenty of nutmeg.
Palate: The palate has a minor note of cornbread muffins next to cherry-vanilla tobacco with a dash of leather and toffee.
Finish: The end leans into some fresh gingerbread with a vanilla frosting next to hints of pear candy cut with cinnamon and nutmeg.
Bottom Line:
This is where we get into the bourbons that work just as well on the rocks as they do in any other application. This is truly a great workhorse bourbon.
5. Coopers' Craft Bourbon
ABV: 41.1%
Average Price: $19
The Whiskey:
This unique offering from Brown-Forman celebrates the coopers who make all their barrels, including those for Woodford Reserve and Jack Daniel's. The hot juice isn't just aged in those Brown-Forman barrels, it's also filtered through beech and birch charcoal, adding a Tennessee whiskey-like edge to the Kentucky bourbon expression.
Tasting Notes:
Nose: Toasted and charred oak both come through on the nose with a clear sense of tart apples stewed in butter and Christmas spices with a hint of lemon zest.
Palate: That lemon turns into a creamy pudding as the spice from the stewed apples amps up and marries with the cedar notes from the wood with nutty notes pop with a bit of orange zest and mint.
Finish: The end is deliberate and hits on the toasty oak, spice, apples, and sweetness as it fades.
Bottom Line:
This whiskey has a nice nuance to it that helps it stand out from the crowd. I'd lean more toward using it in a Manhattan or whiskey sour, but it's perfectly suitable as an everyday sipper on the rocks too.
4. Benchmark Small Batch Bourbon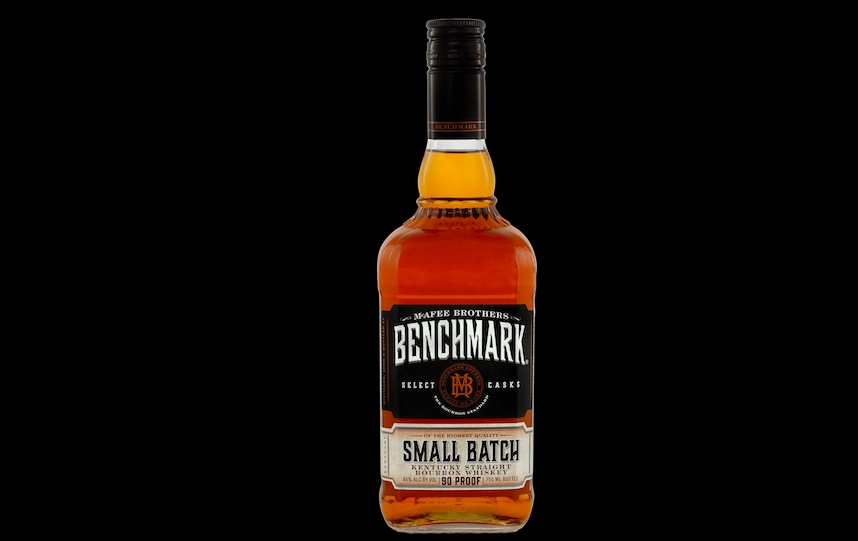 ABV: 45%
Average Price: $19
The Whiskey:
The bourbon in this bottle is a standard "small batch" though there's not a whole lot of information on what that entails, exactly. What we do know is that the base juice comes from Buffalo Trace's Mash Bill #1, which is the same base as Eagle Rare, E.H. Taylor, Stagg, and Buffalo Trace Bourbon.
Tasting Notes:
Nose: Soft leather and old vanilla pods mix with old lawn furniture sitting in green grass with a hint of floral honey and apple pie on the nose.
Palate: The palate has a rich toffee vibe next to sweet cinnamon and plenty of eggnog creamy/spicy vibes that leads to a nutmeg-heavy mocha latte.
Finish: There's a sense of dried corn husks on the finish with a mix of rum-raisin, vanilla pound cake, and cherry bark-infused tobacco layered into an old cedar box.
Bottom Line:
This is a great (on the rocks) sipper at this price point. It also makes a mean cocktail. Hell, it works great as a shooter with a beer too. It's good stuff, is what I'm getting at.
3. Jim Beam Black Extra-Aged
ABV: 43%
Average Price: $18
The Whiskey:
This expression replaced the old Jim Beam Black Label 8 Year, which was a fan favorite amongst the old-school Beam heads. The whiskey in this bottle is aged longer than your average four-year-old Beam, but there is no age statement on exactly how long. I've heard things, but only rumors. The best way to think of it is that it's aged for as long as it needs to be before batching, proofing, and bottling.
Tasting Notes:
Nose: A clear sense of expensive vanilla beans next to apple cotton candy, honey-buttered cornbread, soft oak staves, and Dr. Brown's Cherry work through the nose.
Palate: The taste has a hint of sourdough apple-cinnamon old-fashioned doughnuts next to vanilla pound cake with a hint of poppy seed and orange zest, a whisper of clove and anise, and a smidge of pecan pie.
Finish: The end has a dried vanilla tobacco vibe by way of spiced apple cider and old cinnamon sticks next to a hint of raisins and bruised peach skins.
Bottom Line:
This is a great go-to everyday sipper for a glass of rocks. Add a dash of bitters to the glass to take it to the next level. Otherwise, make a Manhattan or old fashioned with it. Either way, you will not be disappointed.
2. Wild Turkey 101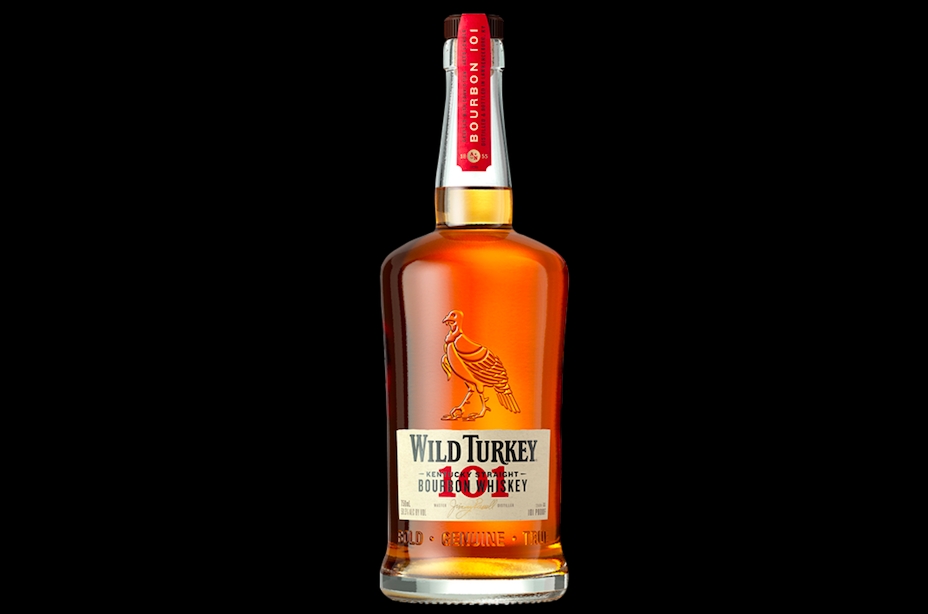 ABV: 50.5%
Average Price: $19
The Whiskey:
A lot of Wild Turkey's character comes from the hard and deep char they use on their oak barrels. 101 starts with a high-rye mash bill that leans into the wood and aging, having spent six years in the cask. A little of that soft Kentucky limestone water is added to cool it down a bit before bottling.
Tasting Notes:
Nose: Sweet and buttery toffee is countered by burnt orange, old oak, and a hint of cumin and red chili pepper flakes.
Palate: The palate leans into soft vanilla pudding cups with a touch of butterscotch swirled in next to orange oils, nougat, and a hint of menthol tobacco.
Finish: The midpalate tobacco warmth gives way to a finish that's full of woody winter spices and a whisper of Cherry Coke next to orange/clove by way of a dark chocolate bar flaked with salt.
Bottom Line:
This is the ultimate workhorse whiskey on the list. It works in every way you want or need it to. It'll never let you down, even as a cheap and easy sipper.
1. Evan Williams 1783 Small Batch
ABV: 45%
Average Price: $16
The Whiskey:
This is Evan William's small-batch bourbon reissue. The expression is a marriage of 200 barrels of Heaven Hill's classic bourbon (78% corn, 12% malted barley, and 10% rye). That whiskey is batched and then proofed down to 90 proof (instead of the old 86 proof) and bottled.
Tasting Notes:
Nose: This has a very distinct nose that ventures from vanilla-soaked leather to a very clear sense of allspice berries and ground clove with a hint of cornbread batter and soft oak.
Palate: There's a light sense of caramel apples on the palate leading toward Johnnycakes covered in butter and honey with a light nutmeg lurking in the background.
Finish: The finish arrives with a hint of dry reeds that ends up on a vanilla cream with brown spices.
Bottom Line:
This is the whiskey — at this price point — that truly punches way above its class. It's just really freaking good and serves as a great sipper over some rocks or a sturdy cocktail base.