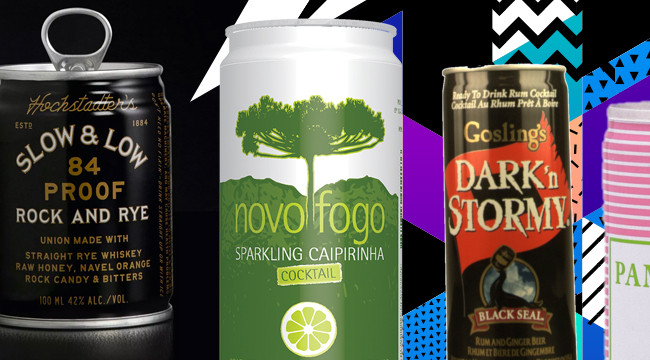 Cocktail culture is booming. In cities like Seattle, New York, Miami, and every town and hamlet in between, cocktail bars are popping up everywhere. You might be surprised to know that it wasn't always like this. It's only been the last decade or so that the art of cocktailing has become this mainstream. It wasn't very long ago that telling your friends you were a bartender mean that you weren't really living up to your potential. Now, bartenders are the new celebrity chefs and the skill is gaining as much prestige and respect as its culinary cousins.
With this influx of cocktail culture, came a unique problem. If you make amazing cocktails at your establishment or distillery, how do you get them out to people who might live hundred or thousands of miles away? The simple way is by bottling the mixture and selling it as is. But, what if your customers don't want to open a whole bottle of pre-made Negroni or an Old Fashioned? What if they want to add them to a cooler with their favorite canned beer and wine or throw a few cans into a backpack for a day of hiking?
Until recently that wasn't possible, but following Australia and the UK numerous canned cocktail brands have emerged. Here are our picks for some of the best.
This was the first craft cocktail available in cans when it dropped a few years ago. Being the first doesn't necessarily make something the best. But, in this case, it's true. If you only buy one canned cocktail buy this one. If you opened this can in secret and poured this 100ml, 84 proof, combination of rye whiskey, orange peel, honey, angostura bitters, and rock candy into a rocks glass, nobody would know you didn't just shake it up yourself.

You can't go wrong with any of the canned cocktails from San Diego's Cutwater Spirits. One of its best is its Tequila Margarita. A 12.5 percent pre-made margarita featuring tequila and natural lime, pure cane sugar, and triple sec, it's perfect for Cinco de Mayo or any day that ends in a 'Y'.
If you're not yet on the caipirinha bandwagon, now's your chance. Brazil's national drink, the caipirinha consists of cachaça (a distilled spirit made from fermented sugarcane juice), lime, and sugar. Thanks to the folks at Novo Fogo, you can buy this iconic cocktail in can form. It's made with its silver cachaça, lime, and sugar. It's 11.1 percent alcohol and gets an added kick from carbonation.
There are few drinks more synonymous to spring/summer than sangria. But, if you don't have the time to prepare your own, how can you enjoy this wine-based beverage? Can. That. Sh*t.
This Spanish sangria is made from wine made from organic grapes that is blended with Azahar flowers,Mediterranean spices, various herbs, and the essences of Valencia oranges.
The French 75 is one of the most classic of all classic cocktails. The most common recipe consists of Champagne, lemon juice, gin, and simple syrup. Pampelonne's canned version is made up of French wine and flavors of bergamot, juniper, Meyer lemon, and elderflower. It's fresh, effervescent, and perfect for a picnic on a warm, spring day.

This cocktail took a long journey to end up in a can. The drink was originally made at Ella Restaurant and Bar and the shady Lady Saloon in Sacramento back in 2008. Now, the carbonated drink made with vodka, gin, elderflower, lemon, and can sugar has made its way to cans.
Before we started seeing many canned cocktails in stores, Goslings was already making its iconic Dark n' Stormy. Well, you can still get this canned cocktail featuring Gosling's Black Seal Rum mixed with Gosling's Stormy Ginger Beer. It's simple, perfect, and only 9 percent alcohol (our pick for the sweet spot when you're drinking from a can).
Brooklyn's Interboro is known for its high-quality beer and spirits. But, it also makes a classic gin & tonic. This 10 percent, very refreshing, canned cocktail is available at the distillery/brewery in Brooklyn (if they aren't out). The canned version is based on the cocktail on tap at the distillery's tasting room.