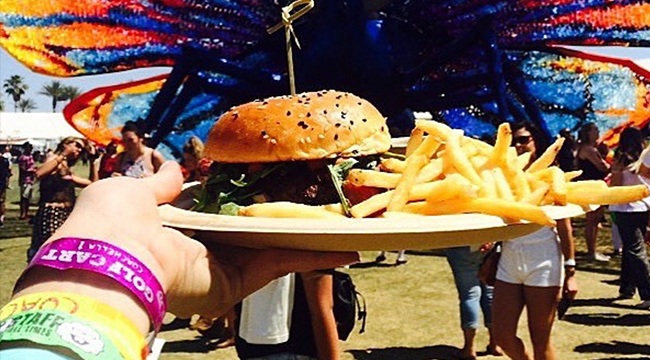 Coachella is nearly here. The lineup this year is as legendary as ever — with Beyonce and Eminem headlining and about a million other bands taking the stages over two weekends in the desert.
But Coachella is more than just the music. The festival has become a showcase for some of the best food California has to offer. There's a definite street food feel to the whole affair, with LA area restaurants setting up shop to feed the masses of music lovers.
We thought we'd cobble together a short visual tour of our ten favorite joints that stand out this year. Some of them are classics. Some innovators. All of it's delicious.
Beer Belly at the Craft Beer Barn
Beer Belly is fair food filtered through Coachella's hip, mystic POV. Fried Oreos may feel more like an Orange County Fair treat but, hell, who doesn't want a nice sugar boost before a set? Plus, there will be cheese slathered fries and spicy wings. It's simple but delicious.
Cena Vegan at Indio Central Market
Vegan tacos, nachos, and burritos? Yes, please. Cena Vegan's menu is Tex- and Cali-Mex comfort food done perfectly. Just look at those nachos up there? Try and convince us you wouldn't kill that in one sitting?
https://www.instagram.com/p/BgWkEEnH15A/
https://www.instagram.com/p/BfTQPL8ngtF/