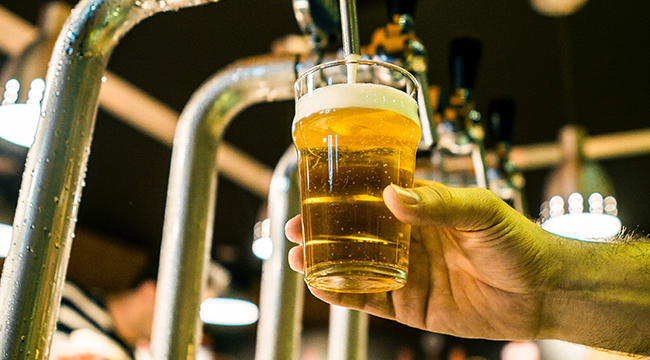 There are currently over 7,000 craft breweries in the United States alone. Head abroad and that number continues skyward. In 2019, Beer is just about as globally ubiquitous as water. From Belgium to China to Kampala, it doesn't matter which far off city you visit, you're sure to find a brewery beloved by locals and travelers alike.
With an eye on our passports (and today's cheap flights), we asked some of our favorite bartenders to tell us their go-to international beers. From Ireland to Peru, their answers didn't disappoint. No vacay time? No sweat. Seek these bottles out at your favorite bottle shop, bar, or grocer.
Galway Hooker Pale Ale
Phil Testa, beverage manager at The Rickey in New York City
My favorite beer from outside of the United States is the Galway Hooker from Ireland. Primarily for nostalgia purposes only – this beer was delicious when I traveled to Ireland. I had it every day and still remember this tasty, earthy pale ale.

Cusqueña Trigo
Camilo Tavera, head bartender at Hakkasan in Miami
Cusqueña Trigo is a wonderful Peruvian beer with citrus and wheat aromas. It's fantastic for pairing with grilled, braised or pickled foods.
DuPont Saison
Evan Danielson, beverage director at City Winery in Nashville
DuPont Saison. For me, it has everything I love in a beer, and pairs with many, many foods. If I had only one beer to drink for the rest of my life, DuPont Saison would be it.
Carta Blanca Lager
Daniel Condliffe, bartender at JSix in San Diego
I'm a huge fan of the simplicity in Mexican beers. For the most part, they're light, crisp, fresh and usually something you can enjoy a few of without getting too crazy.
Carta Blanca lager would be my go-to.
Kirin Ichiban
Laura Mitchell, bar lead at BEER PARK in Las Vegas
One of my favorite beers, which is highly underrated, is Kirin Ichiban. It's a Japanese-style lager that is full of flavor, yet still light and crisp. It is brewed using a first press method, which is like a French press, as it extracts the purest flavors — making its taste clean and fresh.

Tsingtao
Ilan Chartor, spiritual advisor at KYU in Miami
My favorite beer brand not from the U.S. is Tsingtao. It's crisp, light, refreshing, and goes great with proteins and spicy food.
Delirium Tremens
Constantin Alexander, director of beverage at Hakkasan in Las Vegas
Belgium's Delirium Tremens. It has intense aromas and flavor profiles, and it referments inside the bottle, so the flavor packs quite a punch. It's complex and amazing.
Guinness Stout
Nikki McCutcheon, beverage director at Magic Hour Rooftop Bar & Lounge in New York City
I love Guinness. I had the opportunity to visit the brewery and beyond being such a delicious classic, its history is as rich as the liquid itself. And for the clientele watching their calories – this is one of the lower-calorie beers of its style.
Duvel
Eva L. Caló, head bartender at Officine Buona Forchetta in San Diego
Duvel. Even if I don't drink Belgian beers that much, I think that no one can beat Duvel taste.
Schlenkerla Helles
Megan Reynold's, owner and certified Cicerone of R&R Taproom in Woodstock, New York
My favorite non-US-brand is Schlenkerla Helles. It's a traditional smoked lager. B.United imports it by tankards and cans it stateside, so we can also get it much fresher, which is a treat.
Corona Extra
Josh Cameron, head bartender at Boulton & Watt in New York City
Ice-bucket-cold-Corona. I said it. And I meant it. It's the perfect pre-season football beer, the perfect back porch sunset beer, the absolute perfect river float beer. And where there are good times, a Corona, "gets its lime."
Samuel Smith's Nut Brown
Sarah LM Mengoni, bartender at Double Take in Los Angeles
Samuel Smith's Nut Brown Ale. Best brown ale anywhere. Nutty, malty, just enough bitterness to balance it out, great mouthfeel. Fun fact, it's also vegan.

Cantillon Saint Lamvinus
Chris Jacobs, owner at SkinnyFATS in Las Vegas
Saint Lamvinus from Cantillon Brussels Belgium. For me, this is the perfect beer, a yearly released Lambic and aged on wine grapes. It's an amazing wine beer hybrid with vinous aroma, light barnyard funk, wine barrel notes, and light tartness. I've also been fortunate enough to try almost every vintage, including recently drinking the first batch ever released: 1995 St. Lamvinus.
Aged, it takes on a whole new set of characteristics, losing the brightness and giving way to musty grape skins, funky cheese, then ending with a slight balsamic vinegar flavor.