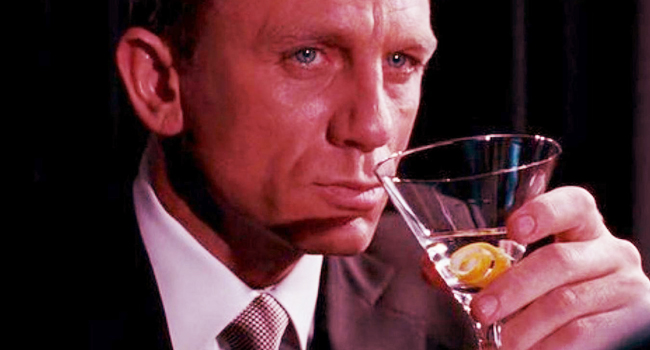 Bartending is at its most elevated level in history, making this the best time ever to immerse yourself in cocktail culture. The art of mixology — once looked down on by the stuffed shirts — is now regarded as a creative, well-paying, and highly respectable career. At its highest levels, it's a dynamic gig that never gets dull.
This rise in cocktail-based enthusiasm means that there's also a rise in cocktail-specific bars (or at least bars that are well-known for serving specific drinks). Over the past few weeks, we've tasked experts with chronicling the most important and exciting bars in the country (and, in some cases, the world). We've looked at whiskey, gin, and rum bars with the help of some of the most influential bar experts in the world.
This week, instead of spirit-centered bars, we asked Eric "ET" Tecosky, bartender at Jones Hollywood and founder of Dirty Sue Premium Olive Juice, to pick the most important martini bars in the US. From Scottsdale to Atlantic City, he selected the best martini bars in America (whether you like it dry, sweet, or straight up dirty). Even James Bond would be proud.
Mastro's City Hall (Scottsdale, Arizona)
Mastro's put the 'more is better' martini back on the map and there is no finer place to order one than the bar at their City Hall location. It's a sight to behold. Always busy, always fun and you never know who you may meet there. In the world of the modern steakhouse, Mastro's lives at the top of the food chain. Do yourself a favor and order your martini with extra blue cheese olives, a seafood tower and a bone-in ribeye.
As Floyd Lewis likes to say, "Don't cheat yourself, treat yourself."
Carousel Piano Bar & Lounge (New Orleans)
https://www.instagram.com/p/BiCsRGfhYUa/?taken-at=1023895291
The next time you find yourself in New Orleans take a seat at the Carousel Bar. Great drinks & impeccable service – the kind you would expect at a fancy, historic hotel like The Monteleone. In case you're looking for drinking street cred, some pretty impressive imbibers have enjoyed a cocktail at the bar over the years – including Ernest Hemingway and Tennessee Williams. And if you want to feel like a regular, find Eddie the bartender and order a Cajun Martini. Or two. Just when you start to think that the bar is moving – don't panic, it is. It's a carousel, remember?
The Mansion Bar (Dallas)
One of the best bars for people watching and, even better, overhearing amazing conversations. On the weekends, this dark, cozy bar is packed with the who's who of Dallas while a live band plays the hits –- old and new. This may not become your everyday spot, but it deserves to be in your rotation. You will also instinctively feel the need to have a martini in your hand. And good news, martinis occupy a whole section of the menu and the top-notch bar staff is ready and waiting to make that martini exactly the way you like it.
Knife & Fork/Dock's Oyster House (Atlantic City)
This is a two for one deal. Both these spots are well over 100 years old and both are absolute musts when you're in Atlantic City. Places like these should be treasured and revered. Not just because of the history but because they continue to be at the top of their game year after year. In the past you may have found gamblers next to mobsters next to politicians. Those days may be from a bygone era but you can still enjoy great food in a perfect setting sipping that perfect martini. Oh, and it doesn't hurt that both restaurants can boast, "Sinatra Ate Here."
Hugo's Cellar (Las Vegas)
Hugo's Cellar started my obsession to seek out old school restaurants in cities I visit. The place is just over four decades old. That may sound new in a world of old, but 40 years in Vegas is not like 40 years somewhere else. Dean, the bartender, has been there half that time and has curated a fine martini list — in his head.
According to veteran GM Richard Assalone, Dean's style is 'make the guest happy.' Sweet? Dry? Citrus? You tell Dean what you dig, and he puts that in a glass – a mini glass carafe that sits in ice, so half the martini stays cold while you enjoy the other half with your prime rib or lobster medallions. And don't take my word for it, Hugo's also gets the "Sinatra Ate Here" distinction.
Cliff Bell's (Detroit)
Legend has it that Cliff Bell is the first person to put barstools at a tavern. That is a pretty civilized innovation. And in Cliff Bell's era a civilized person would sit at the bar and sip a martini. Good news, at the restored Cliff Bell's you too can sit at the bar (or a table) and enjoy your own martini while listening to some of the best jazz in the city. Musicians travel from all over to play this room.
The next time you find yourself in Detroit, you should make your way to the bar, order your martini the way you like it and sit down, relax and enjoy an experience that started not long after Prohibition ended.
Jones Hollywood (Los Angeles)
There are a host of great places to get a martini in Los Angeles. I would be doing you a disservice to not mention one of the most notable – Musso & Franks (so I just did). But Jones Hollywood is also a great spot for a martini that is very special to me. Bartending there has given me everything in my adult life. I met my wife while at Jones. I started my business at Jones and I have made lifelong friends at Jones. Next time you're there (and not drinking Jack Daniel's –- which is also a thing) order a Dirty Sue martini, shaken ice cold with your Spaghetti & Meatballs 'old school' style. Tell the bartender I sent you, with all the love in my heart.
El Five (Denver)
What pairs better with an ice-cold martini than a delicious plate of Paella? Um, nothing. Or does it seem strange to you? That is the beauty of El Five. Nothing seems to make sense, yet it all fits together beautifully. From the Egyptian movie posters to the glam/deco'esque décor to one of the most amazing views you will find, it all works. Look for Ky Belk at the bar. He's an old school bartender with new school sensibilities. He can mix you anything from the perfect sangria to the El Five Martini/Paella combo we talked about. Trust me. It works. It really works.
Gray & Dudley (Nashville)
Located inside the 21c, which is part hotel, part experiential museum and all amazing. Each room of art could be enjoyed without a cocktail, but that seems silly with such a great bar so close to you. And if you are going to be infusing yourself with a bit of culture, a martini seems like the perfect order. And order with confidence because the bartenders pretty much rock whatever they do.
One thing to be aware of — the hotel scatters life size, blue penguins all over the place and they seem to pop up when you don't expect them. So, if you're deeply enjoying a digital painting on the wall and turn to find an aqua colored bird/not bird staring at you, it's not the martini talking, it's really a blue penguin.
Hy's Steakhouse (Honolulu)
Dark wood, leather booths and white linen tablecloths –- all the things that come to mind when you think 'Hawaii.' Or maybe not. How about poke, Polynesian cocktails, and stand up paddle boarding? Okay, feel better? I agree with you, but hear me out for a sec. You will get your fill of all things Hawaii all day and all night. Poolside Mai Tai's, sunset Daiquiris and cubed fish for days. But there will come a time where you need a time out from all things Hawaii. And when that time comes, head to Hy's. It's not just a great steakhouse for Honolulu, it's a great steakhouse. Period. And before that 18 oz. Delmonico hits the table you will feel inclined to sip on an expertly made martini. And when the steak is sliced, skip the red wine and opt for a Manhattan. The whiskey'est of martinis. Can I say that? I would argue it's more similar to a martini than its apple cousin…