It's officially mulled wine season — when Christmas markets in the United States and Europe serve steaming mugs of spiced glühwein by the ladleful. Of course, with COVID continuing to spike, many of those markets don't exist this winter. Making 2020 your year to finally prep your own mulled wine at home. God knows we could all use a drink.
Thankfully, this recipe doesn't present a particularly tough challenge. You just need the right ingredients and a little patience.
Having lived in Berlin since 2008, I've become something of a mulled wine snob. Roaming the German Christkindlmarkts is one of my favorite activities of the season — if not the year — and I happen to live next door to the best in the city. (It's hard not to put on the pounds in December when you're a five-minute walk from a daily drunken Christmas party with piles of fried, stewed, and grilled foods at every turn.) This year, the markets are canceled — which saddens me for a whole host of reasons. But missing out on glühwein isn't one of them.
To be honest, I usually bring my own mulled wine to the Christmas markets anyway. Don't get me wrong, I still buy food and gifts while strolling the stalls, but I know where the market's mulled wine comes from, and you're getting industrial juice sold in five or ten-gallon plastic jugs. It's… fine. But homemade mulled wine is a million times better. My play is to fill up a big thermos and walk around the market sipping that.
The (somewhat) secret to the perfect mug of glühwein is hard alcohol. You want to get your order "mit schuss" or "with a shot" of either brandy, rum, whisky, or amaretto liqueur. That extra bump of dark booze adds depth and ABVs to the otherwise light (and sweet) drink.
Okay, enough pre-game. Let's get into the recipe. Again, this really isn't a terribly tough one. If you have a big pot, stove, and a little time, you can make glühwein perfectly with ease.
What you'll need in the kitchen:
Large pot
Ladle
Slotted spoon
Kitchen knife
Mugs
STEP 1: Make The Mulled Wine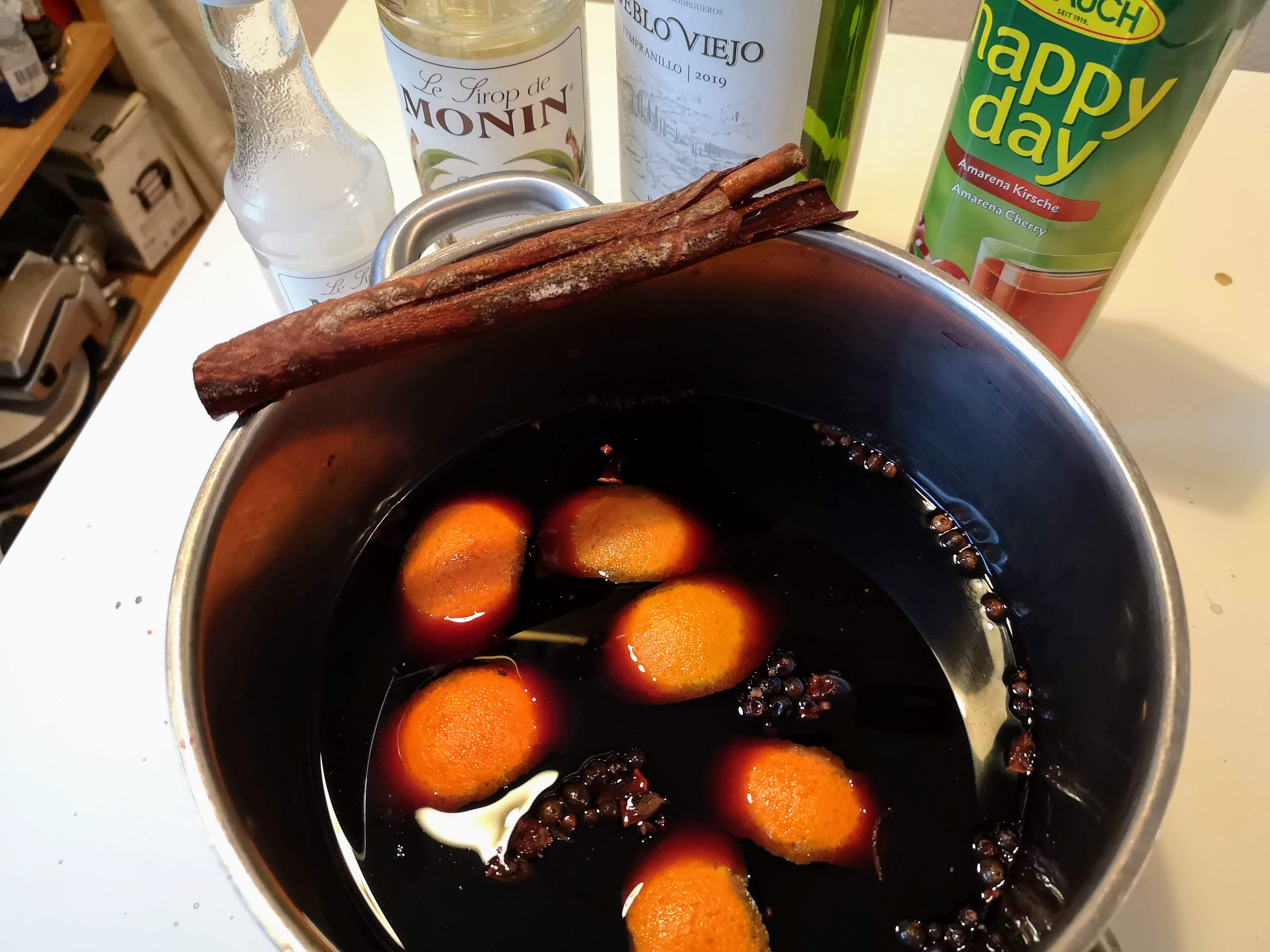 Ingredients:
2 bottles of red wine
16-oz. dark berry juice
1-oz. simple syrup
3-oz. Orgeat syrup
10 juniper berries
10 allspice berries
4 stars of anise
6 cloves
1 large cinnamon stick
1 orange
I'm using a Temperallino wine from Rioja in Spain for this recipe. But you can really use whatever red wine you like to drink. BUT: Don't just get some cheap bullshit wine. Get wine you like to drink in the $10 range. You're making enough for 10 servings. So $20 worth of wine is a very fair price to pay for that much.
I'm also using Amarena cherry juice. It's basically a sweet cherry juice (it's not the syrup from a jar from Amarena cherries). Alternately, you can also use blackberry, blueberry, red currant, plum, or even red grape juice. The point is to use a juice that is as dark as the wine, but sweet. In the end, we're using this to add flavor and sweetness to the mulled wine.
The real x-factor is the Orgeat syrup. Orgeat is an almond-based syrup made with rose water, orange oils, and sugar. Every liquor store will have it. It's also the key ingredient for a Mai Tai. So if you buy a bottle, you can always use what's left for whipping up some nice tropical cocktails.
As for the rest, it's really up to you. The mix of dried spices I'm using is what I personally dig. You can play around with it for your palate. If you like more cinnamon, then use more of it. This is just a basic launching pad for spicing up your mulled wine however you want.
WARNING: Careful with the cloves. Too many and you'll get a medicinal flavor and an anesthetic effect (cloves were once used as precisely that in early dentistry).
Method: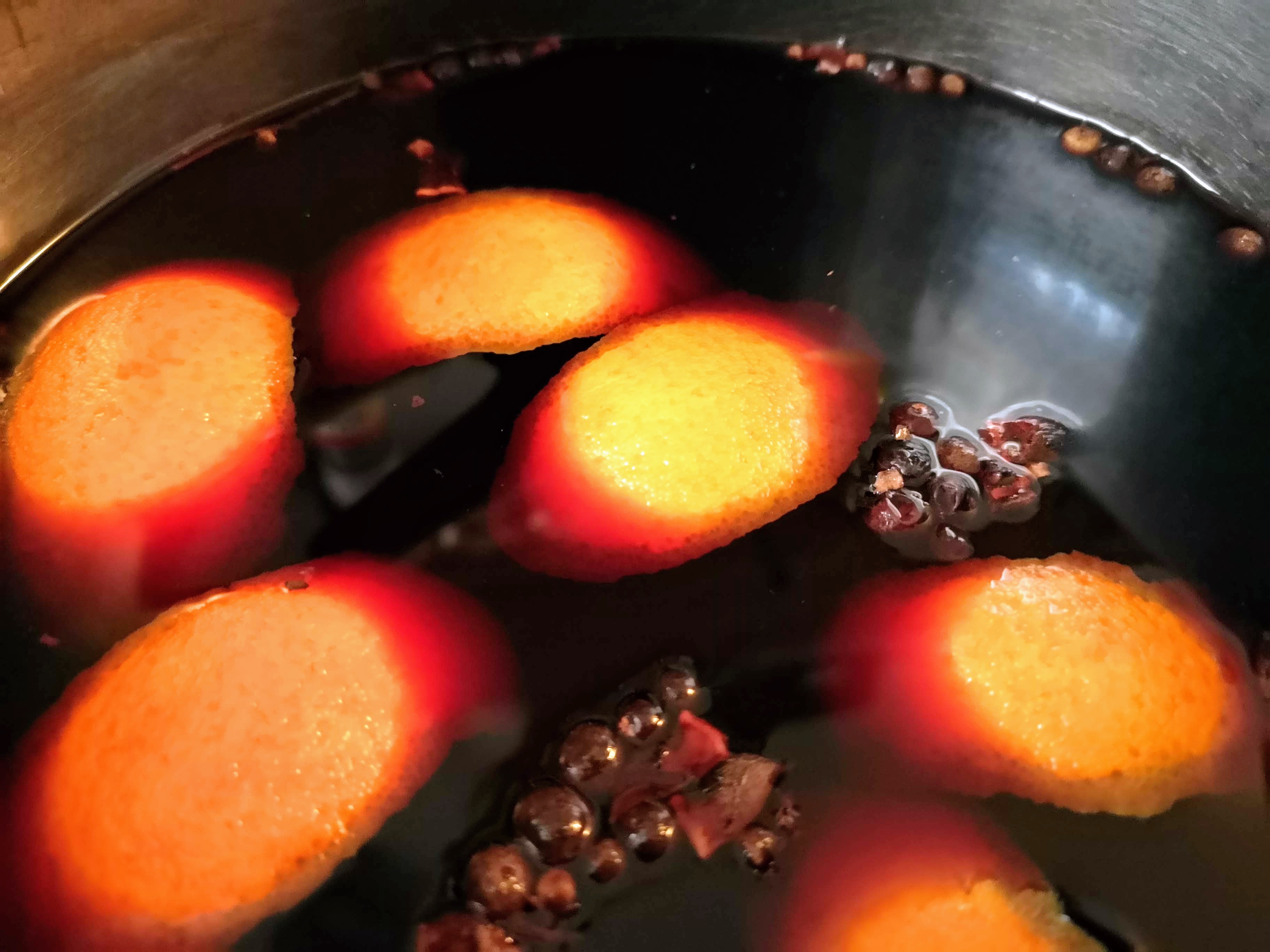 The only thing you really need to prep is the orange. I use a sharp kitchen knife to slice the peel from the body. You don't want to bring along too much pith (inner white part). You can also do this with a vegetable peeler.
Other than that, put everything in a big pot, give it a quick stir, and that's it!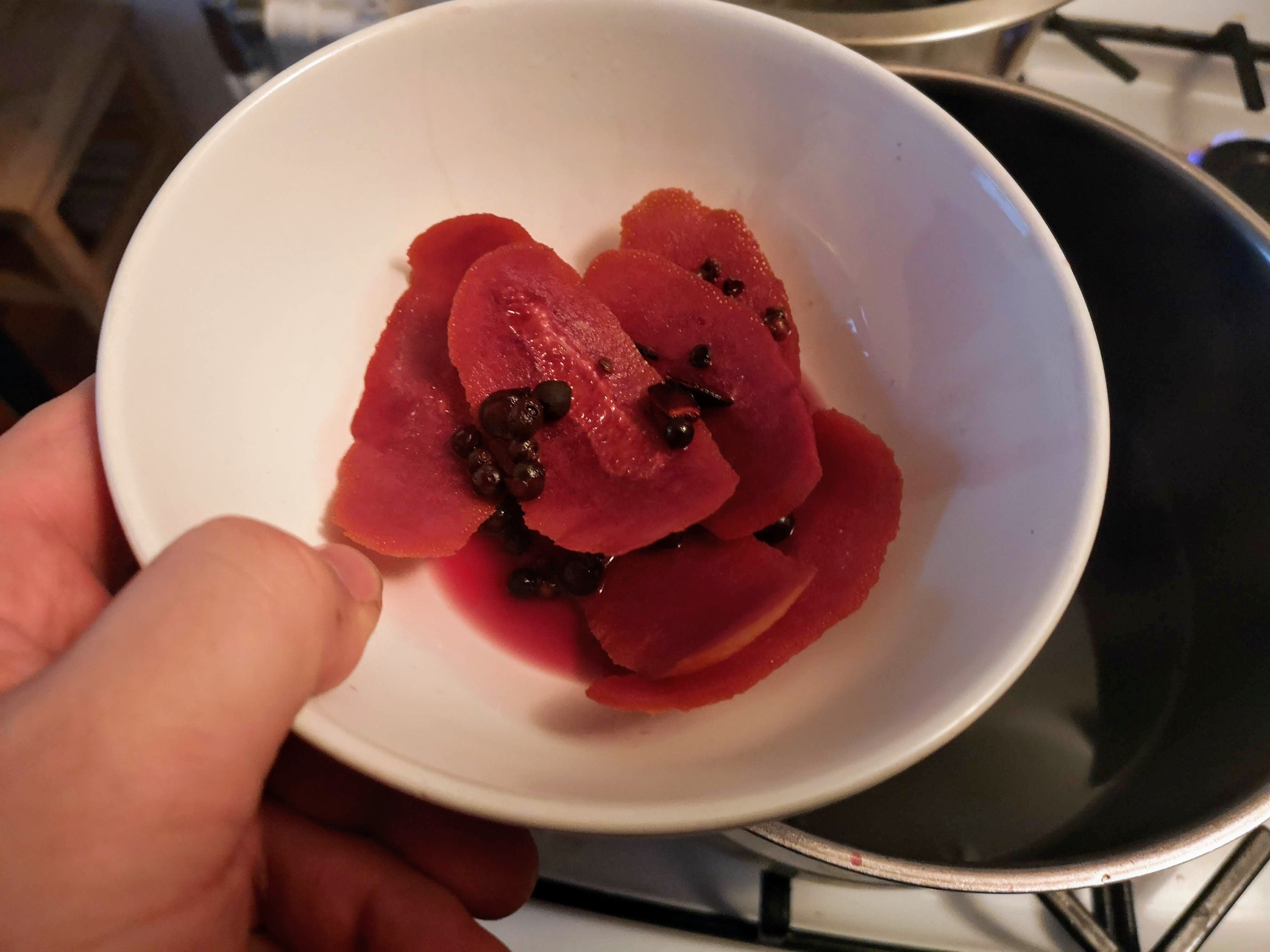 I place the pot on medium-low heat. You want to bring the whole thing up to just below a boil. If you want to be super technical about it, you're aiming for 195f to 200f, temperature-wise. That's hot enough to steep the spices and emulsify the sugars and alcohol without simmering anything down into a syrup and cooking off the alcohol. You don't need a temperature gauge. Just don't let it boil or even simmer.
After about 45 minutes to an hour, taste your glühwein. Does it taste good? Then it's done. Basically, the spices, orange, Orgeat, juice, and wine should all be present in the taste. It should be sweet, woody, nutty, spicy, and still feel like red wine.
If you've hit that mark, use a slotted spoon to fish out the orange rings and spice berries. You don't want to leave those in as they'll turn everything very bitter if overcooked. I do leave in the cinnamon stick if I'm serving right away. If not, take it out to avoid overly bitter mulled wine.
STEP 2: Serve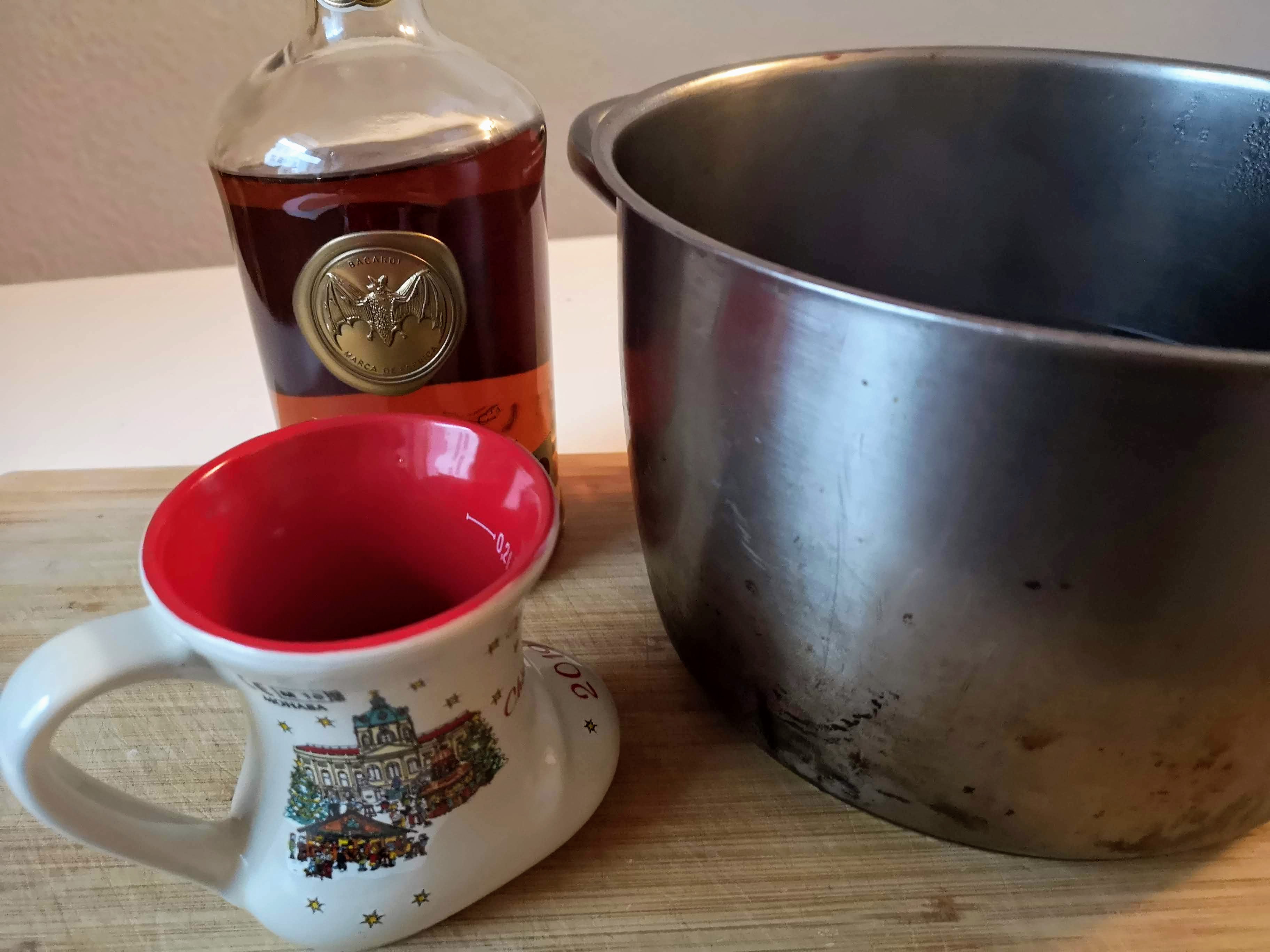 I like setting up a little service station on the table with mugs, the pot and ladle, and some booze for spiking. I'm using a well-aged rum, as that adds the nicest depth in my opinion. Again, use a dark booze you dig: Brandy, scotch, bourbon, whatever.
I ladle in a mug full, leaving room for a three-second pour off the rum bottle. I top it up with said rum and take a sip.
It's delightful. There's a nice sense of those spice berries next to nuttiness and sweetness that's subtle. It smells wonderful as well. It's exactly what you need this time of year: Pipping hot, sweet, spicy, nutty, and delicious.
And this particular year? Feel free to treat yourself to an extra glass.