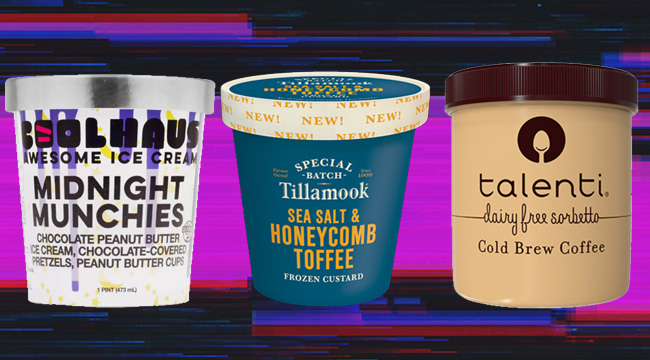 Summer is ice cream season. That's not to say that it's necessarily better in the heat (when you have to deal with melting) — milk-based products aren't really refreshing on a scorching day, as Will Ferrell warned us in The Anchorman. But when the temperature starts climbing and you're on vacation, ice cream seems like a very reasonable way to wind down your afternoon. Every afternoon, from early June to early September.
And that's what we're really advocating here: More ice cream. More shakes. More malts. More custards. Because while pastry chefs at the world's best restaurants build ornate desserts with espumas and chocolate "soil," we contend that the perfect sweet treat has been invented already. Ice cream's deliciousness boggles the mind. Milk, eggs, sugar — it's not rocket science, but it sure tastes like it.
As #Summer18 starts ripping and roaring, we want to lay out the best new ice creams of the season. But first a few words on the method:
They're almost all pints because that's where premium flavors with a balanced profile are found these days, but it wasn't a requirement.
To be in the running, you have to either A) be in grocers nationwide or B) have a mail order business.
Popsicles are out. So are bars and sandwiches. This is ice cream-focused.
There is a strong caloric bias — toward more freaking calories. Fat and sugar are literally what makes ice cream taste good.
The flavors were reviewed at an ice cream party, that also featured an exorbitant number of weed edibles. As such, rich, non-fruit driven flavors won the day. Absolutely no apologies for that.
Sea Salt & Honeycomb Toffee — Tillamook Ice Creamery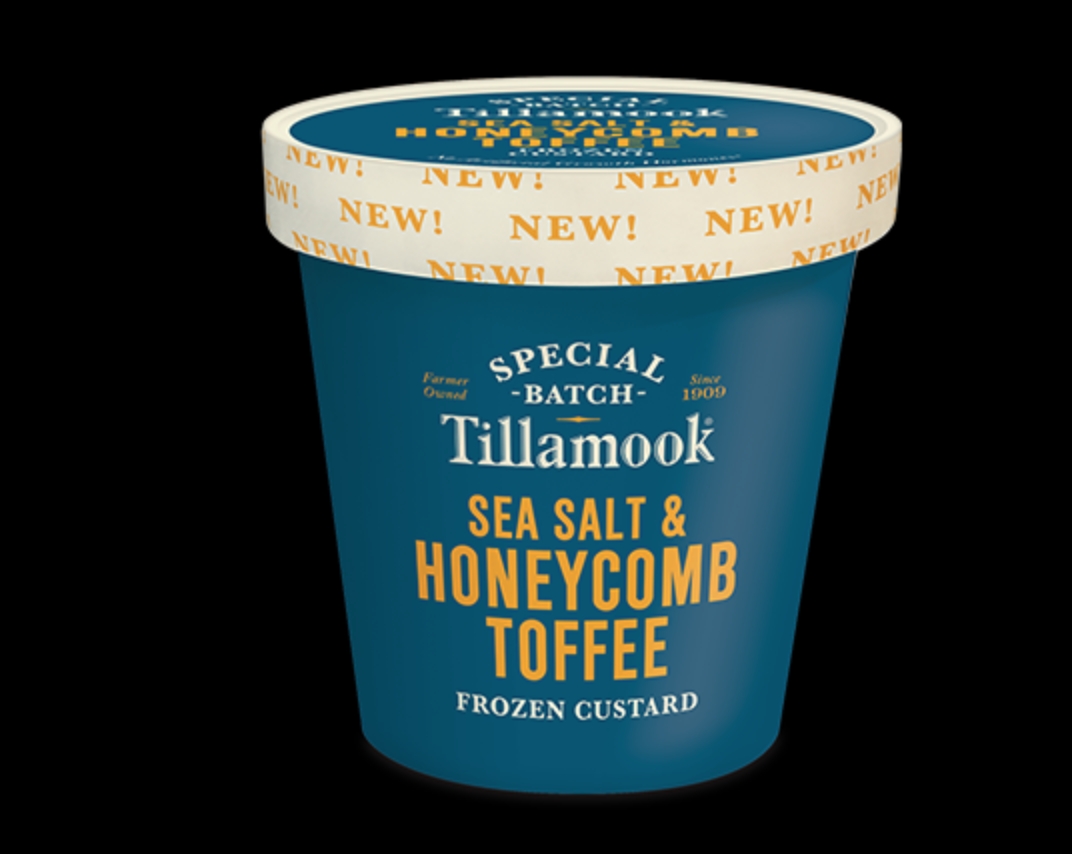 This one was an absolute hit with everyone who tasted it. The package wasn't designed yet when we did our test, so it came in a plain white pint container and caught us by surprise. Flavor-wise, it was reminiscent of "sea salt with caramel ribbons" — the flavor that really broke things open for the crew at Salt & Straw in their early days.
Tillamook's ice cream has always been good but their premium pint entries are legit game changers (they have a Pendleton Whiskey and Maple flavor for Summer '18 too). The salt levels on this pint are dialed in (which is to say, "it's pretty salty"), there's sweetness coming from the honey, and the honeycomb toffee bits give it a crunch without cracking your molars. It's balanced and that custard-y, ultra-rich mouthfeel is pure silk.
If you like salted caramel, but feel like the mainstream brands rarely make it salty enough, this is your pint.
Midnight Munchies — Coolhaus
This flavor was the delight of our panel, which (as I said) was mostly all stoned. The name Midnight Munchies tips their hand for stoners and, with that MO, the inclusion of chocolate-covered pretzels is an absolutely inspired call. For decades, all chocolate-peanut butter ice creams on earth have had to compete with the GOAT, made by Baskin & Robbins. And for decades they've all fallen short.
This one might legitimately compete for the grand Choc-PB prize. There's a saltiness, some texture, actual peanut butter cups (which are tiny and don't break your jaw), and plenty of peanut butter flavor. This is a huge win for someone who's eating ice cream as their whole dessert. No need for a sauce or even a cone — it's perfect in the bowl.
Honey Salted Caramel Almond — Häagen-Dazs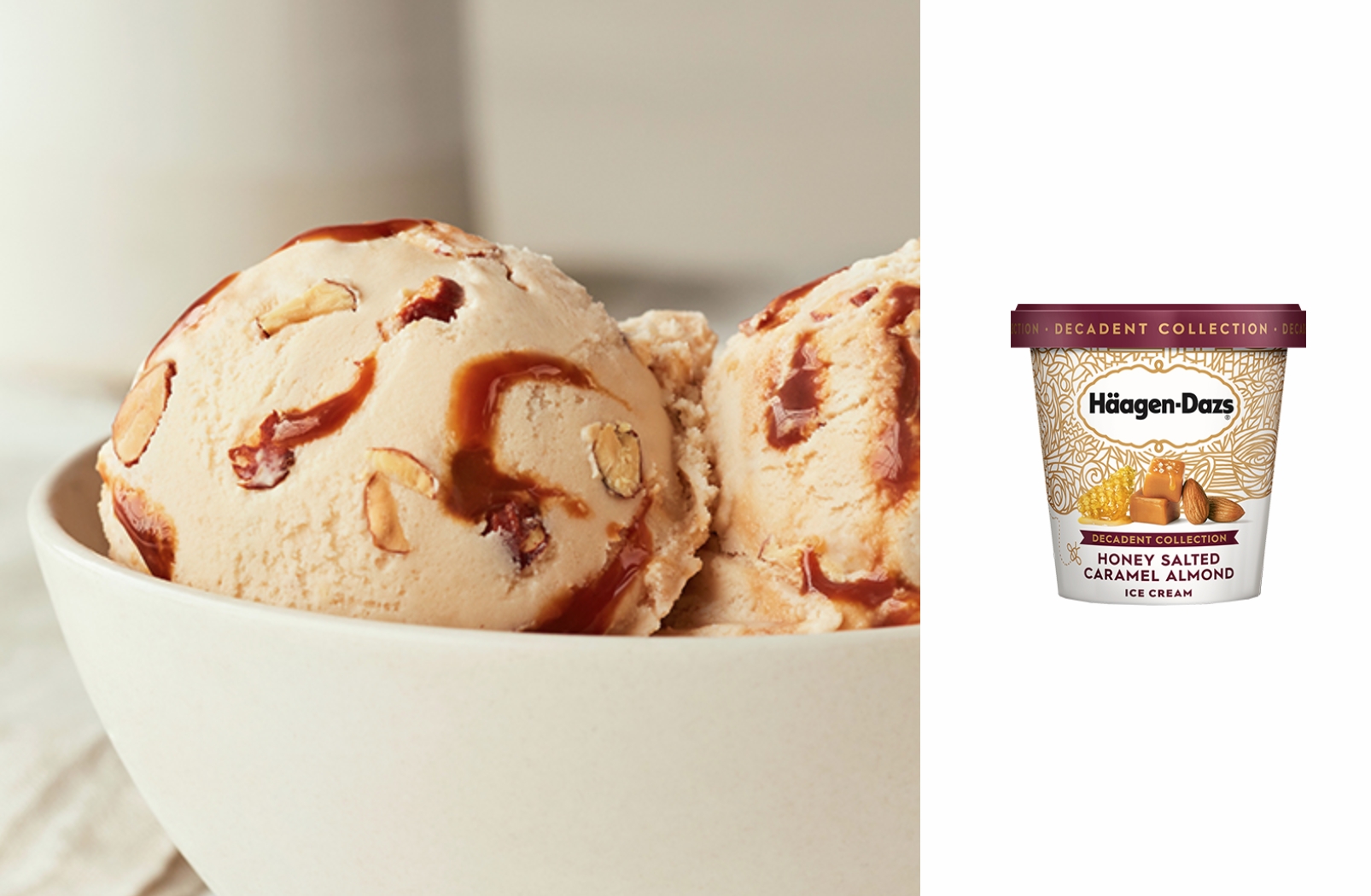 Yes, this flavor is strikingly similar to the Tillamook flavor profiled above. Yes, you still absolutely need to buy and taste it ASAP. The ribbons of caramel are kind of "melty/ silky" and the almonds are slivered finely enough to not be obtrusive. The ice cream base is where you'll find the honey in this one and its taste comes through without being overpowering.
Häagen Dazs was a little slow to get back to innovating when the "fancy ice cream pint" revolution hit, but they're on their game now. This flavor is balanced and nuanced and has a really great mouthfeel. If you found this at a scoop shop in your hometown, you'd literally tell everyone about it. Pretty great then, that you can cop it at the supermarket.
Great for people who like salt and big flavors but don't want their teeth to ache from over-sweetness.
Tokyo PB & J (with white soy) — Salt & Straw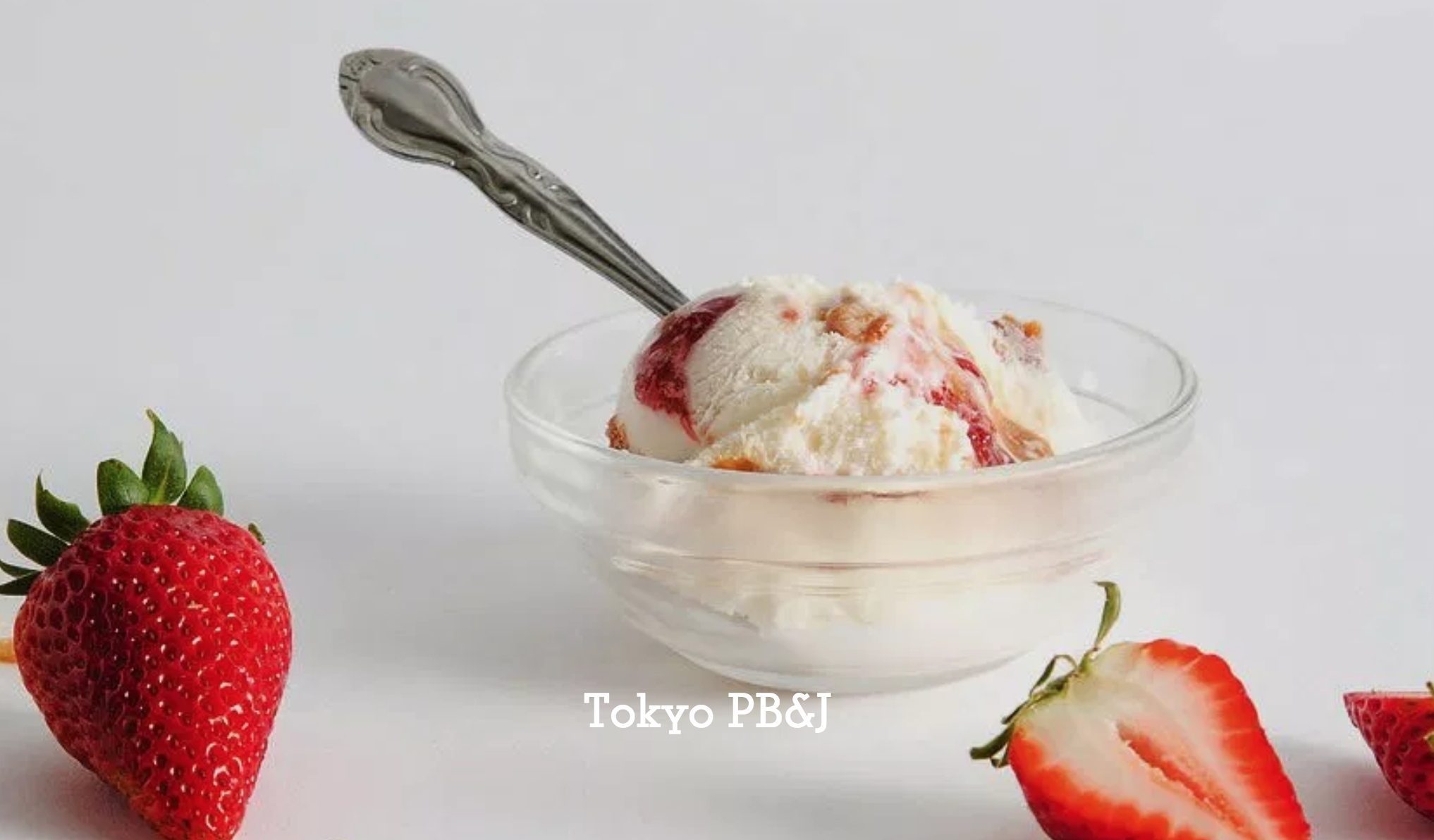 Salt & Straw literally changed how people approach ice cream on the planet earth. They are that big of a deal. As brands like Tillamook and Häagen Dazs have upped their games and companies like Coolhaus and Talenti have risen to the fore, Salt & Straw has only gotten more weird, more intellectual, more sophisticated.
The downside of this approach is that you sometimes get flavors that just don't work (2018's Duck Crackling with Cherry Preserves was just too ducky for our crew). Other times… you get pure inspiration — like the Tokyo PB & J.
The key to this flavor is white soy (steeped in rice) — adding really nice umami notes that are both A) strikingly unusual for an ice cream and B) absolutely fantastic when paired with peanut butter flakes and" whiskey-soaked" strawberries. While adding whiskey to an ice cream is alluring, it's often a task better left to the end-user. Here, however, the flavors come together almost magically and the result is a joy to taste.
Cold Brew Coffee — Talenti
This is the most straightforward flavor on the list — which allows Talenti's craft to shine. It's shocking that this is a dairy-free sorbetto because the mouthfeel is every bit as rich and silky as their milk-driven recipes. Flavor-wise, there's just the littlest bit more coffee here than you're probably used to, which is a good thing. It scored huge with our panel's coffee-lovers.
This entry proves that you don't have to overcomplicate things to create a hit. Sometimes it's just about one flavor, well balanced, with great texture.
Chocolate Shake It Truffles — Ben & Jerry's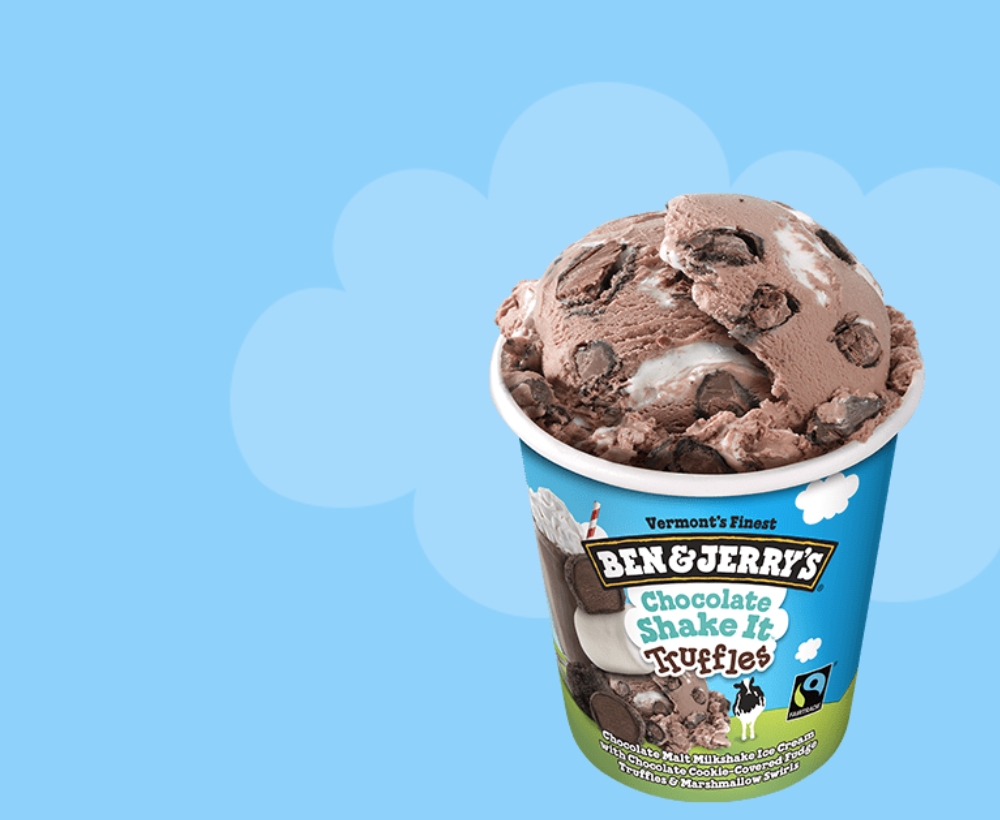 All three of Ben & Jerry's new flavors for summer have truffles (the chocolate kind, not the mushrooms), which is sort of an odd choice. It's hard to say if people are really clamoring for tons more truffles in the freezer aisle — though the addition of a soft chocolate inside an ice cream definitely works.
Of the three new flavors, this one certainly stood out because of the "malt" aspect. Malts are amazing and literally everyone should drive Route 66 this summer, if only just to try one from an old-fashioned scoop shop.
There's a layer… almost a tang… that the malt adds to this flavor that pushes it past a typical rocky road riff, and unlike many Ben & Jerry's offerings this one isn't at all overcomplicated.
Milk Chocolate Hazelnut — Magnum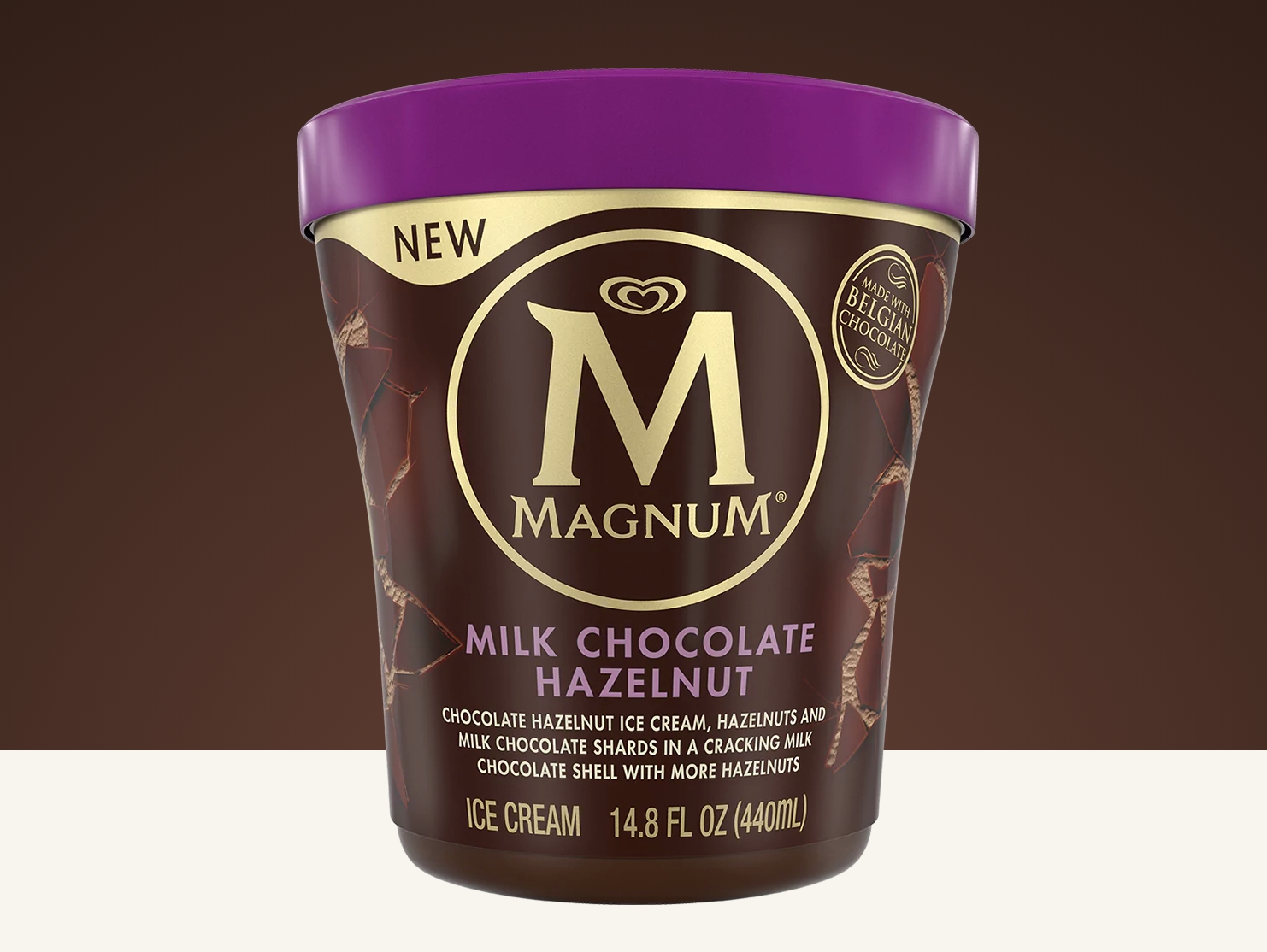 I thought this was a touch gimmicky, but my god did our panel love it. Next, I assumed that their enthusiasm would be less about the "shell" effect (the ice cream is coated with a chocolate covering) and more about the fact that Magnum makes really decadent-tasting ice cream, but again I was wrong. People loved the shell.
Chocolate hazelnut is easy to find at literally every gelato stand on earth, but you don't find it all too often on the retail side. This is a great entry, flavor-wise and the Magnum texture is always on point. Plus, the shell aspect is clearly a hit — reminding us all of those chocolate dipped cones from childhood.
Chocopolotin — Blue Bunny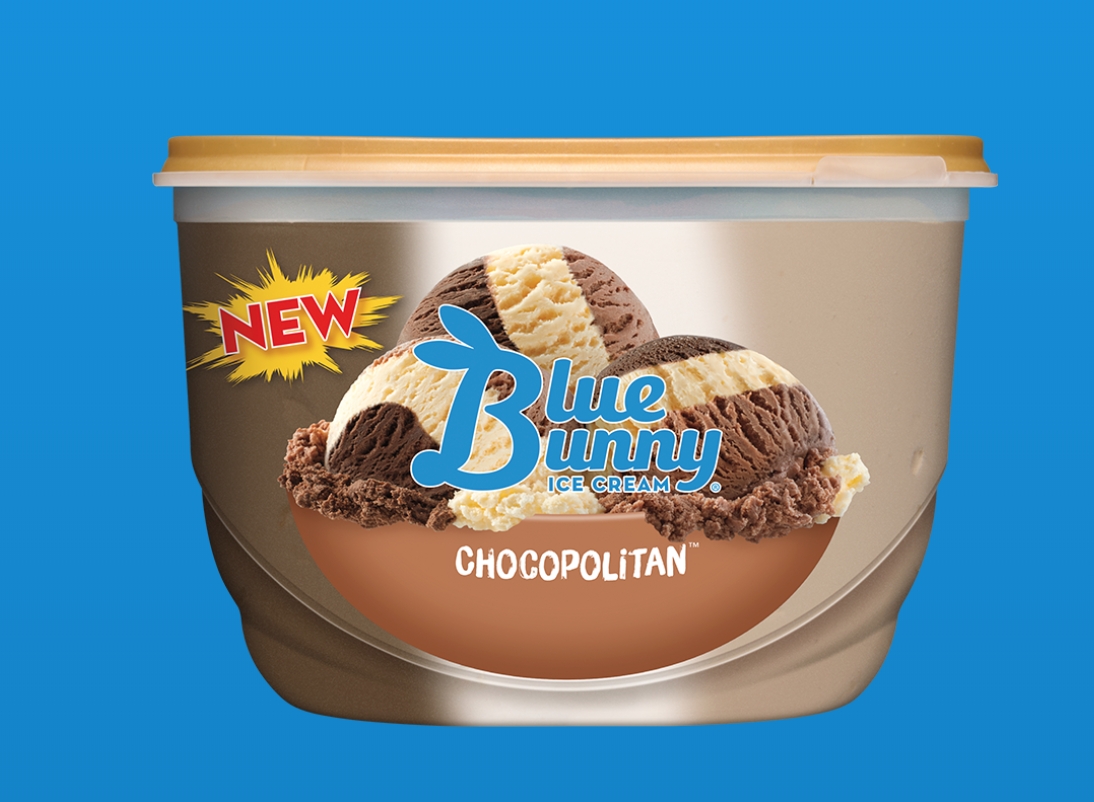 Blue Bunny can get a little sweet. It's a mainstream brand and, as such, they have to be sure to please kids. The company's new line of single-serving, pre-made sundaes was a fan favorite among our panel, but those didn't seem like straight ice cream. If they were going to hit this list, it would be on flavors alone.
For a moment, it looked like Blue Bunny might get shut out — until we struck this simple, straightforward, really smart flavor. Chocopolitian is pretty easy to understand: it's three flavors stacked together, like Neapolitan, but all three flavors are chocolate. What makes this such a win is that the dark chocolate is less sweet and allows the chocolate flavor to shine through. White chocolate is also a nice addition, as it's both A) rarely found in ice cream and B) too sweet to base a whole flavor around.
"Balance" is the key word here. That's what makes this a winner.
Street Cart Churro Dough — Coolhaus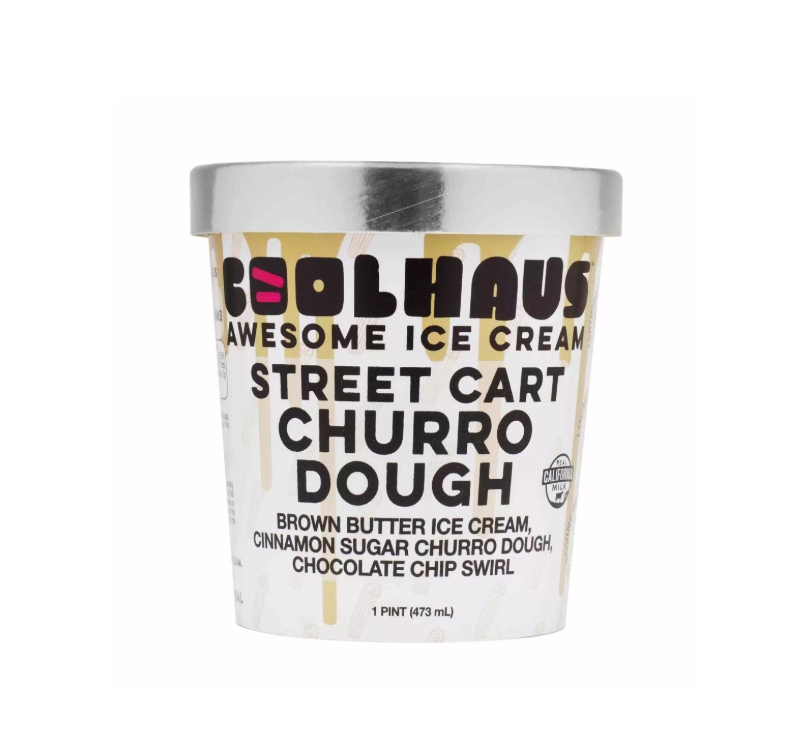 I hate to put one brand on the list twice but like the Midnight Munchies this pick was undeniable. Literally, our panel would have attacked me for leaving it off. Of all the brown butter ice creams we tried (and there were quite a few) this one was the least "buttery" — in that it didn't feel overpowering. The churro dough had a slight crunch and, more importantly, a huge punch of cinnamon flavor. The chocolate chip swirl was just enough to charm us but not so much that the ice cream became chocolatey (which this flavor doesn't need).
Coolhaus seems to have figured out the perfect proportions for the flavors and add-ons that they mix into their ice creams (something other brands could learn from). Street Cart Churro Dough was spectacularly good, very cinnamon-forward, and would smash at a scoop shop.
Peaches & Cream — Halo Top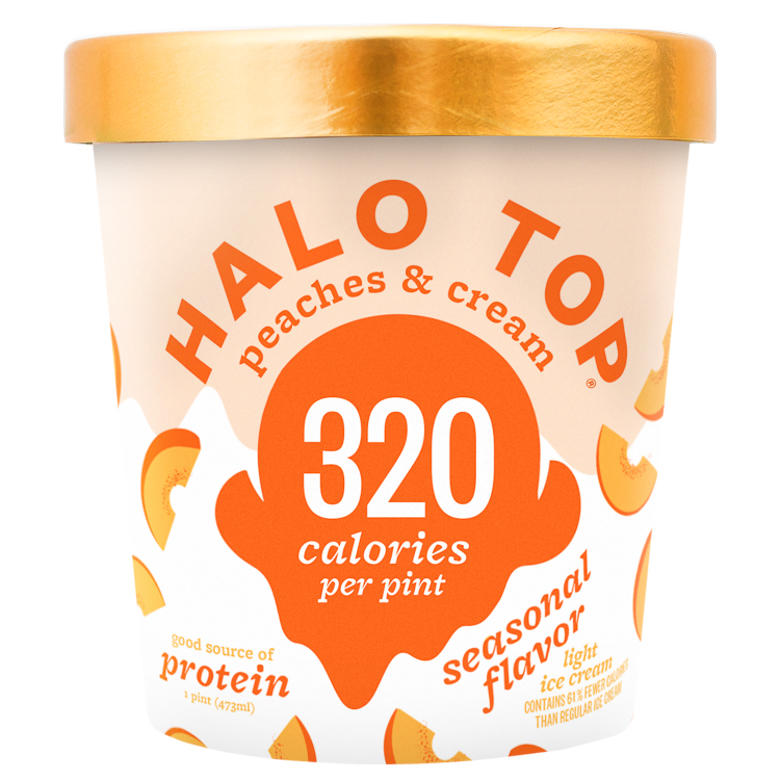 Low cal ice creams are a tough sell. The problem is: Why eat a whole pint of ice cream at 1/5 of the calories? That's a lot of ice cream. Instead, why not eat a scoop of ice cream with all the calories and enjoy it more?
Halo Top is the king of the low cal game and some of their flavors do indeed have that slightly chalky feel of a dessert that has no fat. But other flavors from the company — the fruit ones in specific — avoid this pitfall spectacularly. The "peaches and cream" shot feels like a big risk in an ice cream that's not overly creamy, but this flavor really works. Peaches aren't overly tart and they have a natural sweetness, which is nice. Plus this flavor reminds us of this awesome music video, which is a win.