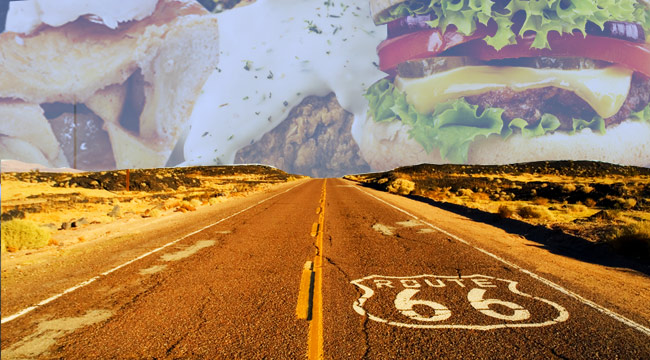 For those who seek some wanderlust inside the boundaries of the United States, one of the most well-known and romanticized roads to explore is the infamous Route 66. Known as the Main Street of America, it begins in Chicago, IL and winds its way southwest, eventually reaching Santa Monica, CA. It's been popularized in songs, TV, movies, and has been the subject of countless books and documentaries.
During the Great Depression, Route 66 was a major thoroughfare for those heading out west to escape the poverty of the Dust Bowl. While workers made their way down the Mother Road, travelers would trade goods and services with one another at rest stops and gas stations. This was the spark that ignited scores of roadside businesses in the ensuing years. Now, it's where you'll find the purest (and most lasting) form of Americana: The roadside diner.
Diners are a culinary experience outside the boundaries of the "food scene." Simple flavors thrive, presentation is trumped by taste, and grease is king. While these types of restaurants are slowly closing down across the nation in favor of cookie-cutter fast food chains, they're alive and well up and down this 2448-mile stretch of road. Here's a look at some of the best.
Dell Rhea's Chicken Basket
While its beginnings go back to sometime in the late '30s or early '40s, Dell Rhea's Chicken Basket has been at its current location since the summer of 1946. Located in Willowbrook, IL, it's the perfect place to stop for those coming from or going to Chicago — not to mention everyone who's on their own personal odyssey along Route 66.
The fried chicken obviously comes highly recommended, but if you're there on a Friday you can partake in some fresh catfish, shrimp or even some live Maine lobster, provided they haven't run out.
Ariston Cafe
First opened in Carlinville, IL back in 1924 by Pete Adam, an immigrant from Greece, the Ariston Cafe has been sitting at its current spot in Litchfield, IL since 1935. The oldest restaurant along Route 66, Ariston Cafe's menu has a little bit more worldly mindset than most of the other entries on this list. Along with all the comfort foods that cafes like this are known for, additional options range from Italian to Tex-Mex to seafood.
The famous house-made baklava are an absolute must.

Donut Drive-In
https://www.instagram.com/p/Bgd0NH3hRsB/?taken-at=2174375
If you're looking for the kind of road-trip fuel that you can consume on the go, St. Louis' Donut Drive-In specializes in nothing but donuts (well, and coffee), which are made in-house with fresh, quality ingredients. It's cash only and there's no dine-in option, so gather up your loose change and fill up a box or two before you head back out on The Mother Road.

Clanton's Cafe
This Vinita, OK restaurant was started by local farmer "Sweet Tatar" Clanton in 1927, and is run by his great-granddaughter and her husband today. Specializing in homestyle cuisine, it's also known for its chicken fried steak, which was named the best along Route 66 by Gourmet Magazine back in 2005. Clanton's Cafe is also famous for its small-town hospitality, where both its regulars and those traveling up and down America's Main Street are treated like old friends.
Waylan's Ku-Ku Burger
While all other locations of this once-popular fast-food chain have shuttered their doors, this one is still standing. It's a real hot spot along the side of Route 66, the sort of place people mark on their maps. Obviously, this is a place big on the standard burger-and-fries experience, but it also offers an expanded menu where everything cooked-to-order.
Located in Miami, OK (not to be confused with the one in Florida), Waylan's Ku-Ku regularly show up on all the 'best burgers in Oklahoma' lists.

The Stockyard Cafe
https://www.instagram.com/p/BW-FqaPgdvi/?taken-at=677955729
Located in the heart of the Amarillo livestock market, this unassuming building is home to some of the most talked-about chicken fried steak in the Texas panhandle.
Breakfast and lunch are the specialties at The Stockyard Cafe, and they're not open for supper. Keep that in mind when you're planning your trip.
Midpoint Cafe & Gift Shop
This is an essential stop simply because — as the name suggests — it's the literal halfway point along Route 66. Located in Adrian, TX, it's exactly 1139 miles to Chicago and 1139 to Los Angeles. You can celebrate this milestone with what's often called the best burger on Route 66. The Midpoint Cafe first opened its doors back in 1928 and has since become the oldest business in the 140 miles between Amarillo and Tucumcari, NM.
They changed the name in 1995 when travel writer Tom Snyder suggested a switch after realizing the restaurant's geographical significance. In addition to burgers, Midpoint is known for their signature Ugly Pies, which get high praise despite their less-than-perfect appearance.
The 66 Diner
This former filling station was converted into a diner back in 1987. (Don't worry, they kept the hydraulic lift intact). One of New Mexico's most popular attractions, this joint boasts a retro-1950s vibe with all the staples of a greasy spoon to go with it. True to its decor, The 66 Diner has a full soda fountain known for churning out top-of-the-line milkshakes and malts.
Since this stop is in New Mexico, you have the option to get green chilis on whatever you order, something you should definitely take advantage of.
https://www.instagram.com/p/Bg1dJcEFQeM/?taken-at=1155507

Miz Zip's Cafe
A Flagstaff staple since it first opened in the 1950s, Miz Zip's is the kind of place that's synonymous with that brand of unique charm that's made Route 66 one of the most romanced about roads in the U.S. Along with the usual fare — including burgers, fried chicken, and breakfast platters — this place is known for its homemade pies and fresh, made-to-order donuts served with a scoop of ice cream.
Idle Spurs Steakhouse
A popular steakhouse in the Southern California High Desert, Idle Spurs has been hosting visitors since the mid-50s. It's not only nestled along Route 66, it happens to be a perfect pitstop for those traveling from LA to Las Vegas, or vice versa. Once a large dream home, it has since been converted into an ornately decorated roadside diner, offering aged steaks, seafood, and slow-roasted prime rib without losing that warm, welcoming quality.
https://www.instagram.com/p/Be4kBS4npcm/?taken-by=theidlespurs