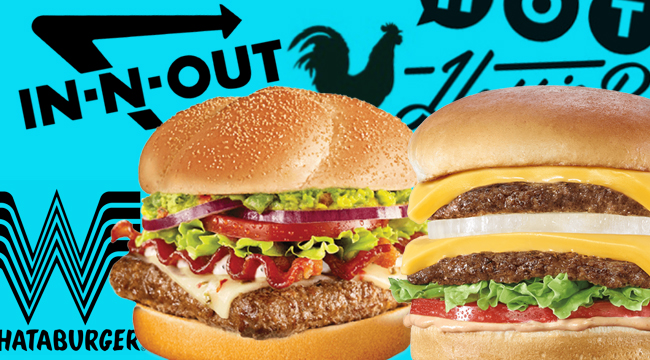 As Jim Gaffigan once riffed, "no one admits to going to McDonald's. They sell six-billion hamburgers a day. There are only 300-million people in this country." The math doesn't lie, people. We eat a lot of fast food.
The quick in-and-out service, cheap sustenance, and pop cultural significance of our nation's fast food chains is just massive. And while many of us find it easy to joke about the policies, flavor profiles, and sheer caloric load of national chains, we're often still ride or die for our local fast food haunts. Big shops like McDonald's or Chick-Fil-A are never going to have the nostalgia-laced, homespun pull of the small chains we grew up with. Those local fast food spots are special because, in a way, they truly feel like they belonged to us.
To celebrate the greatness of local fast food restaurants, we thought we'd offer up a definitive ranking for you to vehemently disagree with. A couple of rules first, though. One, these have to be truly regional: No permanent international locations and no coast-to-coast locations, no matter how small. Two, let's stick to chains that have under 1,000 stores. Those rules seem chill, right? But these relatively loose parameters actually drop a lot of contenders from the running (sorry El Pollo Loco and Jersey Mike's Subs), thus leaving space for some lesser-known gems.
10. Taco John's — Wyoming, 425 Locations in 27 States
If you've ever been road-tripping through the Rocky Mountains or Great Plains, you know the wonders of a roadside Taco John's. This place lives by what they call "West-Mex" American-Mexican food. Grilled Meat and Potato Burritos and Crispy Tacos tend to be the go-to at Taco John's.
The real treat at Taco John's is the Potato Olés. Those are the small hash-brown-by-way-of-tater-tot disks of crunchy potato with a slight chili-lime dusting. If you're really ready to grub, order these inside a steak burrito.

9. Big John Steak & Onion — Michigan, 16 Location in 1 State
The Great Lakes is the home to great meaty subs. Massive beef sandwiches with onions dominate from Chicago to Madison and beyond. Big Joh Steak & Onion is a local sub shop that offers great sandwiches across the board.
There are lots of great options here, but it's really the Steak and Onion sub that everyone goes to Big John's for. The hot-grilled thinly-sliced ribeye with grilled onions and briny banana peppers is a sammie worth hitting the road for.
8. Whataburger — Texas, 824 Locations in 10 States
We struggled with putting Whataburger on this list. This is a massive chain that's inching ever closer to 1,000 locations. Still, Whataburger is so quintessentially Texan that has to be here. Also, the food is pretty rad.
Their fried chicken biscuits doused in honey are lips-kissing-fingertips delicious. They do a pretty decent fry for a fast food burger joint too. Also, don't sleep on their biscuits and gravy for breakfast.
7. Moe's Italian Sandwiches — New Hampshire, 16 Locations in 3 States
Moe's Italian Sandwiches is a tiny New England chain that knows its way around a great sandwich, or "grinder" if you're in New Hampshire.
Here's the play: Order The Original with everything. That's a 12-inch sub with (takes a deep breath in) mild salami, provolone, peppers, onions, pickles, tomatoes, black olives, oil, spicy oil, mayo, hot pepper relish, mustard, crushed red pepper, and salt and pepper. It's a behemoth grinder.
After you've conquered that, try their meatball sub.
6. Great Alaska Pizza Company — Alaska, 12 Locations in 1 State
Okay, yes, you have to go to Alaska to try this pizza joint. So, if you find yourself about to head out into the Alaskan backcountry, make sure to fill up on plenty of Great Alaska Pizza Co. deep dish first.
The deep dish at this chain is a hybrid of Detroit Style that's constructed more like a classic pizza. It's filling and delicious. Think of it like a lovingly made Domino's pizza and you'll be in the right train of thought.

5. Taco Time Northwest — Washington, 79 Locations in 1 State
Taco Time Northwest isn't the same company as Taco Time. They do have similar logos and menus but are different beasts. Taco Time Northwest split from the parent company in 1979 to focus on Pacific Northwest locations while the originator has expanded to locations all over the world.
There are two things to order here. One, get a Crispy Burrito. It's basically a small chimichanga which is always a solid move when ordering. Two, order Mexi-Fries. The slightly spicy tater tots are pretty much the biggest/ best reason to go to Taco Time, any time of day or night.
4. Culver's — Wisconsin, 695 Locations in 24 States
There's always debate whether Culver's is fast casual of fast food. For these purposes, let's just call the Midwest icon casual fast food.
Hand-pressed burgers dominate the Culver's conversation, but it's really their luscious frozen custard milkshakes that shine. Wisconsin is the Dairy State, after all. They also do a killer fried fish sandwich.
3. In-N-Out Burger — California, 344 Locations in 6 States
It's easy to forget that, in the grand scheme of things, In-N-Out is still a fairly small regional chain. The California burger joint is only in six states across the American Southwest. Obviously, In-N-Out gets a disproportionate amount of national coverage, which makes it feel like it's bigger than it really is.
There's a reason In-N-Out gets all that love, though. Their Double Double Animal Style is one of the best and most affordable fast food burgers on the scene. The Neapolitan shake is also a winner. Just make sure to order your fries well done.
2. Ivar's — Washington, 24 Locations in 1 State
Seattle's Ivar's is the big outlier on this list. There are no burgers, subs, or pizza here. Just freshly caught seafood from the Pacific Ocean between Washington and Alaska served with some of the best fries in the fast food game.
If you're up in Washington and have a hankering for a local take on fish and chips, grab an order from the Seattle waterfront's walk up Fish Bar. The fingers of fish are breadcrumb-coated and fried to briny perfection. Make sure to order a cup of creamy clam chowder, plenty of tartar sauce, and some fried oysters on the side. This is regional fast food at its best.

1. Hattie B's Hot Chicken — Tennessee, 7 Locations in 4 States
We're really splitting hairs with the first and second seed on this list. But Hattie B's Hot Chicken is the local Nashville chain we wish was in all of our backyards.
Hattie B's gorgeously fried chicken is served either Southern (with no heat), Mild, Medium, Hot, Damn Hot!, or Shut The Cluck Up!. That last one will leave you in tears for a good ten minutes solid. Trust us, we know first hand. Add in the lush sides of mac and cheese, slaw, collard greens, and banana pudding and you have a regional winner.