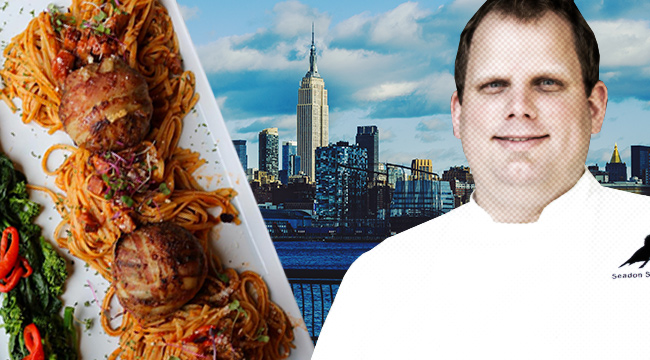 Welcome to EAT THIS CITY, your tour of the best restaurants in one of our favorite cities, as chosen by a world-class chef, celebrity, or local hero.
This week join us in Hoboken, New Jersey, where we meet with Chef Seadon Shouse, our guide to the Mile Square City's culinary delights. Growing up in a small fishing village in Nova Scotia, Shouse had ample opportunity to develop an appreciation for fresh seafood; it doesn't get much fresher than what you fish and harvest for yourself, from right in front of your own home!
Today, with over fifteen years of experience in acclaimed kitchens — including a position as the Executive Chef of Millesime, where he worked closely with Two Michelin Star Chef Laurent Manrique — Chef Shouse brings his passion for seafood and sustainability to Halifax. Located at the W Hotel, Halifax focuses on local farm and coastal fare, sourcing milk and cream for nearby dairies, eggs and greens from local farms, and seafood from fishermen practicing sustainability.
Who's ready to eat? Let's check out Chef Shouse's picks for best restaurants in Hoboken!
PIZZA
Benny Tudino's has the biggest slices of NY style pizza. Definitely not a gourmet pizza, but great for a late night big bite, and the cheese is perfect.
TACOS/MEXICAN
Name of Mexican Place with hyperlink to website
It hasn't opened yet, but Gringo's Jersey City is going to be a hot place once it does. I have tried their tacos at a pre-opening event and they were on point.
ASIAN
Bangkok City is a great Thai restaurant near Halifax restaurant. Nice and spicy.
STREET FOOD
My favorite 'street food' in Hoboken would have to be the Amanda's Bananas truck that's around in the summer. Absolutely amazing.
SWEET FOOD
One of the best French bakeries I have been to. Amazing breads and French pastries and desserts. We are lucky to have them in Hoboken.
FINE DINING
Amanda's is a great fine dining place in Hoboken for a date night.
CASUAL DINING
Zeppelin Hall, a classic beer garden in Jersey City with outdoor seating, is a great place to hang out and order up kielbasa, bratwurst, and other German fare.
VEGETARIAN
Karma Kafé is an Indian restaurant in Hoboken that's top notch. They have many vegetarian options that are delicious.
ICONIC FOOD OF THE CITY
Piccolo's is the ulitimate sandwich shop in Hoboken.
ODD CULINARY EXPERIENCE
Mitsuwa is a Japanese grocery store in Edgewater that has amazing Asian products, but they have a great food court as well. You can get Sushi, Ramen, Bento boxes, and many other Japanese creations all from multiple food outlets. I can spend hours in this place.
GUILTY PLEASURE
It only feels like a guilty pleasure because it's really not that bad for you. They take frozen bananas, puree them into a silky texture, and then top it with your favorite toppings. Perfect for a summer day.
HANGOVER FOOD
Piccolo's has, hands down, the best Philly cheese steak. Perfect for a hangover, not that I ever get a hangover….
DATE NIGHT
Dino & Harry's is a classic steakhouse with a piano player and great steaks.
RESTAURANT RUN BY A FRIEND
This restaurant is not in Hoboken, it's in Jersey City, but my good friend Franco Robazetti is the chef and they have some great smoked meats.
Thank you Chef Shouse for taking us on a culinary tour of Hoboken!
Stay tuned for more EAT THIS CITY — where each week we'll feature a premier chef in a different city sharing their insider eating tips! Missed a week? Check out Hollywood, Return to Miami, Return to Las Vegas, Manhattan, Oakland, Paris, Portland, Tampa, Durham, Toronto, Baltimore, Monterey, Vail, Lexington, Bentonville, San Antonio, Warsaw, Kansas City, NYC, Washington DC, New Orleans, Cleveland, Miami, Seattle, Las Vegas, San Francisco, Sydney, Portland, Chicago, Austin, Los Angeles, Brooklyn, New Orleans,Providence, Memphis, Orange County, Boston, and Detroit.
See you next week!